… Mach1 Stages Rally, Sat/Sun, 11/12 July …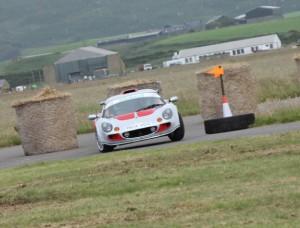 In all the years of rallying at Machrihanish, this was the closest finish yet. After 72 miles of stages, the winners' margin on this year's Mach1 Stages Rally was ONE second. Going into the final stage, the Lotus Exige of Alistair and Colin Inglis was dead level with the Ford Escort Mk2 of Gary and Gordon Adam. The result at the end of the final 8.7 mile all-or-nothing showdown duel was a one second victory for the Inglis brothers.
In third place was the Mk2 of Ian Woodhouse and Paul Rowland who made the 700 miles round trip from Great Broughton in Yorkshire to the Mull of Kintyre just to sample the magic of Argyll.
With their experience of the inaugural event last year, Dunfermline Car Club had ambitious plans for this year's event. Eight stages were planned for Saturday, four long ones using the taxi-way and perimeter roads and four short ones using a 0.8 mile 'nadgery' wee narrow road that dipped and turned through the dunes at the north of the site, including one very tricky, hidden Square Left over a brow – but that's what co-drivers are for, eh? Four long stages on Sunday would bring this year's event to a conclusion.
At 12 Noon on Saturday, Tom Morris took up where he left off last year, leading after two stages by 4 seconds in his Metro 6R4 and 8 seconds after four stages. Then it started to rain and the Metro slipped back: "Simply the wrong tyres," said Morris.
Gary Adam took over the lead at that point with Bruce Adams demoting Morris to third. Then it all went wrong for Bruce: "I had a spin on the first stage then switched to hard tyres for SS3, but I spun again on a damp patch and stalled it. What I didn't realise at the time was I had knocked off the fuel pump switch when I was trying to re-start. So when it did fire up it went as far as the fuel in the swirl pot let it and then it just spluttered to a halt. All I could see was '£' signs in front of my eyes so I sat there and looked at all the gauges. No fuel pressure, then I noticed the pump was off!" Dohhhh.
That pitched Alistair Inglis into third place and then second when Morris started to slip back. Tommy had to be careful though, there were a number of rivals all queuing up behind him, although that number was reduced by one when Joe McQuillian went off on the sixth test. And boy did he go off. He came shooting off the perimeter road section on to the taxi-way but was carrying way too much speed. Two wheels on the wet grass and he spun like a peerie right through the protective fencing between the taxi-way and the main runway. Luckily there was no Space Shuttle due any time soon, Machrihanish being one of a number of emergency runways around the globe which is big enough to take the Shuttle if it misses America!
Colin Gemmell took up station in fourth place but Barry McKenna was only one second adrift until Stage 6 when the ignition cap came off and the Escort stopped. He had to get out and under the bonnet to find out what was wrong before fixing it and getting back on his way. That pitched Stuart Walker into the fray in the Skoda, but Stuart had got himself into a fankle: "I was catching a car on the corners and it was getting away from me on the straights, then catching it again, but he spun in front of me and I took avoiding action." Unfortunately for Stuart, he went between the bales instead of round them and was spotted by a Judge of Fact. The resultant penalty put him right out of contention.
Now it was David Ross' turn to move up the leaderboard. On only his second event on tarmac the Nissan powered Metro was proving more than a match for many of the STRC regulars. Then Gemmell struck trouble: "I put Inters on for SS5 and 6 and lost chunks of time. The wet grip was fine, but it just aquaplaned on the puddles." Back on the correct tyres for the final two stages of the day and Gemmell reclaimed fourth place in the Subaru ahead of Ross and Ian Woodhouse who fancied some of this action.
Just outside the top six was a miserable looking Nigel Feeney. On the basis that you learn something new every day, I didn't know that pigs could understeer. But according to Nigel he had ruined a full set of tyres because the Subaru was "understeering like a pig." Jim McDowall was only 7 seconds behind him at close of play on Saturday with McKenna back up to ninth and Alan Gardiner in the Mk1 holding tenth place.
Sunday Run
Some light rain showers on Sunday morning gave way to sunshine and dry roads as Adam and Inglis lined up for the start with just 6 seconds separating them. Two stages later and there were still 6 seconds between them, but on the penultimate test a blistering effort from Adam resulted in a stage time six seconds quicker than Inglis. It was a dead-heat with one stage to go.
Meanwhile, Morris was holding station in third place with Gemmell fourth, but coming under pressure from Feeney: "I phoned TEG Sport last night," said Nigel, "and was advised to raise the rear ride height and make some other set-up changes. It transformed the car," he said with a smile on his face, "Now for Gemmell!"
Over the course of the first three stages on Sunday, Feeney was on fire, passing Ross and McKenna to close the gap on Gemmell to 9 seconds with one stage to go. Woodhouse was on fire too although there was concern about slight oil leaks from both the gearbox and diff: "It's nothing serious," said Ian, "but we're keeping an eye on it." Even so, he slipped past Gemmell to take up fourth place behind Morris.
That became third place on the final stage when the Metro snapped a front steering arm: "I was braking hard into a hairpin," said Tom, "just turned in and I felt it go." He wasn't alone. Jim McDowall lost a well earned top ten finish when the throttle cable broke, Ross Fernie went out with a gearbox fault and Lee Hastings blew his turbo.
Which left the battle for the top places. Feeney was quicker again on the final test from Gemmell, but just not enough, Gemmell holding on to fourth by just 3 seconds. Woodhouse was a surprised, but grateful, third place finisher after the Metro's' demise while the duel at the front was settled in Alistair's favour, quicker by ONE second over the final test from Gary.
David Ross was delighted with sixth place: "I was up till 11pm last night (Saturday) hand cutting grooves in my slicks – and then it dried up today!" And just losing out on a top six placing was Barry McKenna after his earlier electrical problem. He finished seventh in his Mk2 just ahead of the Mk1 of Alan Gardiner with Calum Duffy in ninth place. First time out in his Subaru Impreza, Calum commented: "I'm still driving it like an Escort, but I'm getting there." Rounding off the top ten was Donnie MacDonald: "I was up to fourth early on, till the rain came on. I had no wets, just cut slicks. The tail end was all over the place."
All too soon, Machrihanish was deserted echoing again to the sound of gulls and crashing surf as cars and trailers departed – till next time.
The Classes:
Ross Carbry won the 1400 class in his Corsa but for one horrible moment in the opening stage of Day 1 it looked like game over: "I pulled the gearlever out of the 'box," said Ross, "the circlip that holds it in place had broken. I managed to stick it back in and get going and fixed it properly at service." Innes Mochrie lost second in class on the first stage in his Rover Metro: "I braked for the first corner and nearly spun it," said Innes, "the brake bias was all wrong and I was nearly off everywhere, but changed it for SS3." That gave him a time for the first stage which was slower than Jamie Miller in the Nova which was crucial as they dead heated on times at the finish, with Jamie getting the class placing courtesy of his faster time on the first stage! John Paterson failed to finish when his gearbox failed: "I was just heading for the split in the stage and changing up when it went 'bang' and split the gearbox casing!" said JP.
Murray Coulthard won the 1600 class (and finished 11th overall) in his Citroen C2R2 from John Marshall in his Mk2. Coulthard's Citroen was still on its forest brakes: "I need tarmac brakes for this, these are tiny. I had nothing left at the end of each stage." Donald Bowness was third in his Nova from the Corsa of Michael Harbour and Citroen Saxo of Greg Inglis. First time out in his new awfy smart Mk2, John Morrison finished sixth. Steven Paterson retired his Corsa with a broken steering arm and then broke an engine mounting. Ross McSkimming's Citroen had a return of the misfire which plagued it at Ingliston.
Barry McKenna won the 2 litre class from Chris Abel in his Mk2 and Eddie O'Donnell who had a remarkably trouble-free run for a change. Craig Gibson was fourth in the Mk1 from the Mk2s of Chris McCallum and Hamish Grant. Alan Kirkaldy retired after the first stage with an engine problem and Paul Ballantyne retired the Clio on the last stage.
Results:
1, Alistair Inglis/Colin Inglis (Lotus Exige) 90 mins 34 secs
2, Gary Adam/Gordon Adam ( Ford Escort Mk2) 0:01
3, Ian Woodhouse/Paul Rowland (Ford Escort Mk2) 1:47
4, Colin Gemmell/Chris Hunter (Subaru Impreza Sti) 2:02
5, Nigel Feeney/Shona Hale (Subaru Impreza) 2:05
6, David Ross/Kyle Mackintosh (DAM 4100) 2:18
7, Barry McKenna/Dave Robson (Ford Escort) 2:28
8, Alan Gardiner/Robin Nicolson (Ford Escort Mk1) 2:49
9, Calum Duffy/Iain Duffy (Subaru Impreza 555) 4:05
10, Donnie MacDonald/Michelle Falconer (Mitsubishi Evo) 4:14
11, Murray Coulthard/John Frew (Citroen C2R2MAX) 5:24
12, Chris Abel/Will Philip (Ford Escort) 6:35
13, John Marshall/Scott Crawford (Ford Escort Mk2) 6:46
14, Stuart Paterson/Allan W Paterson (Subaru Impreza) 6:54
15, Alan Wallace/Darren Robertson (Mitsubishi Lancer Evo6) 6:59
16, Eddie O'Donnnell jnr/Amanda O'Donnell (Ford Escort RS) 7:21
17, Craig Gibson/Chris Lees (Ford Escort Mk1) 7:24
18, Gareth White/Greg Halfpenny (Citroen DS3 R3T) 7:33
19, Craig Rutherford/Chris Hamill (Subaru Impreza) 7:34
20, Chris McCallum/Peter McCallum (Ford Escort) 7:50
21, Bruce Edwards/Jim Smith (Darrian T9 GTR) 8:27
22, Andrew Scott/Ian Robertson (Ford Escort Mk2) 8:56
23, Donald Bowness/Ian Parker (Vauxhall Nova) 9:21
24, Fergus Gray/James McDiarrmid (BMW 130i) 10:06
25, John McDowall/Robert Pattison (Ford Escort Mk2) 10:11
26, Hamish Grant/Stewart Hurst (Ford Escort Mk2) 10:23
27, Cameron MacLean/Robert Sherry (Ford Escort Mk2) 10:30
28, Michael Harbour/Thomas Mullen (Vauxhall Corsa) 10:55
29, Willie Nelson/Mark Simpson (Subaru Impreza) 11:19
30, Greg Inglis/Cammy Reid (Citroen Saxo) 11:31
Class 1: Ross Carbry/Kyle Livingstone (Vauxhall Corsa) 102m 14s
Class 2: Murray Coulthard/John Frew (Citroen C2R2MAX) 95m 58s
Class 3: Barry McKenna/Dave Robson (Ford Escort) 93m 02s
Class 4: Alistair Inglis/Colin Inglis (Lotus Exige) 90m 34s
Class 5: Colin Gemmell/Chris Hunter (Subaru Impreza Sti) 92m 36s
( Full results here: http://www.scotresults.co.uk/mach1stages110715final.html )
**