… James Fleming, 1937 – 2015 …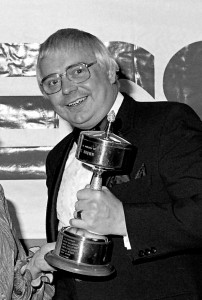 Scottish rallying, and Scottish motor racing, has lost one of its most colourful characters, Jimmy Fleming, who passed away last Sunday evening (5th July) after a very short illness.
Even at this sad time, the mere mention of his name will bring a smile to the faces of all who knew him. I never heard a bad word about him, even from those who bought a second hand car from him.
James Fleming Car Sales in Ayr was one of the first Toyota dealers in the UK opening its doors for business in Peebles Street in 1968. Japanese cars were a rarity on Britain's roads at that time. Indeed there were some who thought they'd never catch on, but after years of selling used cars, Jimmy Fleming had a hankering for a franchise.
The business thrived and to cope with expansion, Jimmy brought in his brother in law, Robin Cunningham, to look after service and the workshop while Jimmy concentrated on sales.
Jimmy always had an eye for promotion, and aware of the old Ford motto, 'Win on Sunday sell on Monday', he took to motorsport as much for fun as for business. He autotested and autocrossed, sprinted and hillclimbed, raced and rallied, with his greatest success coming in the field of rallying.
In 1983 he won the Esso Scottish Rally Championship title in his first season with an ex-works Toyota Celica GT. Prior to that Jimmy had campaigned a variety of cars from a 1300cc Vauxhall Chevette to a 1600 and a 2 litre Toyota Starlet before the Celica came along with Robin doing most of the navigating in the early days and in his title winning season.
The odd thing is, he didn't win any events outright in his title winning year. That was one reason why he was only one of four drivers who had a chance of the title on the final round in the Trossachs. The Celica's suspension broke on the third stage of the day and they retired the car with Jimmy apologising to Robin: "Sorry old son, that's f*ck*d it now" and they repaired to the Ancaster Arms Hotel in Callander to console each other with a medicinal tincture of brandy, or two.
Donald Heggie was leading, but punctured and then retired with a camshaft breakage. Robin Christie was in the hunt, but got four punctures in the first six stages, that last one incurring a Maximum. That put him out of the running too, leaving Colin Valentine with the task of finishing 4th or higher in his Sunbeam to clinch his first national title.
Provisional results showed Colin to be fourth with Jimmy amongst the first to congratulate him. Then came the bombshell. Doug Riach's total time was a minute out. When his total was adjusted he had beaten Colin by one second, demoting him to fifth.
Jimmy was the 1983 Scottish Rally Champion despite not having won a single round outright and fully justifying his season-long approach: "To finish first, first one must finish!"
During that same year the Celica was raced at Ingliston in the GT class while a trade-in Toyota Celica 1600 was also raced in the fledgling Production Car Class. And then he had the bright idea of fitting a 3.5 litre V8 into a Toyota Starlet to go racing!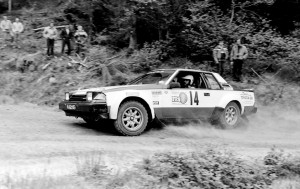 The Scottish Rally Championship prizegiving took place that year at the Crest Hotel in Erskine, a night that will go down in infamy, and hastened the organisers search for a new venue the following year!
This was the night that Dugald 'The Dambusters' Hamilton swooped around the room, arms outstretched, humming the theme tune at the top of his voice before finally crashing on to a sofa and urged on over every chair, table and obstacle by the squadron leader, one 'Gentleman' James Fleming. I don't think anyone who was there will remember how the evening, night, morning finished.
Jimmy's nickname came from the fact that he was every inch the gentleman, polite to all who met him, courteous to fellow competitors and officials, and charming to every member of the public he encountered. But behind the face of a cherub there lurked a dark secret. There was as much mischief in there as a bag of pixies.
He was never outrageous, but you always knew when he joined your company. The drink flowed and stories were told. Whenever he had the floor and a microphone, as prizewinner or sponsor, there was a sharp intake of breath from the audience, but the absolute charm of the man ensured he got away with comments, observations, jokes and insults that would have political correctees gagging with indignation. No-one ever took offence, least of all those in his sights.
When he started sponsoring the Baldoon Stages Rally at Wigtown, one of his first moves was to raise the first prize to £100.00, but there were raised eyebrows when he won the event outright that year. Typical of Jimmy, he put the £100.00 behind the bar and a good night ensued. However a further £100.00 had to be handed over in the morning to clear his bar tab – and remember this was at 1976 prices!
Baldoon wasn't so much a rally as a ceilidh with cars. Folks who were there will remember the rumbustious parties in the Fordbank Hotel and latterly Corsemalzie House Hotel near Wigtown. Bars were emptied, larders depleted and eardrums sore with music and chatter and laughter. And who was in the thick of it each time? Gentleman James. Of course, some might argue that he was the innocent party and was led astray by the likes of 'Big Drew' Gallacher and 'Budgie' McHarg in those days, but others might volunteer the opinion that it was the other way round.
He sold the Toyota business in 1993 and opened up a small used car business nearby before moving to Troon the following year where he indulged another passion. He founded James Fleming Executive Yacht Charters and when he wasn't cruising the west coast for pleasure he was hosting exclusive meetings and dinners aboard the yacht for his clients.
He successfully fought off cancer a few years back and was still trading used cars for selected clients and he was still sailing. Just last weekend he was in Tobermory with his yacht before returning home and took ill on Sunday evening.
Here was a man who had a permanent twinkle in his eye and whose cup of life constantly overflowed. Rallying and racing to him in the 70s and 80s was as much about the competition as the party afterwards. Those days will never be recaptured, but whenever old hands mention the name of 'Gentleman' James Fleming in company you can bet your racing booties it will bring a smile to their faces.
If Jimmy was the social convener of the Fleming household, his wife Margaret was the manager and book-keeper. The two were inseparable and a perfect match. At every step of Jimmy's life Margaret was always there, with a shake of the head and a smile at his antics.
The sport has missed them both since Jimmy stopped rallying but nothing compared to Margaret's loss. This is not a lost life to be mourned, but one man's colourful and gleeful canter through a life to be celebrated. Our thoughts and sympathies must be with Margaret now, their family and wide circle of friends.
One final thought. St Peter will be dreading the knock on the gates.
**