… Jonathan Osborne … A very personal tribute …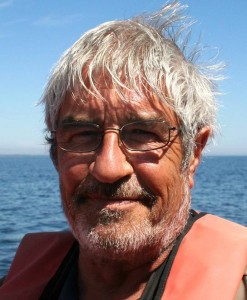 Sad news, on a personal note. I just heard that Jonathan Osborne passed away last week on Tuesday the 28th of January. Very few of you will recognise the name, but more than anyone else, Jonathan Osborne was responsible for getting me involved in PR and journalism, particularly rallying journalism. You probably wouldn't be reading this stuff today if it wasn't for him.
It was 1970, and I had just joined Shell & BP Scotland (as it was then) working out of their head office in Bothwell Street in Glasgow. I was assigned to Shell (as opposed to BP or National Benzole). One day the door to the general office burst open and the Sales & Promotions Supervisor, one Bill Houston Esq, whirlwinded into the room and pointed at me: "You! Come with me."
Everyone in that room thought I was for the firing squad, but Bill took me to his office, sat me down and told me that he had just agreed to sponsor the Scottish Rally Championship and since I was the only one in the building who knew anything about motor sport, I was thereafter assigned to the Sales & Promotion Dept under his leadership and management.
So what did I know about rallying? Not a thing. At the time I was sprinting and hillclimbing and had just contested my first motor race.
And that was how I met Jonathan. He had been hired by Bill the year before primarily to write and distribute press releases on behalf of the Shell/Motorworld Scottish Rally Championship, but the following year, Shell assumed sole title sponsorship, and I was to assist Jonathan.
At that time, I had no clearly defined career path. In those days employees, especially junior staff, simply obeyed orders. In the space of a few seconds, the cosy life of general clerking duties and sales training, regular hours and luncheon vouchers had disappeared, and the uncertainty of the unknown beckoned.
Fortunately, Jonathan was a gem and he steered me through the dark arts of writing Press Releases and how to deal with the Press. He also encouraged and advised me when I started writing for 'Motoring News' as it was then.
Jonathan moved on after that and went to work for the Royal Society for the Protection of Birds retiring in 2010 from the post of Public Affairs Manager after 29 years with them.
I knew right from the start he was a keen birdwatcher. When the Tour of Mull Rally was invited to join the Scottish Rally Championship in 1972, Jonathan and I were dispatched to the far north. I did all the driving, while he scanned the horizon, spotting the various species and filling me in on their habitat, diet and lifestyle.
Given the amount of wildlife on Mull there was much to see and learn. We nearly crashed umpteen times as he grabbed my arm and pointed and shouted: "Look, a buzzard." – "Where?" – "On top of that telegraph pole." And so it went on.
Jonathan was also responsible for a burgeoning interest in cricket. I'm certainly not a cricket fan, but the sport is blessed with some of the best and most knowledgeable commentators of any sport, and I still find myself tuning in to Radio 4 when the internationals are in full swing.
Oddly enough, no-one would share the car with us. Not because of the erratic driving, but because we were both pipe smokers. When we parked up anywhere and opened the doors the smoke billowed out with folk thinking the car was on fire.
Heady days, and heady times. Our paths diverged after that. He left motor sport behind and I didn't, but who knows, if he hadn't been such a helpful and kind bloke would I have stuck with it?
Thanks for everything Jonathan.
**