… Scottish Car of The Year 2014 …
Picking a winner from this year's new car launches was never going to be easy. Over the past 12 months, the members of the Association of Scottish Motoring Writers must have driven and appraised more than 100 new cars, upgrades and facelifts, with some having driven more than twice that number outwith the competition contenders. For instance, I have also driven over 40 different makes and types of van in the past 12 months – while our sole agricultural specialist writer has also been driving tractors!
Once upon a time there were only four categories of motor car – small, medium, large and luxury. Nowadays we've got city cars and compacts, SUVs and MPVs, sports cars and coupes, hatchbacks and estates and many more as manufacturers develop new niche markets.
It's not just that we are all getting more picky either. Modern vehicle manufacturing methods mean that changes can be made rather more easily on modern, robotised production lines which provide manufacturers with the ability to create different models more often and more cheaply.
Over recent years additional awards have been introduced to cover electric vehicles and highlight new trends, and for the first time this year, a 'Used Car' award was introduced where members of the Association looked back at past winners of the overall SCoTY award to see how they fared in the used marketplace. That was different, and was well received.
Another important award is President's Quaich presented annually at our President's whim and this year was presented to 'one of our own' for his 60 years of automotive writing, expert analysis and well founded opinions. Crikey I was reading his stuff in the weekly 'Motor' when I was still at school and he's still writing columns for newspapers and churning out automotive books. The man was an inspiration to me then, and he still is now – Eric Dymock.
There was one notable omission amongst the guests on the evening. Ron Dennis sent his apologies. He had to attend a Board meeting to finalise his F1 team's driver line-up for next year. It must be some meeting, they still haven't decided more than a week later!
By the way, this article is a wee bit later than planned – I still haven't got a full selection of photos from the ceremony so I've made do with what I've got and cobbled together.
The Winners: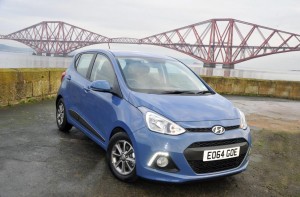 Small
The Hyundai i10 not only won the Small car category, it also won the 2014 overall 'Scottish Car of The Year'. In its own class it was up against the likes of the new MINI, Toyota Aygo, Citroen C1 and Peugeot 108 amongst others, but you get a lot of car for the money plus its well built, rides and handles well. Winning the overall title calls for a rather more difficult appraisal and whilst you can't compare an i10 directly with a McLaren 650S, it has to be judged amongst its peers. It was on that basis that it was selected as the outright winner, providing excellent value for money for such a cracking little car – a fact much appreciated by us parsimonious Scots!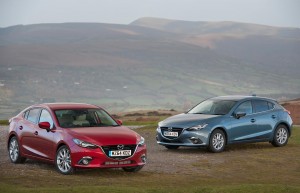 Family
Demonstrating just how different (fickle?) the Scottish market place is, the 'European Car of The Year' winner, the Peugeot 308 did not win the Scottish title, nor did it win the Family class. That went to the Mazda 3. That might be a bit of a surprise to some, but it was a close call, especially since the Citroen Cactus was a late and well received contender in this class, being announced just ahead of our judging deadline. The new Mazda 3 is a stylish, well-built car and with its new 'SkyActiv' technology provides a rewarding and comfortable drive.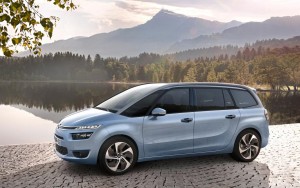 MPV
One thing the French are good at, and that is designing smooth riding, roomy and practical MPVs so it came as no surprise that Citroen won the category with its C4 Grand Picasso. It was up against the likes of the new VW Golf SV, BMW 2 Series Active Tourer, Kia Soul and Ford's van-like Tourneo Connect. All very capable and commodious, but lacking the striking looks, sheer flexibility and practicality of the Citroen.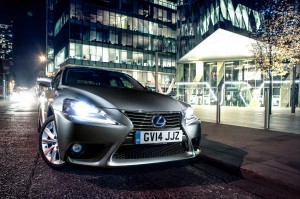 Executive
This was always going to be a stinker to decide. With cars like the Mercedes-Benz C-Class and S-Class, Audi's A3 Saloon and the Infiniti Q50, the Lexus IS really had to be that little bit different to stand out, and it did. Toyota are sparing no efforts to make this standalone luxury brand a serious contender. Its specification, ride quality and dramatic front end looks have certainly given its rivals in the luxury saloon car sector a headache.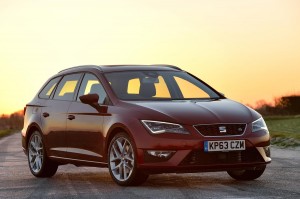 Estate
Although prices are creeping up, SEAT continues to offer solid, well-built motors at very competitive prices with the Leon ST winning the Estate car category from Peugeot's 308 SW and Honda's Civic Tourer. Of course it still retains a great deal of 'badge' credibility from its Volkswagen parent group but the Spaniards have created their own style which appeals to the Scots.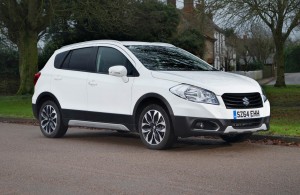 Crossover
The Suzuki SX4 S-Cross deserves to be better known than it is, but buyers who like to extract maximum value for their money will find this appealing. The Nissan Qashqai set new standards (and a new class) when it was first introduced, so anything which beats it, has to be good. The Mercedes-Benz GLA was a close-run consideration in this class as was the Ford EcoSport but Suzuki got the top award for being the more appealing all-rounder.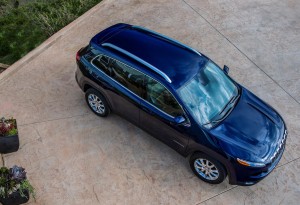 SUV
Picking an SUV will depend entirely on what a customer intends to do with it. If it is merely negotiating high kerbs outside schools than any of the bigger SUVs can just about cope, but if there is some serious off-road work to be done then choice will be rather more selective. Porsche's new Macan is seriously good as are BMW's X4 and X5, not to mention Nissan's new X-Trail and the Subaru Forester. For those reasons, Jeep's latest Cherokee had to be really good. It combines excellent road manners with a business like attitude to all terrain tackling, and at a very competitive price.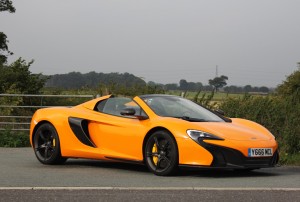 Sports
It might be a lot more expensive than the Porsche 911 Targa or the latest M3 and M4 from BMW, but when it comes to motoring and sporting excellence, how do you put a price on it? On an engineering and sheer practicality basis, it just had to be the McLaren 650S. Not only is this a docile runabout that can negotiate speed-humps, it is an outright shattering performance, hyper-car when the road opens up, the mood takes you and there are no Speed Limits. Plus it's just about the only car in its class that the elderly can clamber in and out of! Go on, give your granny a thrill.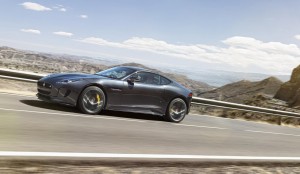 Coupe
Feminists don't like the Miss World Pageants because they are all about external beauty – despite what the organisers and contestants claim. It's the same in the Coupe category. Regardless of the opposition, the Jaguar F-Type is just drop-dead gorgeous. And it goes as good as it looks. Nuff said.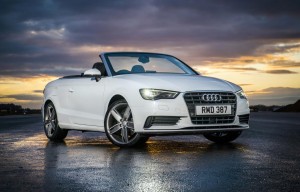 Drop Top
Apparently, the UK is one of the top European markets for convertibles and despite the weather up this end of the country there is a desire to get the top off whenever the sun makes an appearance. Must be the novelty value. The BMW 4 series convertible ran it close, but Audi's A3 Cabriolet is a cracking wee rag top with a well insulated, well-fitting hood and it looks just as good open or closed.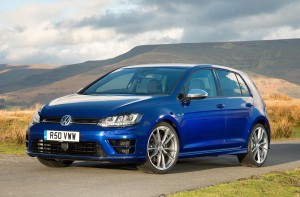 Hot Hatch
There was only going to be one winner in this section despite opposition from MINI's Cooper S, SEAT's Leon Cupra, the Merc A45 AMG and Audi's S1 and S3. With 4 wheel drive, four cylinders and nearly 300 bhp, the Volkswagen Golf R can be a family friendly runabout during the week and an outright hooligan at weekends.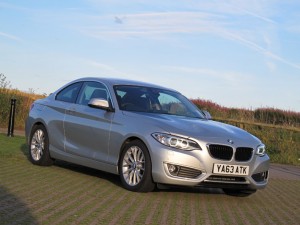 Diesel
Once upon a time, the idea of diesel engines and luxury cars would have been laughed at. The latest diesel engines from BMW are ones to be savoured and enjoyed for their power, flexibility and silence. And the one in the BMW 220d is a delight to drive.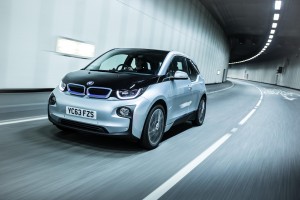 Electric
Although electrically powered cars still have their shortcomings, particularly with regard to range, the latest models are good enough to persuade some folk to think seriously about their vehicle use. And the new BMW i3 proves they can be sexy too.
Design/Innovation
A new award introduced by the Association will recognise what we think will make an impact on the future direction of automobiles with the Jaguar XE being a case in point. Jaguar is introducing new materials and construction methods in the compact family saloon category which will make other manufacturers sit up and take notice.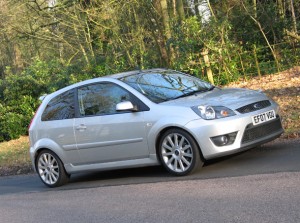 Used
This is a brand new category which arose out of some nostalgic mental meanderings, and no doubt, alcohol played a small part in tinting those rose coloured glasses. But on the basis of 'whatever happened to' some members wondered how past SCoTY winners have fared since their accolade. Considering this annual awards ceremony has been running since 1998, that's a considerable number of winning cars. There was no real science to this but amongst the considerations was the longevity of the model, reliability, availability of parts, running costs and value on the used lots and in the classifieds. Amongst the top contenders were the Ford Focus, Skoda Superb and perhaps more surprisingly the Kia Sportage, but at the end of the day the majority of us plumped for the Ford Fiesta, winner of the 2008 SCoTY.
**