.. Solway Car Club Scoops Top Award …
Solway Car Club has been named 'the best in Britain' by the MSA which hailed the club as 'superlative' and 'especially worthy of the highest recognition'. The club will receive the prestigious JLT MSA Club of the Year Rosebowl, and £1000 towards Club funds.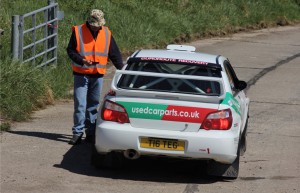 Founded 57 years ago in Castle Douglas, the club now runs twenty-two events annually including the usedcarparts.co.uk Solway Coast Rally at Dundrennan and the Armstrong Galloway Hills Rally.
This year the 'Solway Coast' hosted a Junior Championship national round for 14 to 17 year olds, with the youngsters having the chance to run on 'proper roads' and use Route Notes for the first time. The club also attracted support from Dumfries and Galloway Council's Major Events Fund, which attracted significant numbers of Irish crews.
At grass-roots level, the club runs a series of affordable events, again with the emphasis on encouraging and supporting junior competitors. The club introduced first aid certified training for marshals, obtained amateur radio licences for fifteen of its members, and ensured that officials attended MSA training sessions.
A major initiative is planned for early 2015 to recruit more marshals, in order to retain interest and encourage future involvement in events.
The MSA said each committee member brought a different professional and personal skills and experience to the table: "They combine to form an efficient and hard-working group who work together as a team to benefit the club and its members", adding: "They have an identity and positive level of engagement in the local community that many other clubs would envy".
Solway Car Club Secretary Norman Gowans said : To win this accolade was unexpected but a great honour for the Club, and reflects the hard work that many individuals have put in voluntarily, not only this year, but for a number of years. We can't rest on our laurels but need to push ahead with fresh initiatives to increase junior involvement, improve spectator and competitor safety, and train marshals to the highest standard. We're delighted to have been recognised in this way – as we are a small club – and we'll endeavour to make use of the monetary award to further these objectives".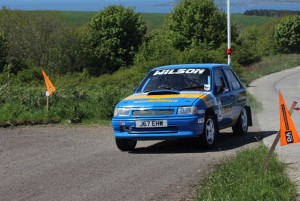 If anyone doubts what Solway has done, they only need to visit the Solway Coast Rally and see the stretches of new road (excavated, hard core filled and tarmac topped) that were created by members to link up military roads.
And despite what was said in the previous post about car clubs, it just shows what can be achieved. To single out just a few highlights from the year, all credit to the small but enthusiastic Mull Car Club which continues to ensure that the Mull Rally continues following the retirement of the previous 2300 CC team, to the Skye Car Club which has introduced motor sport to the island (peninsula?), Lewis CC for their 'Rally Hebrides' initiative, East Ayrshire CC for their continued efforts at Kames, Dunfermline CC opening up a new venue at Machrihanish and there are more, many more.
It just proves the old saying – mony a mickle maks a muckle. Here's hoping to 'mak a bigger muckle' next year.