… Tunnock's Mull Rally, 10-12 October 2014 …
The trouble with Final Results is the monochrome nature of print. They are black and white. They simply fail to convey the colour and depth of an event, any event. And when it comes to the Tunnock's Mull Rally, they are woefully inadequate, serving only to act as a record for future reference.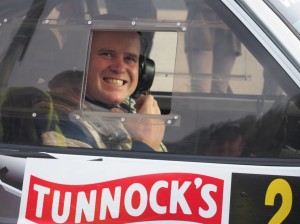 Therefore, the 2014 results will show that Calum Duffy scored his eighth victory and Iain Duffy his sixth as a co-driver, but not the manner of these wins. They also show that they won by nearly two and half minutes. That sounds a lot even for an event with 20 stages totalling 154 miles. In reality, the result was in doubt till they crossed the bridge at Dervaig in the dark, wet, early hours of Sunday morning.
Tristan Pye and Andrew Falconer scored their best finish on the island with second place just ahead of John Cope and Clive Molyneux, but all three podium placings were in doubt right till the end.
It was wet on Friday night for the first Leg. Very wet. This should have been a four wheel drive benefit. They just forgot to tell Duffy. At the end of the first six stages, James MacGillivray was leading in his hired Subaru Impreza by 10 seconds from Duffy in the Millington engined Escort Mk2. Pye was already holding third place but under pressure from John MacCrone.
"I thought my rally was over on the first stage," said MacCrone who had spun the Fiesta R200, "I was sitting there in the dark, all four wheels off the road facing a gate." He dropped two and half minutes to the leaders. That should have been game over to anyone else in a clubman spec Fiesta!
MacCrone wasn't the only top seed in trouble. Eddie O'Donnell had been off for 10 minutes, Daniel Harper had broken his MINI's steering, Jonathan Mounsey had broken driveshaft and Peter Taylor was off the pace: "The screen keeps misting up and blowing relays. I can't see where I'm going." It was a common complaint on the night, but one solved by Steven Ronaldson in the Metro who had a foot long stick with sponge and rag tied on the end to wipe his.
If the first Leg was a trial by water to be endured, then Saturday dawned bright and blue skyed. MacGillivray led Duffy by 10 seconds from Pye, MacCrone, Doug Weir and Jonathan Mounsey. That would be slicks then.
First 'proper' time out since last year, MacGillivray was in control till the 11th test at Penmore when the Subaru got a wheel on the loose and slid off the road scattering rocks and gravel across the tarmac. "I had a big moment there too," said Duffy, "I nearly joined him when I slid on the gravel across the road and damaged the front suspension."
By the end of the afternoon MacCrone had fought back to third place, just 43 seconds behind Pye, with Derek McGeehan in the MINI WRC moving up to fourth after the unfamiliarity of the night time stages: "The car is so wide I'm catching the gravel," he said, "but at least I can see where I'm going today." Weir had dropped to fifth but was still managing to keep tags on the leaders in his unsophisticated Mk2 while Steven Clark was sixth but complaining that he was still left foot braking too early much of the time.
As darkness fell for the final night, the clouds rolled in and dumped their baggage on the previously drying tarmac. McGeehan scored fastest time round the Tobermory 'city centre special' as something of a consolation prize before electrical gremlins struck, and there were a few more disappointments in store.
Going into the final 23 mile stage, Duffy was still in control with Pye wondering if he had done enough to stave off the closing MacCrone. Disaster struck on the approach to the Calgary Bay section when the Fiesta broke a driveshaft. MacCrone was out. So too was Weir after a valiant run, the Escort smacking a rockface. As for Tristan Pye: "I had a few near-crashes, but got away with it, then I saw John (MacCrone) parked up." His runner-up position was therefore confirmed with John Cope taking a surprised, but welcome third place.
Richard Cook scored a steady fourth in his Subaru ahead of the Vauxhall Chevette of Billy Bird with Shaun Sinclair rounding off the top six in his Lancer.
At the floodlit finish in Dervaig, Duffy was unaware of these last minute dramas, but as the news filtered through, his 8th victory was confirmed: "My tyres went off in that last one. They were shot to bits by the finish, but I'm delighted with that. James (MacGillivray) was on the pace on Friday night and John was a constant threat. I was hoping for this, but didn't expect it. This is the 'island of dreams' right enough!"
Tunnock's Mull Rally
Final Results:
1, Calum Duffy/Iain Duffy (Ford Escort Mk2) 2h 28m 32s
2, Tristan Pye/Andrew Falconer (Subaru Impreza) +1:55
3, John Cope/Clive Molyneux (Subaru Impreza) +10: 05
4, Richard Cook/Edwin Cook (Subaru Impreza) +11:10
5, Billy Bird/Plug Pulleyn (Vauxhall Chevette) +11:18
6, Shaun Sinclair/Chris Hamill (Mitsubishi Evo 8) +11:24
7, Fergus Barlow/Alastair MacCrone (Ford Fiesta R2) +12:07
8, Chris Haigh/Sally Peacock (Ford Escort Mk1) +13:16
9, Ian Chadwick/Johnnie Bould (Skoda Fabia R2) +13:40
10, John Rintoul/Nick Rintoul (Hyundai Accent WRC) +13:56
**