… Jim Clark Memorial Award for Dr John Harrington …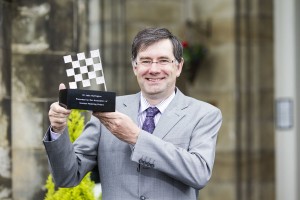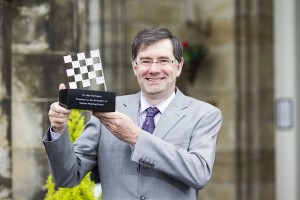 Doctor John Harrington was presented with the 2014 Jim Clark Memorial Award at the weekend in recognition of his contribution to raising medical standards and improving safety at special stage rallies throughout Scotland. This award also recognised his ongoing commitment to the provision of training for paramedics, rally safety crews and for those doctors who are new to the sport.
Supported by the Ford Motor Company, the award is presented annually by the Scottish Association of Motoring Writers to recognise the achievements of any Scot who has made a significant and meritorious contribution to the world of motoring or motor sport.
Previous recipients have included Jackie Stewart, David Coulthard, Allan McNish, John Cleland, Gordon Shedden, Steve Hislop, Niall MacKenzie, Andrew Cowan, Louise Aitken-Walker, David Bogie, Rab MacDonald (first Scot to be appointed FIA Technical Delegate), and Andrew Fraser (the Scot who led the 680-strong team which designed and developed the brand new 3 cylinder, 1 litre, Ford Ecoboost engine). Dr John Harrington is the first medical doctor to have been recognised by this award.
Dr John Harrington, a GP from Keith in the north east of Scotland attends the majority of special stage rallies in Scotland as a volunteer Doctor or as the Chief Medical Officer. Since his first involvement on the Snowman Rally in 1987, Dr Harrington has recruited a nation-wide network of doctors who turn out to officiate at Scottish rallies. When he first became involved, the requirement was for a single doctor per event. He very quickly realised this was completely inadequate given the nature of the sport!
Since then he has worked tirelessly to raise standards and improve medical support on all rallies and along with other medical professionals has played a leading role in training marshals, first aiders, paramedics and safety crews during an event.
Presenting the award, ASMW Chairman Alisdair Suttie said: "It's a huge honour for the Association of Scottish Motoring Writers to be able to present the 2014 Jim Clark Memorial Award to Dr John Harrington. His contribution to motorsport in Scotland and motorsport safety across the UK is immeasurable and it's of vital importance to the enjoyment and well-being of competitors, organisers and spectators."
"It gives the ASMW great pleasure in being able to add Dr Harrington's name as the first winner from the medical side of motorsport to a distinguished list of previous winners. We hope it goes some way to recognising his efforts and promoting the essential work he and his fellow medical professionals carry out no matter what the conditions or hazards."
After the presentation, Dr Harrington said: "I would like thank the members of the Association of Scottish Motoring Writers and the Ford Motor Company for the great honour you have shown us. When a new doctor or paramedic expresses an interest in coming along to rallies I encourage them to do some of the excellent emergency medicine courses which to be honest most of them have to do these days for their careers. These include Advanced Trauma Life Support, Advanced Life Support etc. I then to take them around with us on events to get a feel for how the whole thing works and particularly to gain confidence in working outside of the hospital environment before letting them cover a stage with myself or another senior colleague nearby. I said 'us' earlier – my wife Deirdre comes out with me on most events."
Coincidentally, it was his wife Deirdre who introduced him to the sport! She too is a doctor and had been asked by a relative to help out with medical cover at local Highland Car Club motor sports events in the mid 80s, but when the family came along she handed the stethoscope over to John. She still attends most events – and so does their son Stuart who is now playing an active role in Marshaling!
E N D
Note:
Ford Motor Company has supported this ASMW award since its inception in memory of Scotland's first ever Formula 1 World Champion who scored a memorable victory in his Lotus 49 powered by the very first Ford Cosworth DFV V8 engine on its debut in 1967. Tragically, the twice F1 World Champion (1963, 1965) was killed in a minor F2 race the following year in Germany.