… 'Closed Roads' take a step closer …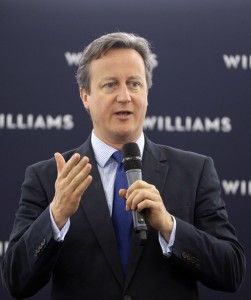 The Prime Minister officially opened Williams' new F1 engineering facility in Oxfordshire last week and hailed F1 as an "an amazing success story" for the UK, with eight of the 11 teams based here and tens of thousands of people working in the industry.
He also revealed that the prospect of 'closed road' events had taken another step towards reality with the government Coalition promising to change the law to give local authorities the power to stage motor races on public roads. The change is expected to be added to the Deregulation Bill in the autumn, and could be in force before the general election next year.
It would appear that the Government has been incentivised by the thought of making money. After all, hosting the first three stages of the Tour de France this month is estimated to have boosted the UK economy by more than £100 million.
Government ministers have also 'been advised' (by whom, I wonder?) that such a law change could lead to an extra 20 motor sports events in Britain per year, generating some £40 million over five years for local communities – and added the fact that the revenue from a Grand Prix would be far higher!
Culture Secretary Sajid Javid added: "These changes will provide more opportunities for fans to enjoy the sport locally and give a financial boost to local economies through the added benefits of tourism, shopping and spending."
Such a bill is needed, as under the present legislation the current Private Bill process to authorise a road race can take up to 18 months, although in reality it can take much, much longer depending on who is sponsoring and backing the Bill, and who is opposing, because in some instances, those who oppose can delay a Bill long enough for the other side to give up and go on to something else. And should a Private Bill survive that process it still requires the approval of both Houses of Parliament.
This whole idea raises the prospect of an F1 Grand Prix on the streets of London and no doubt the planned Formula E Race at Battersea next year has raised additional expectations and could be regarded as a step in that process. This event has already received the backing of the Mayor of London who doubtless can hear the cash registers jingling already. And that's no bad thing, that's what host cities and venues want.
After the Williams F1 announcement, the MSA issued its own Press Release with MSA Chief Executive, Rob Jones commenting: "This has the potential to transform British motor sport and is something that we have campaigned for over a very long period of time. We are extremely pleased that the government has recognised the benefit of motor sport, not only to the UK economy but also to the sporting success of the country. It is a significant step forward and will bring Britain in line with other countries across Europe where this is already commonplace."
The press release went on to say "The MSA's campaign to facilitate closed road motor sport on mainland Britain has gained the support of many notable figures within the industry" and added quotes from the following:
Sir Jackie Stewart OBE, three-time F1 world champion:
"I whole-heartedly support the initiative to introduce the opportunity for motor sport to utilise appropriate public roads for sporting events. The British motor sport industry is one of the UK's most successful enterprises and we indeed lead the world in this field. There are many other countries that use their roads on a temporary basis for significant sporting events that attract worldwide interest. In many cases it can even progress safety standards on those same roads for the benefit of the general public and all road users. The MSA (Motor Sports Association) are very conscientious regarding all matters involving safety."
Nigel Mansell CBE, former F1 world champion:
"I have seen first-hand the very significant impact of motor sport on the economy of the Isle of Man and Jersey, so this would be a great move forward for the sport and would bring visitors and pride to parts of the country that wish to stage such events. I am delighted that this government is embracing motor sport which will assist the UK's world-leading position, and improve the sport's ability to help provide opportunities and focus for young people."
Sir Stirling Moss OBE, Former F1 driver
"This is a fantastic idea! One thing you need to remember: When I was racing years and years ago we nearly had a race round Hyde Park and that was turned down by the police because they would have had a million people coming out and they couldn't control them, so that's what stopped it. So if there's any way they can get a local council to do that then it's absolutely fantastic. One hopes that if they do get permission they use a good road. I don't mean good as in wide or anything like that, but an interesting and challenging road, so it would be wonderful if you could get it going. I would certainly love to see it."
Derek Warwick, Former F1 driver, President, British Racing Drivers' Club
"I think it would change the perception of British motor sport because it brings the fans closer to the action. It will help all forms of motor racing, not just hill climbs or karting. For the competitor it will bring them more to the forefront, it will help them in sponsorship, it will help them get their name across to the general public, and it will bring the public in as part of the event and I think that's important. Obviously in terms of helping the area it's going to bring massive revenue in terms of hotels, restaurants etc. So I think it's a fantastic initiative that has my full support."
Allan McNish, 2013 FIA World Endurance Champion, BBC F1 presenter
"As a young racing driver I was lucky enough to compete in the Birmingham Superprix which raced around the Bull Ring area of the city. It was an important international race televised across the world, as well as being an excellent experience in the art of road racing, something that I relied on throughout my career at races like Monaco F1 GP and Le Mans 24 Hours. The UK has a great history in producing World Champions and world-leading technologies in motor sport, and I support the amendments to the Road Traffic Act to bring the UK in line with our next door neighbouring countries to run a limited number of closed roads events to allow the competitors, local business, tourism industry and fans to enjoy the sport in an exciting environment."
Andy Priaulx MBE, World Touring Car Champion, 2005-2007
"In the Channel Islands there would be no motor sport if we didn't do it on closed roads. We race the Val des Terres and Bouley Bay hill climbs and we've got the Vazon sprint. It's a spectacle for the local people and it gives everyone in grassroots motor sport a chance to be involved. I think it's great for the economy of Guernsey to have a national hill climb, bringing UK people over to watch the event. I talk to people all over the world about Le Val des Terres and Bouley Bay; they are unique, a bit like Monaco but in the islands, so I think it's very important to be able to bring grassroots motor sport to the public. It may not be a grand prix but you still get the same enjoyment at your local sprint or hill climb."
David Brabham, Former F1 driver, Le Mans 24 Hours winner
"Britain has long been the Mecca of motor sport worldwide, so when my father won his world championships, he had to come to Britain to do that. It amazes me to think that Britain doesn't have racing on the roads – properly controlled, of course – because I've competed in similar events abroad which have a lot of spectator support; the community comes together and there are so many positives that come from an event like that. The Targa Tasmania is an event in Australia in which both my father and I have competed, and it gets thousands and thousands of people coming out to do it, to support it, and it's such a boost to the community in terms of revenue coming in, hotels, restaurants, things like that, so it makes a lot of sense in so many ways."
Tim Harvey, British Touring Car Champion, 1992
"I think it's an absolutely fantastic idea because it brings motor sport to the people and shows it's not an elitist event that takes place behind fences. We had the Birmingham Superprix for a couple of years; it was such a fantastic event and people still talk about the 'Monaco of the North'! This could bring in an awful lot of people, money, tourists, race enthusiasts and all the mechanics and teams, so it's great for local business."
Quite an influential group eh? But they all have one thing in common – motor racing, although Derek Warwick's inclusion in this group may have had something to do with his venture on the 1990 Lombard RAC Rally. However, his transition from F1 to world rallying was prematurely curtailed by a ditch – on Stage 13!
I would hope that the omission of any leading 'motor rally' figures or representatives was deliberate given current sensitivities, but I would still have expected some comment at least being sought from Kris Meeke given his stature within the sport and experience of closed road events in the land of his birth. This might have given a little more 'balance' to the views, but the worrying concern is that with all these motor racers jumping on the bandwagon, there will be a flurry of applications for street races, hillclimbs and sprints once the go-ahead is granted.
On the other hand, the first meeting of the Government Review Group on motor sport safety is taking place this coming week.
That's a wee bit of a surprise considering the Government has not yet announced the individual names of all those who will be part of the Group, or even the full extent of the Group, merely five organisations and two individuals including JYS! So if they haven't decided who will comprise the group how can they all meet? Still I'm sure an early meeting will set the tone, and hopefully this first meeting will be used to determine the future make-up of the Group and employ some folk who actually have relevant experience and knowledge.
At the moment, the Group comprises:
– Motor Sports Association
– Scottish Auto Cycle Union
– Police Scotland
– Scottish Borders Council
– Health & Safety Executive
Plus, two named individuals:
– Sir Jackie Stewart OBE
– The current CofC of the Mull Rally
At this stage we don't how many, and who, will represent the five organisations but there is a commitment to add a safety and driver representative to the Group, although again, there is no mention of whether this will be a racing driver or a rally driver.
As for JYS heading this up, many people have already expressed their own fears and concerns. While Sir Jackie will bring a sense of credibility and assurance to those outside the sport, he will be regarded quite differently within the sport. It's a long time since he has been directly involved with the daily chores of organising complex events on a very limited budget. And whereas he can access suport that club people can only dream about to support his initiatives, will that support still be there for 'grass roots' motorsport? It's all very well advocating changes, but who will pay for them?
And therein lies my concern, the authorities still do not seem to have grasped the fact that racing and rallying are about as similar as soccer is to rugby. Yes, it's right that the Mull CofC should be asked, but why no representative from the 'Mull Rally Guardians' those who live on the island and are tasked with protecting and ensuring the continuation of the event? By the same token, and whilst I appreciate that there is an ongoing Police investigation, then why no input from the JC organising team? The Police and Borders Council are represented, and on that basis so should the rally.
Maybe I'm just being overly sensitive, but it all seems just a bit top heavy and one-sided at present. Hopefully we'll find out a bit more after this week's inaugural meeting.
Of course, the term 'motor sport' is all embracing, and certain issues will be pertinent to all types and levels of the sport, but if we don't get the right rule-changers and advisors in place at this stage, then we could all end up with elongated thumbs sitting down, slevvering over our string vests and goggle eyed in front of flat screens and never see, smell or hear the great outdoors again.
Fingers crossed, eh?
**