… Wales Rally GB, 13-16 Nov, Outline Route Announced …
Following the success of last year's move to North Wales, this year's revised Wales Rally GB (13-16 November) will feature a more compact and fan-friendly three-day schedule.
The concluding round of the 2014 WRC will be fought out over 23 competitive Special Stages totalling 191.27 miles (307.82 km) and efforts will be made to ensure that these stages can cater for spectators based out of the widely-praised new Service Park in Deeside.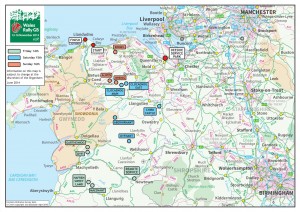 Night stages were re-introduced last year and have been increased for 2014 (from around 15 to 22 competitive miles).
The itinerary on both Saturday and Sunday includes a family-friendly RallyFest event designed to appeal to families and casual rally fans.
With building works underway on Conwy Quay, the Thursday evening Ceremonial Start has moved to the Eirias Park Stadium in Colwyn Bay. Entry to Eirias Park will be free and will also feature the popular pre-event autograph session with the world's leading drivers in attendance.
The dramatic high-speed action then blasts off early Friday morning to familiar Wales Rally GB territory close to Machynlleth. A long, challenging day in mid-Wales features double runs through the well-known Gartheiniog, Dyfi, Hafren Sweet Lamb and Maesnant stages, either side of a remote service in central Newtown.
Saturday's action is closer to Deeside and includes two spectacular stages in the Clocaenog forest plus morning and afternoon runs through Aberhirnant and Dyfnant – the final two after sunset. Before that the competitors return to the mid-day service in Deeside via Chirk Castle close to Wrexham for the first of the two RallyFest stages.
The picturesque Chirk Castle proved so popular last year that the number of spectators created serious traffic and access problems. The organisers have created a completely revised traffic management system, increased parking and enhanced spectator facilities. Moreover admittance this year will be by advanced ticket only, which will help to control numbers and assist with event planning.
The rally will conclude on Sunday with another RallyFest Stage at Kinmel Park, easily accessible from the A55, plus two challenging new stages in north Wales: Alwen and Brenig. The final run through the breathtaking scenery of Brenig is the event's dramatic, concluding Power Stage for which extra points are awarded.
As last year, the winners will be crowned on Mostyn Street in Llandudno. Access to both official Start and Finish Ceremonies will be open to the public and totally free, as is admittance to the Service Park in Deeside.
World Rally Passes are already on sale priced at £99 and will provide access to all 23 special stages including the RallyFests at both Chirk Castle and Kinmel Park. Prices for day Forest Passes, RallyFests and individual stage access will be confirmed when they go on sale later in the year.
"Wales Rally GB is one of the truly great rounds on the world championship calendar," said Ben Taylor, Managing Director of Wales Rally GB. "We are determined to build on the success of last year and ensure that this year's rally brings the excitement to even more people. The 2014 event has been put together with the interests of both competitors and spectators in mind. We believe that this will provide a challenging test for the drivers and some fantastic viewing opportunities for the fans."
"It is fair to say that we were caught out last year by the sheer number of people wanting to get into the stages; we haven't had that problem for many years. My message to everyone is that we have learned the lessons, we will have robust plans in place, and by going ticket-only on the RallyFest stages we will have a better control on the numbers. As ever, the best value will be in the World Rally Pass which gives access to everything, but we will set a limit on the number of these available.
"For the first time in many years, we have two British drivers – Elfyn Evans and Kris Meeke – at the forefront of the sport, so there is every likelihood that this will one of the best ever Wales Rally GBs."