… 20 Questions – with Quintin Milne …
Quintin Milne is a quiet, shy, retiring, modest, clean living, non-swearing young bloke who appeared on the Scottish rallying scene like a wee timid candle amongst a battery of 9 inch Cibie Super Oscars – Ooops, sorry, wrong introduction. I'm thinking of someone completely different.
Try again. Here we go.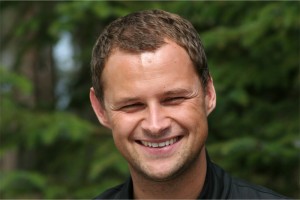 There is never any doubt when Q is around. He exploded on to the rallying scene like a burst bottle of Irn Bru and has never stopped bubbling since. Curbing his enthusiasm is like trying to squeeze a 20 inch spring on to a 10 inch strut – by hand. I remember a Galloway Hills Rally in 2001. He was virtually last man home after a troubled day in his wee Nova. He sprung out of the car at the finish in Castle Douglas High Street, beaming from ear to ear and hurling abuse at me, in the nicest possible way! Earlier, I had suggested that the way he drove the car, he would probably end up carrying it through the Finish Control in a plastic bag. He proved me wrong. Rallying went quiet for a few years after that till he bounced back in 2011 with his beloved MkII, although success didn't properly arrive until he got the Lancer. There is no doubt there is talent to spare in that slight frame and I don't envy Martin Forrest one little bit sitting beside him trying to apply it and control it. Mind you he is getting a wee bit quieter these days, it must be age – but he ain't slowing down.
(Note: The bits below in brackets are additions from me. Ed.)
1. The Day Job:
Pipeyard Manager. I also started the 'Aberdeen Rally Centre' last year. It's a corporate activity centre and we cater for groups of up to 20 people. We also do a bit of testing and preparation there and one-to-one rally driving tuition.
2. Age:
33
3. How long have you been rallying?
14 years, but with 10 years out of it. I did 5 rallies in 2001 in my 1300cc Vauxhall Nova, then a few in 2002, wrecked the car and was out of it for 10 years coming back with the MkII in 2011.
4. Why?
I've always been around rallying growing up. My father did it and he helped Colin McRae when he was starting out and continued to support his career until Colin became professional and Dad still followed him. I've gone with them to tests and to Rally Finland. I just love driving. I read the 'Q20' with Jock Armstrong and I agree with what he said about rallying allowing you to be a hooligan, but you have to control it and refine it. I love the feeling of the car being unsettled and riding on the top of the loose, carrying speed from one corner to the next, from one flick to the next. That feeling when it all comes together is what it's all about.
5. Hero?
Colin McRae – and my Dad (Donald Milne).
6. First event?
My first event was the Speyside Stages. I can't remember how I did, but I finished. I didn't finish my second event though!
7. Rally cars?
Vauxhall Nova, Peugeot 206 Cup Car, Ford Escort MkII, Mitsubishi Lancer Evo9
8. Favourite cars?
Easy, my MkII. I love how you can get a car like that back from almost fully sideways without losing it. I also loved the MG Metro 6R4. It was such an animal.
9. Best result?
The Border Counties last year (2013) was my most enjoyable win. Yes, there was some luck involved, but the conditions that day (snow and thick ice) were a great leveller for car control. That ranks up there with my win on the McRae Stages in 2012. Did you know, that until that event I had never been able to sleep the night before a rally, but since then I can? Prior to that there was just so much pressure on me from folks with high expectations. When I first drove the Lancer and was running top six stage times that day I knew that I was on the pace and knew that I could win a rally one day. I suppose I put a lot of pressure on myself too, but since that first win I can now sleep the night before a rally!
10. Worst result?
That was on the 2002 Pirelli Rally in the Peugeot 206 Cup Car with Duncan McIntosh. It was the second last stage and we were leading by 6 or 7 seconds. Colin (McRae) and my Dad had been behind me getting the drive for a full season. It was on the approach to a bridge, or culvert thing with high walls, and I threw the car in, scraping both front and rear bumpers at the same time and shot out the other side. I thought I was invincible, I was on such a high after that. One and a half miles later, I barrel rolled it 6 times. Corrado Provera was the Peugeot Team Manager at the time and asked me what had gone wrong. I tried to explain it, and I think he understood. Young driver trying hard and trying to impress.
11. Worst accident?
That would be the Pendragon last year. It wasn't a bad accident, just a bad angle. The car was OK but it had kinked the front chassis leg. That was bad enough, but it damaged the 4th vertebrae in my back. That was sore.
12. Favourite Rally/Stage?
It has to be the Ouninpohja stage on Rally Finland, I want do that event one day and do that stage. It's the flat out crests and the full suspension bumps that appeal. My favourite event is the Speyside Stages. I like the fast flowing roads and it's always such a well run event.
13. Food to go?
I eat very little on a rally. I'll eat some bananas for breakfast and then it's just energy juice during the day. Martin (Forrest) keeps feeding me Lucozade Sport between the stages.
14. Fitness?
I run twice a week, usually between 5 and 10k. I also do a bit of mountain biking and enduro motor cycling.
15. Road car?
Audi A3 TDI. It's cheap to run. I sold my Evo because it had a drink problem.
16. Driving Music?
I like listening to the radio – and talking to myself! Funnily enough, I used to hate my Dad's music when he was driving me to school, but it must be an age thing, I find myself liking 'old stuff' now, like Neil Young and Tom Pettie.
17. Easy Listening?
I tend to be out doing rather than sitting listening, but I like the Red Hot Chilli Peppers, Foo Fighters and an American rock band called Tool. (No, me neither. Ed.)
18. Time off?
I don't have the patience for golf. I'd be throwing my sticks (golf clubs) into the trees before I got half way round, and yet both my grandparents were scratch golfers. For relaxation I like to fly model aeroplanes and helicopters. I'm really quite into that at the moment.
19. Reading material?
I read a lot of books about the oil industry, I'm still learning. I buy Motorsport News every week and Trail Bike Mag every month.
20. Social media?
I love it, and I hate it. It's been great for me, keeping in touch with folk and I've had loads of help through it too, but it can be terrible at times when folk say the wrong thing and others take it badly. Genuine mistakes or misunderstandings can generate hate mail. That's the dark side of social media, but it mostly it is good.
https://www.facebook.com/pages/Quintin-Milne-Rallying/211916378967099
https://www.facebook.com/pages/Aberdeen-Rally-Centre/525660977524272
**