… 20 Questions with Jock Armstrong …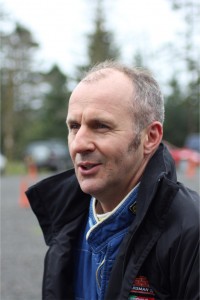 Nothing is ever straightforward with Jock Armstrong. Not for him a simple quiz with short answers, get him talking about rallying and he just doesn't shut up. And that's what we all love, the passion spills over whenever Jock's around. Yes, he gets a bit downbeat at times, but it never lasts long, Give him a good stage, a fast car and lots of corners and he's happier than a hippy in a poppy field. But behind the smiling exterior lurks a fiercely competitive individual. Of course he's there for the fun and enjoyment, but he's there to win. On his own terms, and not at any cost. That's why he won't buy a Focus WRC. It's business first with Jock and he has other interests outside rallying. And perhaps that's why he's not a works rally driver. He was on the cusp of turning pro at one time when he won the Shellsport Scholarship and was signed up to drive a Nissan Sunny GTi in 1995 and '96. He had the talent and the ability to talk to media which appealed to works teams, but then business came first. He dropped out of regular rallying in the early 2000s, but bounced back in 2009 with fifth place overall in the Scottish Championship and finished runner-up to David Bogie the following year. Who knows what might have happened if things had turned out differently?
1. The Day Job
Company Director with R Earsman Ltd which started life as a small building contractor which then added joinery and other trades to its business then expanded into the telecoms industry which led on further to fibreglass shroud making and cabinet making for roadside power boxes. Now has a company called Tommy Two Sheds making kiosks – and sheds!
2. Age:
See my Facebook page! (He actually hits the big Four Five next year! Ed.)
3. How long have you been rallying?
25 years
4. Why?
I just like being a hooligan, skidding around and not offending anyone. You can't do that on the public road, that's why rallying appealed. Also, I wanted to beat my sister. Barbara was driving at the time and doing very well and getting noticed, so like any brother would, I wanted to beat my sister.
5. Hero?
Colin McRae. His apparently 'reckless' driving inspired me. I haven't watched many events over the years but half of them were just to see Colin driving, usually on the RAC or the Scottish. I needed to see that. I remember going to the Baldoon Stages in my Vauxhall Nova and Colin passed me round a corner and over a bridge sideways in a Subaru with the exhaust shooting flame – and this was on the public road! He had a problem with the car and this was him going to service to get it fixed and get back in the woods. I thought, if I could just get round a corner like him …
6. First event?
I couldn't be a co-driver. I get sea-sick, even on a short road section. My first event was the 1989 Galloway Hills in my Vauxhall Nova. There were around 135 entries that year and I think I finished in the top 50 somewhere, but the most important thing was, I beat my sister. Admittedly she had a problem with her 1.9 Peugeot, but the results showed me finishing higher than my sister! That was the main thing.
7. Rally cars?
Vauxhall Nova, 1.9 ltr Peugeot 205, Nissan Sunny GTi, VW Golf Kit Car, a couple of Mitsubishi Lancers and various Subaru Imprezas.
8. Favourite cars?
It has to be my Vauxhall Nova. It was the cheapest form of fun, those were the days. Four Colways, pump fuel and money left over for the pub. I've never driven a Group A 4WD car but the bigger and noisier the car, the better I like it. It must have a high 'hooligan factor' to appeal to me.
9. Best result?
It would have to be Rally Scotland in 2009. That was the first time since my Nissan days that I'd driven the stages and made my own Notes. It brought it all back to me. There wasn't a huge entry but some of the quickest drivers in the country were there and I was really pleased with 4th overall.
10. Worst result?
I got excluded on the 1996 Manx Rally when the Nissan broke a driveshaft. I was blocking the road and couldn't pull over so I got 'Mr Higgins' to push me out because he couldn't get past. After the rally he protested me. I didn't like that.
11. Worst accident?
No accident stands out, they've all been about the same. Thankfully there haven't been too many. Most retirements were mechanical. I rolled the Nissan a couple of times. That got me plenty of publicity and headlines but not the kind that appeals to sponsors. I remember rolling once on Drummond Hill on the Scottish. Richard Burns was actually amongst those who pushed me out. That wasn't so good.
12. Favourite Rally/Stage?
I like tarmac stages, especially the one near Brandywell Cottage on the Isle of Man. When I'm over there on business I like to drive that stretch of road and I think to myself 'how did I ever manage to drive flat out over this road?' It brings back memories. I also like the 20 mile version of the Glentrool stage, that's a proper stage. And I suppose my favourite event is the Galloway Hills, not just because I sponsor it, but it was my first event too.
13. Food to go?
I eat plenty, a full breakfast before a rally. Not a cooked breakfast, but cereals and fruit. Then at lunch times I like a couple of sandwiches. I've got to eat. And of course, there's Cruella's rock buns for an instant energy fix.
14. Fitness?
I did 30 miles on my bike tonight just before you phoned. I aim to do 100 miles a week. I take Friday and Saturday nights off to have a few beers, but start cycle rides on Sunday and finish on Thursday. I also do a bit of mountain biking, two or three triathlons a year and I have a Cross-trainer at home.
15. Road car?
I have a 4×4 VW Toureg, the 3 litre diesel. I suppose the name sounds a bit like 'toe-rag', so that sounds a bit like me!
16. Driving Music?
I'm always on the phone, I don't listen to music in the car.
17. Easy Listening?
I once bought a Razorlight CD, that was in my last car for 3 or 4 years. I think it's the only CD I ever bought. I used to bore folk with it because it was the only music I played whenever friends were in the car with me – but I did it just to annoy them!
18. Time off?
I'm in a local game shooting syndicate and I play squash. I find that good for co-ordination. The ball moves so quickly, it helps to keep 'the eye' in, and I think it helps my driving.
19. Reading material?
My Mum buys Motorsport News every week, so I read hers. I don't buy anything myself.
20. Social media?
I've got a Facebook page but I don't really do much with it, although I like it when people put pictures up. I prefer pictures. I don't have time to follow anyone but I think FB is good for catching up with people and finding out what they're doing. I've just started getting involved with websites, but for the business, so I've got one for Earsman and Two Sheds, and one now for Molpant.
https://www.facebook.com/jock.armstrong.1