20 Questions with – David Bogie …
David Bogie is the most successful Scottish national rally driver – ever. He has won five Scottish titles, the British Rally Championship and the Evo Challenge. So far a 'works' drive has eluded him, but then he hasn't been chasing one. Rallying is still very much a sport to David, and he is more serious about building up his own business and working in the family business, so rallying takes second place to that. That's not to say he hasn't had some offers, but after careful consideration, he has stuck to what he does best – plays hard and works harder.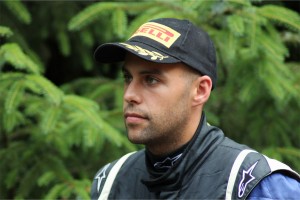 1. The Day Job
Director in Dundas Chemical Company – animal by-products rendering business.
Also has own business, Knockalla Livestock Collections – buying and selling cattle.
2. Age:
26
3. How long have you been rallying?
9 years
4. Why rallying?
Started autotesting at 14, but driving cars and quad bikes in fields from a young age. Rallying has always been a passion as far back as I can remember. Going to watch rallies with my Dad. Played lots of other sports at school but rallying has always been my passion. Even at primary school I always wanted to be a rally driver.
5. Hero?
Colin McRae, that's it. Full stop. From as young as I can ever remember. I first met him at the Galloway Hills Rally, back in '93 I think it was, and he signed my programme then. He wasn't world champion then, he was British champion, but that was my first encounter with Colin McRae.
6. First event?
Grizedale Stages, December 2004. In a 1300cc Vauxhall Nova and won my class, came back, pressure washed it and did Galloway Hills the following day and got 'Best Improvement in Seeding' award and 2nd in class! Dream weekend, car never missed a beat all weekend.
7. Rally cars driven?
Vauxhall Nova, Corsa, Mitsubishi Lancer Evo9, Subaru Impreza S9, Toyota Corolla WRC, 05 Focus, 02 Focus, GrpA Subaru Impreza, Ford Fiesta WRC (M-Sport test), Ford escort MkII, Peugeot 208 600 hp Rallycross car, MG Metro 6R4.
8. Favourite cars?
Evo9, purely because I managed to win 4 Scottish Championships with it, the British Championship and the Evo Challenge, so great memories with that car and never one mechanical non-finish. I've still got it, sitting pristine in my garage – I'll never ever sell it!
9. Best result?
4th overall and 1st Group N on Rally Scotland behind Haninen, Meeke and Mikkaelson.
10. Worst result?
Any non-finish is a bad result but there's none that stick out in my mind.
11. Worst accident?
Merrick Stages 2008. Went off and hit a tree – in sixth gear in the Toyota Corolla. Broke the roll cage, broke both seats, cracked my helmet. Both OK.
12. Favourite Rally/Stage?
Rally Scotland is my favourite event without a doubt. Best rally I've ever competed on, the stages in Perthshire and Stirling with a start at Scone Palace and a Finish at Stirling castle, just everything about it. To be part of an IRC (now ERC) round, just absolutely unbelievable. As for favourite stage, we've got so many good gravel stages in Scotland, we're spoiled for choice, but for tarmac I'd say Knockalla in Donegal. Unbelievable, huge commitment required for that stage.
13. Food to go?
I tend not to eat anything on a rally, but I do have to eat during the course of an event, and just try to eat as much pasta as possible, maybe drink 4 or 5 cups of coffee, and 4 or 5 bottles of water, but I do force myself to eat pasta. Perhaps 2 or 3 Red Bull, but mixed with water – not in the same drink, but swap about.
14. Fitness?
If you feel fit mentally, that's the key. I go to the gym once or twice a week, but didn't go at all over Christmas and New Year! Standard of fitness is pretty good but if I feel I need to do more, I'll do it.
15. Road car?
LHD Audi A3, 2 litre diesel, with 140,000 miles on the clock – every previous owner before me has been a rally driver too. And it's been abused! But it does the job. Rally car is LHD so it makes sense.
16. Driving Music?
Usually just listen to the radio, my taste in music is so varied, and just take it as it comes. CFM or WestSound locally.
17. Easy Listening?
Again, taste is so varied. Anything from dance music, pop to rock. Like JayZee.
18. Time off ?
I've got my full Helicopter licence now for the Robinson R22, so try to do as much flying as possible. Also enjoy travelling as much as the job will allow. Follow rugby and boxing.
19. Reading material – What magazines or internet sites do you follow?
I don't tend to read books or magazines, tend to find everything I need on the 'net.
20. Social media?
I like social media, enjoy Facebook and Twitter, particularly 'RallyCarsforSale.com'. I'm on that website everyday to see what cars are being bought and sold. Yes, every day, and have done for years, just to see what cars are going, values, and who's doing what. Facebook is great for keeping track, I've got friends all over the world and it's just so much easier to keep in touch and see what everyone is doing. I have a Twitter account but haven't used it much, although I'm going to start using it again this year.
**
Website: http://www.davidbogie.co.uk/
Facebook: https://www.facebook.com/DavidBogieRallying
Twitter: https://twitter.com/D_Bogie
**