The Kingdom Stages Rally, Saturday 2 Nov …
Rd 11 (of 11) BLUE Scottish Tarmack Rally Championship …
Crail provided the perfect 'calm before the storm' welcome last weekend for the final round of this year's BLUE Scottish Tarmack Championship. We were almost fooled. Cold, dry-ish, almost sunny conditions gave way during the course of the morning to murky and sudden concrete lashing belts of rain which scudded across the airfield forcing folk to dismantle their tented encampments. It came on just after lunch and dissipated somewhat before close of play so we had something to be thankful for.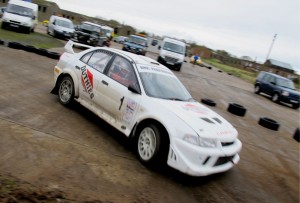 As it was, Alistair and Colin Inglis came from behind to win the Kingdom Stages Rally by 12 seconds from Stuart Baillie and Lachlan Cowan, but it was Ian and Kathryn Forgan who clinched the title in this year's BLUE Scottish title race.
Inglis took the lead after three of the day's six stages, but on the fourth test, the Lancer slowed to a halt out on the circuit: "All the electrics just cut out, and it took us a while to figure out what had gone wrong," said Alistair, "but we both jumped out to get under the bonnet and found it was the master electrical cut-out which had a fault. We switched it back on and managed to get back to service." Even so, the crew dropped only 16 seconds to Baillie and Cowan.
With two stages to go, Baillie had a 3 second lead. "That fifth test was scary," said Stuart, "the rain was battering down and the road was flooded in places. You could turn the wheel as hard or as gently as you could in places and nothing would happen, it would just drive straight on!"
It was a point echoed by Inglis as the lead duo fought for victory: "There was one long right hander round the back of the airfield which we came into a bit too hard. I was flat in sixth gear and the car was drifting as if it was on a gravel stage. The trouble was, it wasn't, it was water."
Inglis managed to take 4 out of Baillie on the watery fifth test and then another 11 on the final wet, puddled test to take a hard fought victory.
Tom Morris was holding third place after three tests, but lost out when the Metro 6R4's paddle shift failed. "Nothing actually broke," said Tom, "a small grub screw which held the paddle shift in place had worked loose and the car was self-selecting gears." Once they had located the problem, the crew took to the stage again to try out their 'Loc-tited' fix. Bob Grant had been holding a pretty secure fourth place in the Subaru, but was having trouble catching the Escort MkII of John Paterson. That all came to nought when the Subaru's diff failed on the final run.
That left John Paterson as surprised as anyone else to be in third place with a rear wheel drive car in wet, puddled, aquaplaning conditions: "I have no idea how I did that," said John, "given those conditions, a rear wheel drive car shouldn't have been up there." Mind you he was lucky too: "I nearly hit a tyre bale at the end of SS5. I had to miss other cars all braking for a corner and took to the grass – but missed everything!"
Even more impressive was young Ross Marshall who finished fourth in his 1600cc MkII Escort and he too was sitting on a set of rubber that looked entirely unsuitable for the monsoon conditions. He finished fourth overall, 40 seconds behind Paterson.
And after a troubled two seasons with a few engine maladies, Kenny Moore's Avenger came good in the terrible conditions to score fifth place by 3 seconds from Lee Hastings. It could have been different, but Hastings sideswiped a chicane on the penultimate test, and on the driver's side too!
Bruce Edwards fought back from 34th place, when he inadvertently took the wrong route on the third test, to finish seventh in the Darrian. "The car was sh*t* on the first two stages," explained Bruce, "but we got it sorted and I was enjoying myself so much on the third test – I did an extra lap!"
First time out since the previous Crail, Jamie Stewart finished eighth in his 2 litre Peugeot 205 ahead of Neil Thompson who had a good run into ninth place in his Corsa.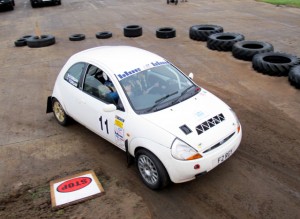 That left Ian Forgan to round off the top ten. Needing only a top three class finish to clinch his first Scottish National Tarmack title, Forgan was taking it easy in treacherous conditions: "We were in 19th place after the first two stages," said Ian, "and so I said to Kathryn (the missus), we'll need to raise the pace a bit, and she said to me 'just a wee bit then'!"
That 'encouragement' may sound somewhat lacking in conviction, but remember, the Forgans had a huge accident at Crail less than six months ago and the Ka needed some serious remedial work to finish the season.
Sean Will just lost out on a top ten finish when he punctured the front n/s tyre on the fifth test and that was after fracturing a brake pipe on SS2, and Gerry Gaffney also lost out on a top ten finish when he took wrong direction on the final stage.
Scott MacBeth won the 1400 class in his Nova and was an excellent 16h overall, although he did manage to have a big spin on the second hairpin of the first stage. That was down to an excess of enthusiasm rather than an excess of power. James Thomson finished runner-up but was having trouble with his gearbox: "It's difficult trying to select second gear at times," said James, "and when I do get it in, it's jumping out again." Aye, we all know what you mean James, eh? Steven Hay capped an encouraging season with third in class ahead of Drew Barker who's only complaint was that his "Garfield was getting wet!"
Murray Coulthard lost a possible second place when his Nova broke a driveshaft and 'Speedy' Runciman failed to finish with an electrical fault after the wipers failed on SS4. Ross Carbry's exit was rather more dramatic. The back end of the Corsa stepped out on the second stage, the car reared up on two wheels and then speared into the only steel gate post in sight. Ross thinks the engine is OK but the vee-shaped dent in the front has gubbed the radiator.
Ross Marshall and Neil Thompson took the top two places in Class 3 with John Rintoul having to settle for a disappointing third place. John had actually been holding a top ten place overall early on in the wee Skoda, but on the fourth test dropped 2 minutes: "It was silly really," said John, "when Nicky reached across to switch on the wipers, he inadvertently hit the fuel pump switch which is situated right behind the wiper switch. It took us a while to figure out exactly what was wrong. Easy done, but I'll need to fix that for next time." What is it footballers say? Sick as a parrot?
Craig Gibson finished fourth in class in his MkI ahead of young Greg Inglis second time out in the Saxo with Gavin Lloyd sixth in class. Scott Russell failed to finish when his gearbox spat some internals through the casing and Tom Middlemiss retired with similar, but not as severe, gearbox maladies in his Corsa. Paul Hunter broke a driveshaft in the Peugeot and Eric Falconer cowped his Peugeot big time so both failed to finish.
Final Results:
1, Alistair Inglis/Colin Inglis (Mitsubishi Evo 5) 76m 56s
2, Stuart Baillie/Lachlan Cowan (Subaru Impreza) 77:08
3, John Paterson/Scott McMinn (Ford Escort MkII Millington) 78:07
4, Ross Marshall/David Hunter (Ford Escort MkII) 78:47
5, Kenneth Moore/Dick Wardle (Hillman Avenger) 81:40
6, Lee Hastings/Brian Findon (Subaru Impreza) 81:43
7, Bruce Edwards/Jim Smith (Darrian T9) 81:50
8, Jamie Stewart/Kevin Mollison (Peugeot 205 GTi) 82:14
9, Neil Thompson/Katie Stimpson (Vauxhall Corsa Kit Car) 82:30
10, Ian Forgan/Kathryn Forgan (Ford Ka) 82:44
Class Winners:
Class 2: Scott MacBeth/Ross MacDonald (Vauxhall Nova) 84m 38s
Class 3: Ross Marshall/David Hunter (Ford Escort MkII) 78m 47s
Class 4: John Paterson/Scott McMinn (Ford Escort MkII Millington) 78m 07s
Class 5: Gordon McElrath/Colin Smith (Vauxhall Chevette HS) 91m 56s
Class 6: Alistair Inglis/Colin Inglis (Mitsubishi Evo 5) 76m 56s
**