Colin McRae Forest Stages Rally, Saturday 5th October 2013 …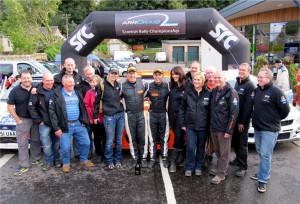 The Bears were due a break this year. The past two years have been pretty horrible weather-wise and although the criticisms were justified given the conditions, it was something outwith their control, and they just had to grin and bear it.
This year the weather gods smiled on Perthshire and what a cracking even it turned out to be. Unfortunately, for the ARR Craib Scottish Rally Championship that is, the national title has now been decided with one round remaining. On the other hand, the title was won on the stages. What a battle.
The history books will show that David Bogie and Kevin Rae scored a record breaking fifth consecutive national title, but folk will have to read beyond the headlines to see how it was done. Euan Thorburn and Paul Beaton actually went into the final 10 mile stage in Craigvinean, 8 seconds in the lead!
Prior to the start, Bogie needed victory to clinch the title while Thorburn needed victory to deny him. No need for calculators then, eh?
SS1, Sophia Wood, 5.70 mls
1= David Bogie/Kevin Rae, 5m 32s
1= Euan Thorburn/Paul Beaton, 5m 32s
2, Dave Weston/Dave Robson, 5m 42s
3, Jon Burn/Alan Stark, 5m 47s
4, Chris Collie/Mark Fisher, 5m 48s
5, Mike Faulkner/Peter Foy, 5m 49s
6, Donnie MacDonald/Andrew Falconer, 5m 56s
The Historics ran first on the road followed by the sub 2 litre 2WD brigade, so the heavyweight mob were running in the third group, but as the 4WD runners approached the first stage at Sophia Wood, Quintin Milne pulled over to the side of the road. No it wasn't a problem with the Lancer, it was to let the two Fords through, with Quintin commenting: "It's between those two today so Martin and I decided to let them run ahead of us and get on with it." Nice one Q.
Get on with it they did. At the end of that opening stage they both stopped the clocks on 5m 32s. Not only that, the Stage Bogey was 5m 32s. Immediately some folk thought what waste, but in actual fact, they had both equalled the Bogey time itself. How calculated was that? And no doubt it was due to the efficiency of the robust Coltness CC constructed chicane! It was later suggested that the Bears could offer this technology to Wee Eck to build dams for some more hydro-electric schemes!
I digress. Nothing won, nothing lost, both top drivers tied, but a full 10 seconds behind was Dave Weston. Jon Burn was fourth quickest commenting: "I had to pull the door mirrors in to get through the chicane," but it was an observation, not a complaint. Chris Collie was on the money again, fourth quickest by one second from Faulkner and the laid-back Donnie MacDonald sixth having a wee laugh to himself: "Last year on the first junction in the first stage, I overshot and stalled. Guess what? I did it again this morning."
SS2, White Gates, 3.60 mls
1, Euan Thorburn/Paul Beaton, 3m 42s
2, Jon Burn/Alan Stark, 3m 58s
3= Dave Weston/Dave Robson, 3m 59s
3= Chris Collie/Mark Fisher, 3m 59s
3= Mike Faulkner/Peter Foy, 3m 59s
4, Barry Groundwater/Neil Shanks, 4m 01s
5, Alistair Inglis/Colin Inglis, 4m 02s
6, David Bogie/Kevin Rae, 4m 03s
Still within the Craigvinean complex, the crews moved on to the second stage, and this time there was clear air between Thorburn and Bogie. There was 21 seconds between them.
"We punctured a front tyre with 3 miles to go," said David, "we were coming out of a 5R into a 4L and just as we turned in and put the power on, the tyre went down." That put a flicker of a smile on Euan's face: "The stages are good, but they're slippy in places. It's hard to judge, especially under the trees." Euan wasn't kidding himself though, punctures can happen to anyone, any time.
That meant Jon Burn was second quickest ahead of another tie with Weston, Collie and Faulkner all sharing the third quickest stage time, although Faulkner had some concerns at the finish. "There's a horrible grinding noise coming from underneath," said Mike, but at service a stone was found jammed between the calliper and wheel.
Barry Groundwater in his repaired Lancer (from the Merrick crash) was fourth quickest from Alistair Inglis, with Bogie salvaging sixth fastest time.
As for Milne, he wasn't in the half dozen quickest times on either stage and had a wee woopsie at the start of the second: "I injured my back on the Pendragon and I'm not entirely comfortable in the car," said Quintin, "then at the start of the second stage I went off on the second corner and bumped through a ditch. That jarred my back further." At service he wisely decided to call it a day.
Also calling it a day was Andy Horne. The DAM had broken its gearbox and was parked up on the roadside. Not calling it a day was Mark McCulloch who emerged from the forest with n/s damage to the rear wheel and bodywork. "We struck a log pile just after the hairpin," said Mark, "but managed to finish the stage. We didn't feel a huge impact, but it bent the suspension and damaged a driveshaft. We were lucky, I could see it coming – no excuses!"
SS3, Errochty, 13.20 mls
1, David Bogie/Kevin Rae, 12m 48s
2, Euan Thorburn/Paul Beaton, 12m 52s
3, Dave Weston/Dave Robson, 13m 17s
4, Chris Collie/Mark Fisher, 13m 32s
5, Mike Faulkner/Peter Foy, 13m 34s
6, Donnie MacDonald/Andrew Falconer, 13m 39s
After first service the crews headed out to Errochty, 13 miles of forestry road rising and falling over 1600 feet, but thankfully the early morning mist had burned off. It was Bogie this time, but by only 4 seconds from Thorburn. The fightback was on.
Weston was third from Collie, Faulkner and MacDonald while Brian 'The Sheriff' Watson didn't make it out of the woods when a bottom arm snapped on the suspension. Sandy Arbuthnott's rally didn't last long either, the Metro suffering some sort of mechanical failure.
SS4, Kindrogan, 3.95 mls
1, David Bogie/Kevin Rae, 4m 22s
2, Euan Thorburn/Paul Beaton, 4m 23s
3, Mike Faulkner/Peter Foy, 4m 40s
4, Jon Burn/Alan Stark, 4m 42s
5, Andrew Gallacher/Phil Sandham, 4m 43s
6= Donnie MacDonald/Andrew Falconer, 4m 44s
6= Barry Groundwater/Neil Shanks, 4m 44s
In all fairness Kindrogan wasn't the best of stages, but here the difference was one second, again in Bogie's favour, with Faulkner best of the rest third fastest: "With the David and Euan on this form, that's the best I could hope for," said Mike.
Jon Burn was fourth quickest ahead of the Group N Lancer of Andrew Gallacher. "I fitted a new turbo to the car just before this event," said Andrew, "just to freshen it up. But when we put it on the rolling round, we found it was 20 hp down on the old one! It felt like a lot more on those hills."
MacDonald and Groundwater shared equal sixth fastest, but Collie was going no further. The rear suspension on the Lancer had broken, and he was out. Dave Weston was luckier though: "I knocked a wheel speed sensor off and lost the rear diff. We spun into the trees," laughed Dave, "but we were lucky we were still just about on the road!"
Dougal Brown was lucky too. "The car was making a loud knocking noise from the transmission which turned out to be the prop-shaft guard which had been bent up against the prop as a result of driving over a large rock." The crew also picked up a puncture which was sorted out before heading off to SS5.
SS5, Blackcraig, 7.60 mls
1, David Bogie/Kevin Rae, 7m 02s
2, Euan Thorburn/Paul Beaton, 7m 10s
3, Alistair Inglis/Colin Inglis, 7m 13s
4, Mike Faulkner/Peter Foy, 7m 21s
5, Donnie MacDonald/Andrew Falconer, 7m 29s
6, Dave Weston/Dave Robson, 7m 30s
Bogie snatched back another 8 seconds from Thorburn in Blackcraig, where this time it was the blue and white Focus which had punctured. Game on. The Inglis brothers were third quickest ahead of Faulkner, MacDonald and Weston.
SS6, Craigvinean, 10.10 mls
1, David Bogie/Kevin Rae, 9m 58s
2, Euan Thorburn/Paul Beaton, 10m 24s
3, Donnie MacDonald/Andrew Falconer, 10m 36s
4, Mike Faulkner/Peter Foy, 10m 39s
5, Dave Weston/Dave Robson, 10m 41s
6, Barry Groundwater/Neil Shanks, 10m 45s
And so to the final stage. Craigvinean, one of Colin's favourite stages. And a place that is seared into the memory because I once saw a skinny tyred, Pinto engined MkII dance to the tune of 'raindrops keep falling' with the master of the automotive terpsichorean two-step at the helm. That was a vile rainsodden day, made instantly memorable by a twinkling burst of sunshine, but I digress.
It was into this stage that Euan and David headed, just 8 seconds apart. 10 miles of hairpins and long curves, hills and tight bends melded into one flowing stretch of gravel.
Already there was a problem. Thorburn was forced to switch his gearbox to 'manual' mode when he detected a glitch in the Focus paddleshift: "No problem, you don't really lose that much time using the lever," said Thorburn. As for Bogie: "We were on completely the wrong tyres, they were too close-pattern, but it was all we had left," he said.
He was nearly off in the first corner and then again on the second: "The car was going everywhere. No grip and no traction," said David, "and I just thought 'what the hell' we're going for it. I didn't lift for that whole stage." A fact which no doubt accounted for losing half his rear bumper.
If things were bad inside the orange Focus they were about to get worse inside t'other. "Approaching Junction 13 we got a puncture and only just made it round, full broadside," grinned Thorburn.
With neither crew knowing how well the other had done, there was a tense moment or two at the stage finish while they worked it out from the clocks. Bogie was quickest by 26 seconds from Thorburn. Victory and the title was his, and Euan was first to shake him by the hand and congratulate him.
Third quickest through there was MacDonald, and for all his blustering and bonhomie, there is a pretty rapid driver inside that red Lancer. "I was absolutely delighted with that third fastest time," said Donnie, "and the overall result. I need to lose two '15's in my total Championship score to move up the table, so I've managed to lose one of them."
Faulkner was content enough with fourth quickest, but better pleased with a decent run throughout the day after a pretty dispiriting season so far. Weston, who had lost the use of third gear, was fifth ahead of Groundwater who was worried throughout that final test with a diff problem.
There was just one more little act to play. When Euan walked back to the car, he made a decision. With the Cambrian Rally just two weeks away he didn't want to risk incurring any further damage (and expense!) to his gearbox and decided against the 25 mile run-in to the Aberfeldy rally finish. That 'retirement' moved Faulkner up to second place, only his second podium finish this year and Weston into third.
But the day belonged to Bogie and Rae. Their fifth consecutive national title, well and truly eclipsing Drew Gallacher's record of four.
It was a case of history repeating itself, as David's Dad, John Bogie explained: "That was nerve wracking. When he won his first title five years ago he went into the final stage 22 seconds down on Neale Dougan on this very event to clinch the rally win and the title. And to do it again is just magic."
Top Ten Results:
1, David Bogie/Kevin Rae (Ford Focus WRC) 43:45
2, Mike Faulkner/Peter Foy (Mitsubishi Lancer Evo 9) 46:02
3, Dave Weston/Dave Robson (Ford Focus WRC) 46:24
4, Donnie MacDonald/Andrew Falconer (Mitsubishi Lancer Evo 9) 46:36
5, Jon Burn/Alan Stark (Subaru Impreza WRC) 46:50
6, Barry Groundwater/Neil Shanks (Mitsubishi Lancer Evo 9) 46:53
7, Alistair Inglis/Colin Inglis (Mitsubishi Lancer Evo 5) 46:54
8, Mark McCulloch/Elliott Edmondson (Subaru Impreza) 47:26
9, Andrew Gallacher/Phil Sandham (Mitsubishi Lancer Evo 9) 47:26
10, Bruce McCombie/Michael Coutts (Mitsubishi Lancer Evo) 47:38
**