Old Stagers – Kames – Pirelli – JC/Reivers ….
Old Stagers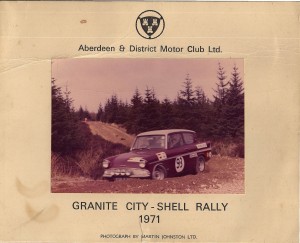 I don't know if Richard knows this, but I got a note from his very caring and thoughtful offspring, Peter, who sent me the enclosed copy of a mounted photograph showing his faither Richard Stewart competing on the 1971 Granite City Rally with Walter McDonald. And for the youngsters who are reading this, no, it's not Harry Potter's faither, this was Richard's rally weapon in those far off days, a Ford Anglia.
Either Richard inspired or so frustrated his co-driver that Walter himself turned to rally driving and was pretty handy. Walter finished third overall in the 1980 Scottish Rally Championship in a MkII behind Drew Gallacher and Ken Wood, but ahead of Dom Buckley (the original one) and Donald Heggie.
So here he is, back again, with Richard on this weekend's Granite City – but not in the Anglia.
**
Kames Rally Time Trial, 12th May
East Ayrshire is running another of their popular Rally Time Trial events at Kames on May 12th and since it is just three weeks till the Jim Clark, this might just provide the ideal opperchancity for a shakedown ahead of the all-tarmac Jim Clark and Reivers Rallies? More information on the EACC website.
http://www.eastayrshirecc.co.uk/
**
Pirelli Richard Burns Foundation Rally
The postponement of Rally Wales has left a lot of British Rally Championship people kicking their heels, so the organisers of the Pirelli Richard Burns Foundation Rally have come up with a selection of enticingly tasty deals for their two-day extravaganza on the 4th and 5th of May.
The main field will contest 10 Special Stages over Saturday (6) and early Sunday (4) but the cunning monkeys have another two stages on Sunday for the National runners. So as the main field returns to Carlisle for the champagne shower, the National boys and girls will carry on for another two tests giving them 6 Stages.
Even more cunning is the deal which is on offer y the organisers for those nationals seeking a bit more for their money – the can contest the Clubmans event on Saturday which comprise the final three stages of the day. If they enter that and the National on Sunday then they will get a big discount on two entry fees. It's well worth checking out.
In addition to the rallying the organisers have come up with a few more attractions to turn a rally into a sporting festival.
Charity Raffle
Over the weekend they will be selling raffle prizes for the some of the biggest and bestest prizes in rallying. In fact, some of these prizes are so attractive that you might just witness a few drivers digging into their pockets to buy tickets.
Tickets are a £1 each or £5 a book. Tickets will be on sale at the Tour of Hamersley and the Granite City rallies and of course at the Pirelli at the City Centre start while all the stage commanders will have tickets for sale too. If you cannot make it to any of these send an email to: bevlove@thepirellirally.co.uk and she will sort something out.
The Prizes:
A ride in a WRC rally car, courtesy of M-Sport.
Tickets for the Goodwood Festival of Speed AND the Goodwood Revival.
The complete, recently introduced, Corgi Richard Burns Collection.
A 2013 Formula 1 development tyre, courtesy of Pirelli (coffee table – wedding anniversary gift?).
A unique print celebrating 50 years of the British Rally Championship signed by 26 former champions.
Phil Mills Subaru rally overalls, as worn when co-driving for Petter Solberg, the 2003 World Champions.
Saturday Night Social BBQ
Remember the good old days when at the finish of a rally everybody had a party? The Carlisle bunch are keen to try and resurrect the idea. All crews will be given two free tickets with the hope that they will buy more for the rest of their team members! They are only £7.50 each which is a lot cheaper than going out for a curry. This is not only for the crews, as marshals, officials, guests and the public will be more than welcome to come along and join in. Tickets will be on sale at the help desk in the foyer at Rally HQ. It starts at 5.30 pm and will still be serving long after the pampered little drivers have tottered off to beddy by bys.
Richard Burns Chat Show, Sat 21.00 Hrs, at Rally HQ
This will be the event's main fund raiser for the Richard Burns Foundation Charity. Robert Reid has offered to host a fun chat show which will include a lot of Richards friends.
As Robert said: "I think it is time to tell some of the stories that have never been told." And here's a thought, I wonder if he will take questions from the audience?
The raffle will be drawn by Robert at the close of the show. There are a limited number of places so please email: bevlove@thepirellirally.co.uk to reserve your tickets, it will be on a first come first served basis and every penny of the £10 ticket price will go to the charity.
**
Jim Clark and Reivers Rallies, 31 May – 2 June
I see the Jim Clark and Reivers rallies have got some exciting plans too. Both events are incorporated into multifarious Championships and Challenges, but in the case of the Jim Clark, the main ones are the British Rally Championship on the Friday and Saturday, 31st May/1st June, and the Scottish Rally Championship Reivers Rally on Sunday 2nd June.
British and Scottish Tarmac Championships plus Historic Championship contenders will add even more lustre and excitement whilst many of the regional championship contenders will get a chance to shine on the big stage.
I suppose the big news is that this year's Jim Clark will start with a bang on the Friday night instead of a whimper. Instead of just two runs round the Duns test before bed, the organisers are proposing to add in Abbey St Bathans twice and the new 'Tweedside' stage twice on the Friday night.
Then on Saturday it's a return to Langton where the Langton Splash will make its rallying comeback. Not only that, the Reivers will use Langton on the Sunday too.
Regs are out now so check out the website: http://www.jimclarkrally.com/
And just in case you think the JC people are copying the Pirelli bunch, they are not. The Jim Clark Rally is proposing to host its own pre-event Rally Forum night in either Kelso or Duns, and this was being arranged long before Carlisle managed to tempt/threaten Robert Reid. Apparently the JC folks have got that awfy nice big chap who does the Mull Rally Forum to host it. As for guests it will e mixture of top locals and some top visitors. It will also mark the first Border viewing of the 'flying tee shirt' raffle prizes. If you haven't been before you won't understand!
**