Charterhall Stages Rally ….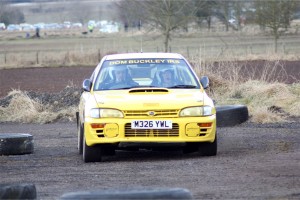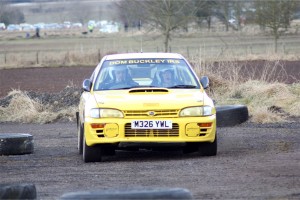 Twelve seconds determined victory on Saturday's PJ Planthire and Groundworks Charterhall Stages Rally, the second round of this year's Blue Scottish Tarmack Championship. Two fastest times on the opening two tests got the job done for Dom Buckley and Barry Hogg and although Dale Robertson and Paul McGuire fought back scoring fastest time on Stages 3 and 5, the Hassington team weren't about to be caught – although there was one hiccup along the way!
It's hard to believe, but this was Buckley's sixth ever rally, the 23 year old concentrating more on rugby than rallying so far, but he's got a dodgy knee, so maybe car sport will become a bit more sensible in the future compared to the legalised thuggery in which he's currently involved at weekends.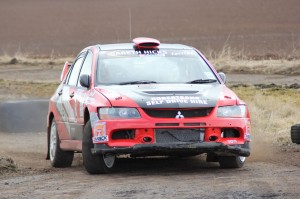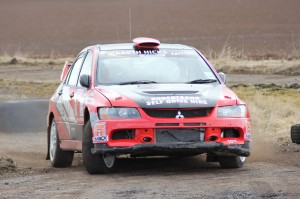 Anyway, he got off to a flying start, 6 seconds quicker than Robertson over the first test, then Dale got a tyre stuck under the Lancer on the second: "I just caught the edge of a tyre marker and it got stuck between the front and rear wheels," said Dale, "I actually had to hit another marker to knock it out." The result was a more serious 10 second time loss to the leader.
In the past, Buckley Jnr Jnr has been known to get a bit over enthusiastic (to say the least) when he's been leading a rally and certain eyes rolled skywards as he exited the third stage: "I had a wee overshoot in there," said Dom, "I was passing a guy going into the hairpin. He braked later than I thought he would and I had nowhere to go so I slid straight on – then I had a big spin at the Flying Finish."
However, this was a more mature Buckley than the tearaway of old, and although he dropped 8 seconds to Dale, he took 13 back on SS4.
Going into the final two stages, he still held the lead: "I was leading this event by 21 seconds two years ago, " he recalled, " then crashed out, and I'm leading the event this year with two stages to go – by 21 seconds!" There was no mistake this time, and he was able to ease off slightly on the final test, just to make sure.
Dale was quicker by 10 seconds in SS5 and then just pipped by 1 second on the final test but was quite happy with that: "I just wanted a run out in the car ahead of the Jim Clark," said Dale, "now it's back into the workshop for a complete stripdown and rebuild and a new paint job."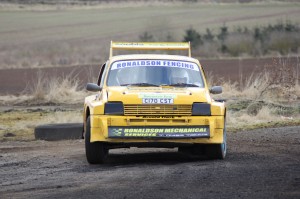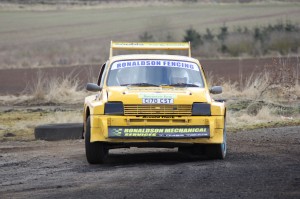 Second quickest on SS4 and 5, and third quickest by a second on the final test showed what might have been had Steven Ronaldson and Ross Donald got up to speed earlier in the Metro 6R4. Mind you, it's not porridge he needs first thing, more like an electric shock to get him kick-started on a freezing morning!
Stuart Baillie got off to a good start in the Subaru, third quickest on the day's opener and fourth quickest on the next, but wasn't happy: "There's something not right," he explained, "we've just had the gearbox rebuilt and that feels fine, but there is very little drive to the front wheels, so it must be a diff problem. It's handling like a rear wheel drive Escort."
The Subaru of Colin Gemmell was a canny fifth ahead of reigning Scottish Tarmack Champion Ross Fernie, already with one eye on points finishes till he sees how the opposition is panning out. Stuart Walker was seventh after the brakes failed on SS2: "It wasn't the normal brake fade from overheating," said Stuart, "a union had come loose, and under heavy braking for the first and second chicane from top gear it just lost all the fluid. It was easy fixed though." After that his times improved but 7th was the best he could get on the day.
Leigh Mawson was eighth in his Subaru ahead of the 2 litre Ford Ka of Ian Forgan while Graham Bruce rounded off the top ten in his Lancer.
Garry Wilson just missed out on the top ten, first time driving 4WD, and first time out in his new Lancer while young Peter Humphrey had borrowed his Dad's Opel Kadett to score an excellent 12th place overall.
Scott Russell's Corsa scored a Class 2 win on its way to thirteenth place ahead of Lee Hastings who lost out on the second stage when he beached the Impreza on a truck tyre marker. Billy McClelland retired his Lancer with a broken steering arm and Kevin Ronaldson retired his Impreza with a broken driveshaft and then heard grumbles from the gearbox so pulled out before any further damage was done.
Kieran O'Kane was another non-finisher when the Ascona broke a steering arm, although seeing the angles he was getting the beast wound up to and the fact that he was running out of steering in the tight stuff, no wonder!
Garry Pearson finished the rally first time out in the Fiesta R2 but well down the order in 18th place after experimenting with suspension settings, and there were some braking issues to resolve too! Tommy Heard actually got the Volvo S70 Turbo around five of the day's six stages, but with turbo problems in the first two stages he was classified as a non-finisher.
Linzi Henderson scored her first class win and took the Ladies prize in the wee Peugeot 107, now that's she's left the Junior 1000 series behind, but it was Dom Buckley's day. His first win in six events, from four finishes. Time to hang up the rugby boots?
Final Results:
1 Dom Buckley/Barry Hogg (Subaru Impreza) 38m 45s
2 Dale Robertson/Paul McGuire (Mitsubishi Evo 9) 38m 57s
3 Steven Ronaldson/Ross Donald (Metro 6R4) 39m 29s
4 Stuart Baillie/Alan Cowan (Subaru Impreza) 40m19s
5 Colin Gemmell/Cameron Fair (Subaru Impreza) 40m 38s
6 Ross Fernie/John Young (Subaru Impreza) 40m 47s
7 Stuart Walker/Julie McGuire (Mitsubishi Evo 9) 41m 01s
8 Leigh Mawson/Ross Mawson (Subaru Impreza) 41m 42s
9 Ian Forgan/Kathryn Forgan (Ford Ka) 41m 43s
10 Graham Bruce/Jane Nicol (Mitsubishi Evo 3) 42m 26s
Class Winners:
1 Linzi Henderson/Laura Marsall (Peugeot 107)
2 Scott Russell/Adam Russell (Vauxhall Corsa)
3 Ian Forgan/Kathryn Forgan (Ford Ka)
4 No Finishers
5 Stuart Baillie/Alan Cowan (Subaru Impreza)
( Full Results at: http://www.scotresults.co.uk/charterhall2013results.pdf  )
**