The '5 of Clubs Rally Championship' held a very successful Registration and Test Day on Sunday in Ayrshire. For a hundred quid, the 19 drivers who turned up with 16 cars had the unlimited use of a pretty good 2 mile forest stage all day and got a free registration in this year's 7 round, 5 of Clubs Championship included in the price.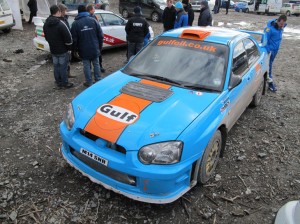 Amongst those taking part in the day's events was a new streamlined looking Ian Paterson showing off his new colour scheme, the Subaru Impreza resplendent in the pale blue and orange colours of the Gulf petroleum and oil company. "I'm going to do the whole Scottish Rally Championship this year," said Ian, "the car's been completely rebuilt since the Galloway Hills, engine, gearbox and diffs." He must be taking it seriously – he's lost over 2 stones in weight since the 3rd of January!
Iain 'Bert' Haining was bemoaning the cost of rallying. He's just bought a 'new' engine for the Nova. "I only needed the bottom end, but I had to buy the whole engine," said Bert, "it cost me 120 quid. The previous engine only cost me 80 – it's big stakes now!" This was his first chance to try it out and he proclaimed himself quite happy with it.
Ian Watson also showed up with his new Subaru Impreza following his 17th overall placing on the Riponian Rally last month. "I wanted to try it out on gravel, so I went to the Riponian to avoid the snow and ice on the Snowman," said Ian, "but when I got to Yorkshire it was covered in snow and ice!" Ian hasn't firmed up his plans for the year as yet, as he still has the Escort.
Mark McCulloch used the day to give the Subaru a run out ahead of the Border Counties. "I've only don the McRae and the Hills with this new car," said Mark, "so this was just a check ahead of the Border." He also took his Dad, John McCulloch out for a run who remarked: "This is the first time I've been back in a rally car since our 'bump' on the Rally Midlands last June." He was competing with David Hardie that day in the Subaru and although David was there for a nosey he didn't have the car with him – apparently his wife is away curling at present and he's left looking after things!
Lee Hastings used the day to re-acclimatise himself with gravel in the Subaru. "I think the 5 of Clubs is a great wee championship, but I've been doing tarmac mostly recently, so this was a chance to get back on the gravel."
Richard and Peter Stewart were there with faither's Subaru, but after two runs, the Impreza cut out and refused to fire up again. They suspect contaminated fuel. The words 'diesel' and 'race fuel cans' were overheard being used in the same sentence, but I couldn't possibly comment!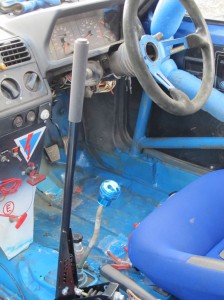 Jordan Black was there with the Peugeot 205, "just to give it a shakedown ahead of the Border Counties" which is the first round of the Peugeot Ecosse Challenge this year. "We were going to re-shell it after the McRae," said Jordan, "but ran out of time and money. It's got a new clutch and the wiring has been completely re-done, that was the big job. It's also got a new timing belt and a new hand-brake." However, he was keen to cover up his new poofy, lightweight gearknob. So if you get the chance, have a look inside the car at the Counties, and marvel at his excellent sense of taste and style.
Callum Atkinson and Scott Peacock had a few troublefree runs in their 205s ahead of the Counties, with Scott saying: "The gearbox was getting a bit crunchy towards the end of last season, so that has been fixed over the Winter months." Blair Brown was a busy boy and found the day out worthwhile. First he had to fix a misfire in the Peugot 205 and then later had to repair a driveshaft. When it broke, the stage was held up while he retrieved the broken bits to fashion a replacement.
Caroline Carslaw had her first taste of gravel on the day following her Crail debut last year in the Fiesta ST. "I'm going to do the Border Counties so this was my first run out  in the forest," said Caroline, "I think I'm getting the hang of it." Mind you, when she got a puncture, it was faither Donald who changed the wheel!
There were a couple of new cars there too. Rallying newcomer Angus Lawrie had just completed a 2 year build of a Vauxhall Nova with a 1400 cc 16 valve engine and a Quaife 'box. "This was my first time in the car," said Angus, "it feels pretty good and the plan is to do the full 5 of Clubs Championship."
Another newcomer was Ian Anderson from Dumfries who has just completed a six year build of his first ever rally car, a really smart and tidy looking MkII sitting on steel wheels. Hardly in his first flush of youth (he's in his 50s) he was inspired by seeing Bob Bean out rallying on a Historic RAC a few years back, "he's even older than me!" and encouraged by his wife, commenced the build. It runs a fairly standard 2 litre Ford Focus engine out of a road car with a gearbox "assembled from the best bits of a variety of 'boxes." He had a run out at Kames, but this was his first time on the loose which set him wondering about the wisdom of following Bob Bean's example. And here's a nice touch. To make his Focus steel wheels clear the brake callipers, he cut the centres out of the rim and reversed them before welding them back in. Result. The car sits a little wider and the wheels don't foul the vital bits!
There are just 4 classes in this year's Championship to keep things simple;
Class 1: Up to and including 1400cc
Class 2: 1401 to 1600cc
Class 3: 1601cc and above
Class 4: Forced Induction
The 7 rounds are:
March 30, PJ Planthire Charterhall Stages
May 04, Pirelli Trophy Rally at Carlisle
July 04, Greystoke Stages at Cockermouth
August 10, Solway Coast Rally
September 07, Merrick Stages
October 20, Kames Rally
October 27, Armstrong Galloway Hills Rally
( with the best 5 from 7 counting)
And the winner's prize? A free entry on the 2014 Armstrong Galloways Hills event.
**