Mike's New Motor ….
Mike Faulkner and Peter Foy will turn up at the Arnold Clark Thistle Hotel Snowman Rally in two weeks time in a new car, but the car will be no stranger to the area! Mike has bought the ex David Wilson Mitsubishi Lancer EVO9 to replace his EVO6.
"It was originally Wayne Sisson's car," said Mike, "and it's basically still Group N with a set of cams in it, so I'll run it in the Open Class this year. I got it a few weeks ago but we're still working on it. David had actually sold the car to KG Motorsport who stripped it and painted it and Kieron took my EVO6 against it."
When asked if he had driven it yet, Mike said: "I put it on the trailer! I'm hoping to drive it before the Snowman but it has to go on the rolling road before that."
With Thorburn and Bogie in Focus WRC cars, is the best he can hope for a top three? "That depends on Euan and David, but it takes a lot to keep on top of the Focus. It would be a tall order to be anywhere near them. The EVO6 was at its limit, it was as fast as I could make it and drive it and it was tough at times against Barry Groundwater and Donnie MacDonald, and then there's Quintin Milne and Chris Collie. I looked at all the options to make the EVO6 active, but it just wouldn't be practical. Buying the EVO9 gives it longevity and I'm hoping it will be easier to drive."
"The plan is start the season as it is and develop it from there. There's lots of quick people up here and it's been getting harder to stay in front of them. I'm hoping to get the new car and hoping to stay in front of them!"
**
Night of Stars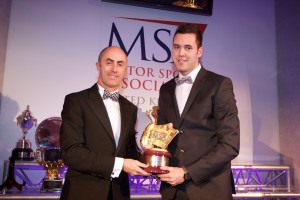 Last month Garry Pearson was in London for the Motor Sports Association's prestigious Night of Champions ceremony at the Royal Automobile Club, where he collected his 2012 MSA British Junior Rally Championship Trophy.
Racing driver and Le mans 24Hr winner David Brabham presented the 21-year-old with his award in front of an audience of distinguished guests, including his fellow British motor sport champions from 2012.
Garry said: "It was a brilliant night, a great way to top off an excellent year and fantastic to be in the company of other Champions such as British Touring Car Champion Gordon Shedden"
Colin Hilton, MSA Chief Executive, said: "It was terrific to see Garry receive his trophy at the Night of Champions, which represents the Motor Sports Association's opportunity to honour all those who excelled in their chosen motor sport discipline last year to be crowned an MSA British Junior Rally Champion."
**
Snowman Spectators
As in past years, the official 2013 Arnold Clark/Thistle Hotel Snowman Rally event programme will be available from businesses in and around Inverness in the week running up to the rally on Saturday 16th. A full list of these locations will be printed here and on the Blog as soon as it is available.
In the meantime, if ye cannae wait, you can order it now by post and have it sent it to you before you set of for the rally, so no hunting around when you get to Inverness. A much more relaxed idea.
The programme is a must of you want to see the event as it will contain maps and details of car parking at the ideal viewing locations.
The Rally will start from the Thistle Hotel at the eastern edge of the town at 9.00 am on Saturday morning with the first car expected back at 3.15. There are 5 stages totalling some 44 miles.
To order your programme on-line, go to:
http://www.snowmanrally.co.uk/SnowManRally/Spectators.aspx
**
Championship Changes
And speaking of the ARR Craib Scottish Rally Championship, there are a few changes in the Management Committee for the 2013 season.
Dave Robson will continue as Chairman with Iain Urquhart as Vice Chairman. The Secretary is Alex Lindsay and John Parker will act as Treasurer.
There is a new Co-ordinator this year with Alex Lindsay assuming the role. This was originally intended to be a temporary appointment but in the absence of any more 'volunteers', Big Eck looks like he will be landed with it!
There's brand new Competitor Representative too with Dave Weston taking on the responsibility and you will be able to meet up with him at the Snowman. Now that he is fast approaching middle age, he really is quite a sensible and approachable chap these days!
Rab MacDonald will lead the Scrutineering Section with Peter Clingan continuing as the Environmental Scrutineer.
You can download the Championship Regs from here:
http://www.quentinjamesdesign.co.uk/src/2013-src-regs.pdf
**