It all started so well. Euan Thorburn and Jock Armstrong were setting the pace on the first round of the Scottish Rally Championship last weekend. Mike Faulkner was having teething troubles with his new car, Paul Benn had smacked the nose of his Focus and David Bogie was already out, the Focus parked up in the second stage. And then it all went wrong, horribly wrong.
An accident on the first stage of the Snowman Rally left one spectator dead, another badly injured and one less seriously injured. Motor sport is dangerous. Yes, we all know that, but it shouldn't happen to spectators.
At that point the rally was cancelled.
We are very fortunate in rallying in Scotland to have the best 'first-responders' in amateur sporting circles. The doctors, medical teams and rescue crews carried out their duties professionally, quickly and with great skill and fortitude despite the well meaning efforts of concerned spectators. It's at times like this you see the best in most folks, and the worst in some.
When Traffic Officers from the Northern Constabulary arrived they took charge of the scene and immediately commenced a preliminary investigation at the crash site which was concluded as darkness fell late on Saturday afternoon. A much more comprehensive investigation will now be carried out prior to presenting their findings to the Procurator Fiscal.
It's a process which will also be conducted by the highly experienced local rally organising team and the Scottish Championship management committee plus other car clubs while the MSA will undoubtedly respond and advise once they have received their own MSA Stewards' reports. It is little consolation to all those involved that this was a freak accident with unforeseen consequences.
At times like this we see the worst in those whom the Leveson Inquiry would like to act more responsibly –  they make their name by making headlines, and to hell with the consequences.
I thought the BBC's Iain MacDonald provided the most considered and balanced view of the accident and its aftermath when he reminded listeners and viewers that not only must we think of the victims and their families at this tragic time, but also those two young men in the rally car who will be suffering too.
Many peoiple were horrified at the excesses perpetrated by other 'journalists' and media outlets in the aftermath of the accident. This is down to the fact that, like any other sporting endeavour or profession, news-gathering is a competitve business. Every journalist wants to be first with the story and have a fact or an angle that the others don't. It's not just about money, it's about fame and notoriety too. I used to think that gathering news and presenting it in a simple and straightforward fashion was an honourable profession. Sadly, in many instances, that is no longer the case. It's all about being first with the most, and so what if they get things wrong. But having said that, it's not all their fault, the public appetite for such reporting allows such unethical practices to be encouraged.
That's why I thought Iain MacDonald's approach so refreshing. He's more of a shinty man than a rally follower, but his reporting was measured and sincere. It's also worth noting that the BBC sacked him last year in their latest round of cost cutting. Fortunately, he was available on Saturday!
**
And now at the risk of incurring the wrath of those who think I should butt out and mind my own business, I have come up with a few ideas and suggestions which those in authority might like to consider in coming days. The second round of the Championshop is less than 5 weeks away now!
I offer these up as my own contributution to the debate and if anyone has any additional constructive ideas I would welcome them and pass them on.
Rallying is as safe as we can make it, but can we do more?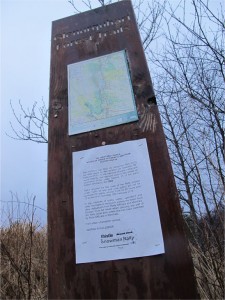 1. There must be a way of harnessing new technology to help disseminate information to spectators and officials. Perhaps a dedicated event or championship Twitter feed pushing out messages might help. Many forests are close enough to main roads and aerial masts to pick up signals. However, to be truly effective, this Twitter messaging service must be dedicated solely to spectator info and not stories or results and not allowed to be abused or misused by well meaning third parties or idiots.
2. In places where mobile telephone coverage is not good, could marshals be provided with some form of improved radio communication equipment? I know there are rules about amateur radio networks, but perhaps there is a way round that where emergencies are concerned.
3. A daft idea, but worthy of consideration? Could flares be used in a forest without setting it alight? A red flare for immediate response required, a yellow flare if officials need to be contacted to make a decision.
4. Competitors too must assume some degree of responsibility when assessing potentially risky or dangerous situations and be in a position to make decisions and must be able to voice concerns and opinions without fear of ridicule and derision from fellow competitors and officials. In many cases they are best placed to make a judgement.
5. It could also be argued that some forests are not suitable for spectators. Not so much parking facilities, more the ability to absorb huge numbers of spectators safely. For instance are the trees too close to the track, thereby encouraging spectators to encroach ever nearer to the road? Are the ditches deep and boggy discouraging people from crossing them to reach safer vantage points?
6. Taping off areas is good, but would poster sized signs on individual posts advising people to stand well back in more remote sections of the woodland be effective, or would they just be ignored? But  additional signs in the forest might also confuse drivers and co-drivers!
7. Hand out simple free brochures to all spectators as they arrive at Spectator Car Parks, with the entry list on one side (to ensure retention) and spectating advice on the reverse. The MSA could print these and distribute supplies of the pre-printed single sided sheets to events for printing the entry list on the blank side locally. This would have the benefit of reducing print costs for bulk buying and could be paid for from the profits of Rally Wales GB.
8. In-car cameras relaying pictures back to Rally HQ. These could be in the Spectator Control car or nominated competition vehicles. Is such equipment compact, easy to use and transferable between vehicles?
9. And finally, spectators must also assume some form of responsibility for their actions. If experienced rally goers see inexperienced folk standing in the wrong place, they should advise accordingly. If the response is cheeky and couthy, then other spectators should support those who are trying to advise the newcomers and idiots.
I know some of these suggestions are fanciful, but if they stimulate other ideas and provoke debate then we might just be able to make the sport safer still. Now, anyone else with other ideas or suggestions?
**