The countdown to the 2013 ARR Craib Scottish Rally
Championship has begun and what a prospect lies ahead. Reigning Scottish Champion David Bogie is hellbent on claiming a world record five Scottish titles in a row.
And as he announced at the end of last season, the Mitsubishi has been pensioned off and consigned to the museum. In its place is an ex Colin McRae / Markko Martin / Mikko Hirvonen (and more recently, Brian Bell and Theo Bengry) Ford Focus WRC 02.
When David initially drove the car it developed a wee water leak, but that was promptly fixed and he then had a shakedown at Sweet Lamb where a cam sensor sheared off and that curtailed the test. There was no damage and no real problem, but he's planning another test session at Sweet Lamb (weather permitting!) before the Snowman.
The Focus doesn't mark new territory for David though, as he was out on the 2008 McRae Stages in an 05 Focus WRC and finished fifth overall behind Matthew Wilson, Andy Horne, Callum MacKenzie and Alister McRae.
In fact, the biggest problem he faces is adapting to the LHD set up of the new car.
As for Euan Thorburn, he reckons that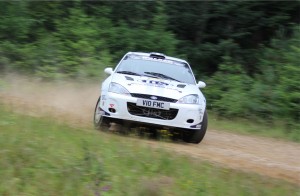 David will adapt quicker to the Focus than he did to his own one: "I came from a Group N car to the WRC car," said Euan, "but David has more experience of WRC cars having driven Subaru, Toyota and a Focus before, so I reckon he'll get to grips with it quite quickly. However, the LHD issue will be the biggest problem. I drove a LHD Teg Sport Subaru a few years back and I still have a LHD Golf road car which I drive before each event."
As for his own car: "It's just back from Dom's (Buckley) where it had a full rebuild with new uprights and driveshafts. I was hoping to test next week at Sweet Lamb, but the weather might have put paid to that. However, I'm hoping to do the Wyedean before the Snowman and that might have to be my test and shakedown. The car's only done half a stage since the McRae – so I could do with a test!"
There were rumours that more Ford Focuses (Focii?) would be out this year, but the car which Dave Weston bought in Norway last year has been sold, and as for Junior, he's getting married this year, so his wings have been well and truly clipped.
However, somebody else was spotted kicking Ford Focus tyres and had been to look at a couple that David Bogie looked at, but so far his hands have stayed firmly in his pockets. So we'll just have to wait and see.