Dom Buckley, 1938 – 2022
His was one of the best known faces in UK rallying and an instantly recognised figure in service parks right across the country from club rallies to internationals, sadly now no more. Dom Buckley passed away after a short illness on Wednesday 9th November.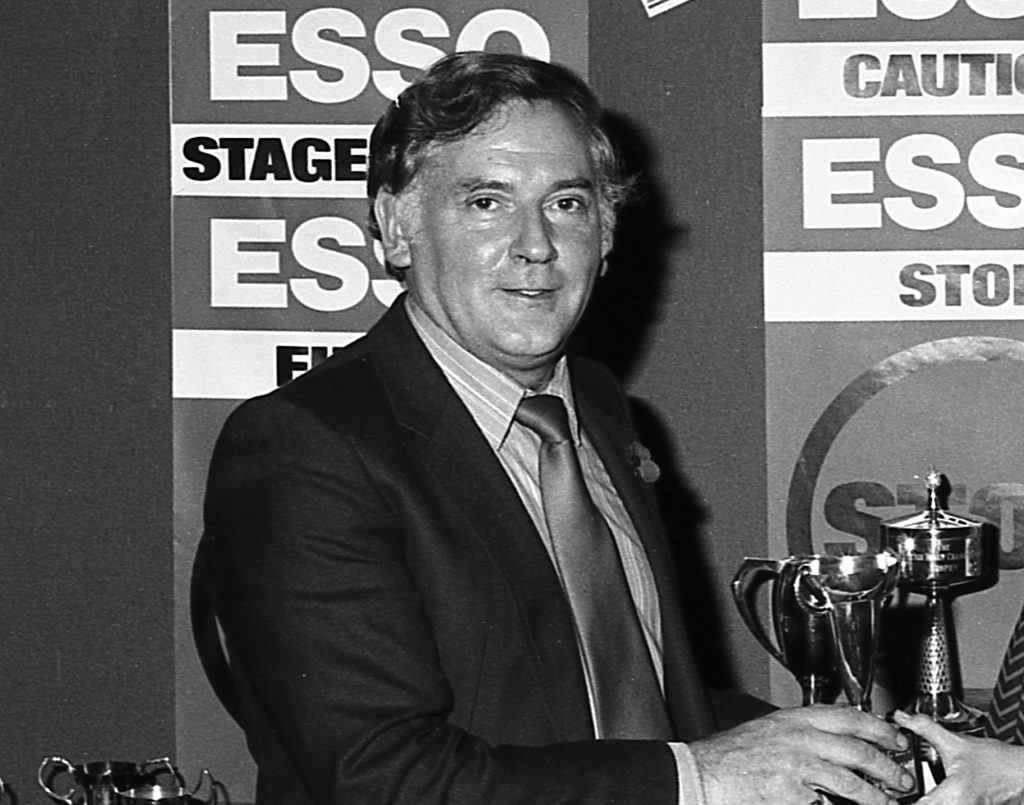 For more than fifty years, the name Dom Buckley Motorsport has been synonymous with rallying, and not just here at home but in many countries much farther afield, from the USA to Australia and all points in between.
It all started way back in 1952 when his family moved from Derby to Crailing where his father had taken up a new position on a local estate. When he left school, Dom served his time as an agricultural engineering apprentice in George Hendersons Agricultural Engineering Works in Kelso. He continued working there till he had saved enough to start his own business.
It was just a shed, but it was a big shed, and in 1961 he opened the doors of his own business in Hassington, still the site of the family business today although the 'shed' is a much grander and more modern edifice these days.
His reputation soon spread throughout the Borders as he worked on tractors, lorries and cars. He also branched out into used car sales and by the early 1970s was the biggest local used vehicle dealer in the area.
Behind the desire to be his own boss there lurked another interest, motor sport, on two and four wheels. And so it was that in 1971 he invested in a Ford Escort 1300 and went rallying. The car was upgraded to GT spec the following year, then a 1600 push rod installed before acquiring an 1800 BRM twin cam from one Andrew Cowan Esq.
There was never any intention to become a full time rally driver but in 1973 he finished runner-up to John Baillie in the Shell Scottish Rally Challengers Championship for newcomers to the sport. A certain Ken Wood was 3rd and Alistair Brearley 4th!
That meant promotion to the 'senior' championship for 1974 and he finished 17th o/a in the national series. The following year he finished 5th o/a in what was then the Gaelic Oils/The Scotsman Scottish Rally Championship with a string of top six finishes on the Valentine Rally, the Saltire, Trossachs and on the Border Rally behind Timo Makinen, Drew Gallacher, Charles Samson, Malcolm Wilson and Arthur Jasper. He was keeping fast company!
In between times he was competing regularly on theNewcastle Journal/National Autocross Championship winning events and titles.
There was however just one wee problem. This success attracted interest and soon other competitors were asking him to build engines and gearboxes.
This additional business started to eat into his own competition-time and his appearances were sporadic for a few years while he managed this growing business. However, a 3rd overall on the 1976 Border Counties Rally behind Jim Howden and Alistair Brearley showed that the flair was still there and he finished 7th o/a on the 1978 Lindisfarne Rally and 8th on the 1979 Border Counties.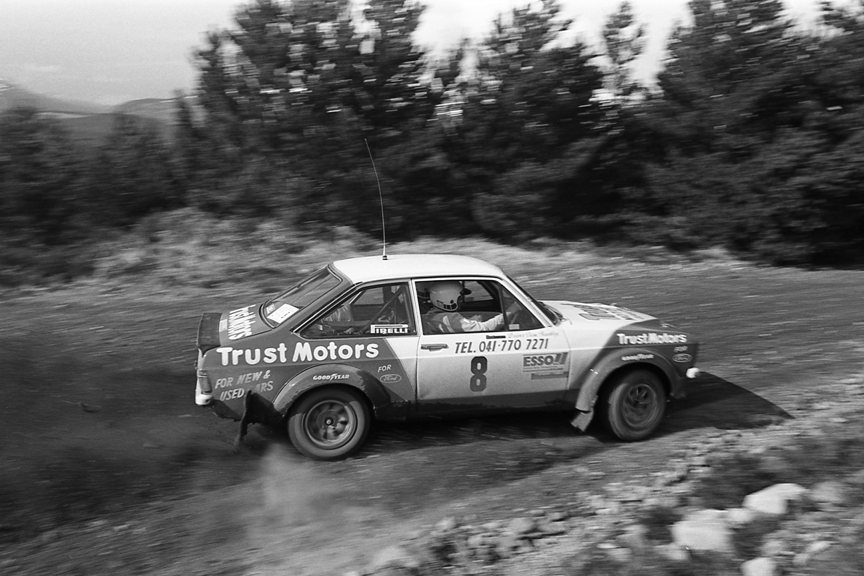 He managed to take a bit more time off work to go rallying in 1980 finishing 4th overall in the Scottish Rally Championship and 4th again in 1981. He also scored his first outright rally victory on the non championship Kingdom Stages Rally that year with co-driver Geroge Blackie which also clinched his third successive title victory on the East of Scotland Rally Championship.
There was little rallying in 1982 but he bounced back in 1983 where he again finished 4th overall in the end of season rankings. His final season was in 1984 when he finished 8th overall in the national championship but on the way scored his second rally victory, on the Jim Clark Memorial Rally, this time with Dougie Redpath in the hot seat.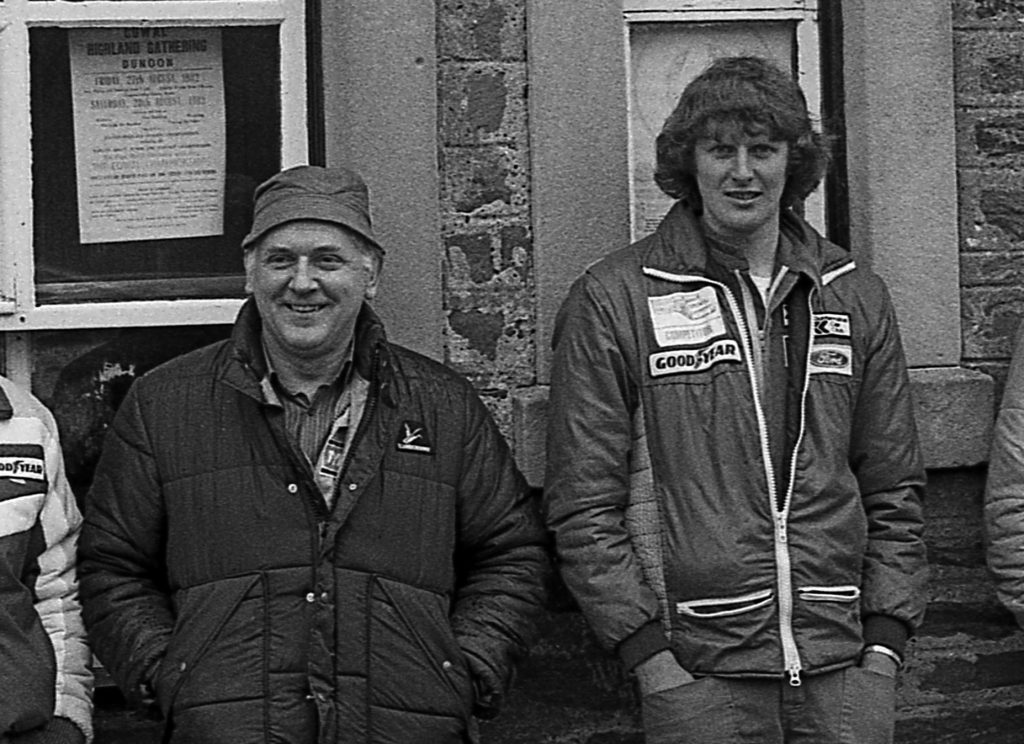 Which left folk wondering, just what could he have achieved if he had concentrated on his driving rather than helping other folk with their cars?
But that wasn't why Dom went rallying. It was a break from work, but work was not allowing much time off. The business had to come first and that business was expanding into more rally car preparation and maintenance which in turn was leading to more time being spent at rallies working on a growing number of clients' cars.
1986 provided the turning point. Long time supporters of twice Scottish champions Ken Wood and Peter Brown, Golden Wonder the crisps and snacks manufacturer and Esso Petroleum had enabled them to acquire the first MG Metro 6R4 in private hands but such a complex machine required more TLC than a full-time air traffic controller could manage, enter Dom Buckley Motorsport.
The car was kept at Hassington with Dom in charge and won first time out on the 1985 Trossachs Rally before going on to dominate the 1986 Scottish Rally Championship.
When the car was sold, it went to Indonesia, and so did Dom. He was asked to look after the car out there which meant frequent return trips to east Asian rallies, and that was the start of Dom Buckley IRS.
By this time, both boys, Dom and Neil were in the business and starting to share the ever growing load. Not only has the business taken them to the likes of Australia, New Zealand, USA, Oman, Africa, the Caribbean, the Middle East and across Europe and Scandinavia it has also included development, testing and management work on behalf of Vauxhall and Toyota and a long association with M-Sport.
That success has been achieved through sheer hard graft, wide ranging experience of all types of event and a vast knowledge of the sport and its engineering. Dom Buckley prepared and managed cars have won titles and events on every continent from Eire and Holland, to South Africa and Mexico. Closer to home, it was Dom Buckley Motorsport IRS that ran the Stobart Motorsport team which scored a clean sweep of titles on the 2005 British Rally Championship winning the British Ladies Championship with Lorna Smith, Group N with Barry Clark and the overall title with Mark Higgins as well as running cars for Matthew Wilson and Paul Bird.
Dom Buckley marks the passing of an era, when rally cars could be fixed with a welding torch and a bag of spanners right up to today's sophisticated racers which require lap tops and engine mapping. Even though he had taken a back seat in the business of late, he still appeared regularly in service areas to catch up. I'm sure we'll all miss that customary greeting: "Aye John, how are ye the day?"
Our sincere condolences to his wife Sheila, Dom, Neil, Carolyn, their partners and the grandchildren, the wider family and huge circle of friends across the globe.