… Laser Tools Racing announce all-female GB4 team …
Chloe Grant is Laser Tools Racing's latest signing, chosen to partner East Kilbrides's Logan Hannah in a two-car team to contest the forthcoming 2022 GB4 Championship.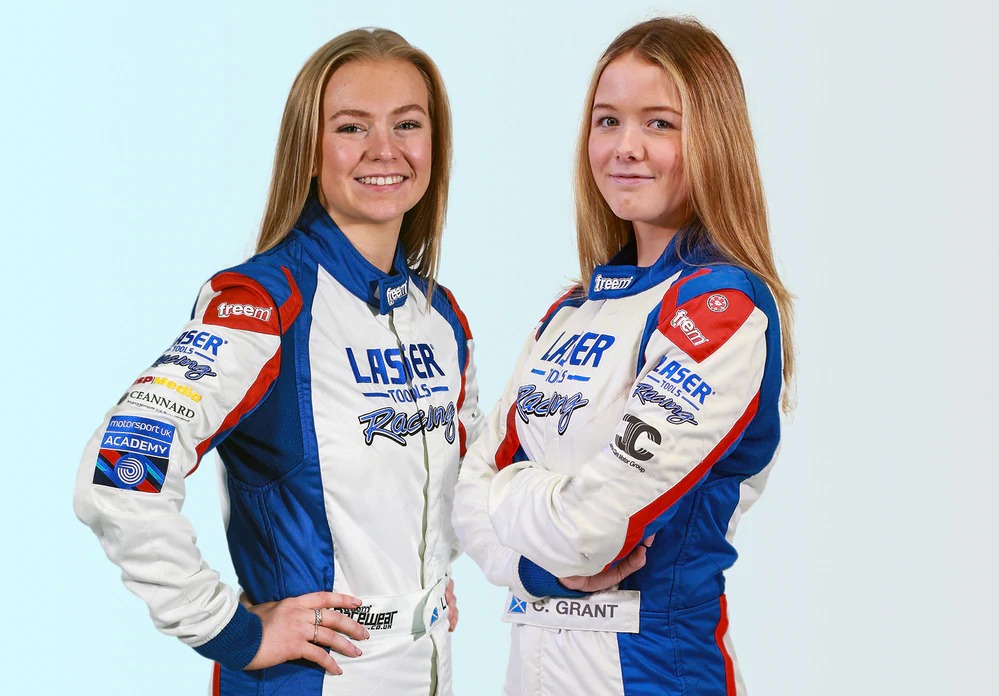 Accomplished karter and winner of the 2021 Junior Saloon Car Championship scholarship, Chloe commented: "My ambition has always been to step-up from the karting circuit into car racing, and now I'm taking on the new GB4 series with Laser Tools Racing — what an opportunity!
"GB4 is a tremendously exciting new championship that will progress aspiring drivers forward in single-seater racing and with Laser Tools Racing's support, I'm really proud to be involved in this new series. And to be partnered with Logan Hannah, well that's got to be the dream team!"
Designed to provide another 'feeder' route into F1, the car raced in the GB4 Championship is the Tatuus F4-T014 and is powered by a 1.4-litre turbocharged Autotecnica Motori engine producing some 164 bhp.
The new single-seater series, in partnership with the BRDC, will visit all the UK's premier circuits predominantly supporting the British GT and GB3 Championship package. It will be contested over eight weekends between April and October visiting Brands Hatch, Donington Park, Oulton Park, Silverstone and Snetterton. Each round will feature qualifying and three races.
Laser Tools Racing continues their successful relationship with Knockhill-based Graham Brunton Racing who will prepare and run the two race cars. Graham Brunton is also excited: "We are so proud to be putting forward this wonderful two-girl team. Both drivers have so much to offer this exciting series, we really cannot wait!"
Team Manager, Craig Brunton also commented: "It's great to have Chloe joining us. We've seen her progress from karts to cars and she comes from a real racing family with a huge passion for the sport. Chloe's approach to learning new skills has really impressed us. Working with a two-girl team in the Laser Tools Racing branded cars is an amazing opportunity and we can't wait to hit the track and begin the hard work!"
Chloe Grant, who hails from Perth, Scotland, started karting in 2013 when she was seven years old. By 2017 Chloe was racing in Minimax and that year won the ESKC championship in Minimax non-MSA and was also the Most Improved Minimax Driver of The Year. In 2019 she competed in the ESKC Championship and led from the start of the season in April, and had two wins with a few other podium places. Chloe also finished 2nd overall in the NSKC Championship, and 3rd in Grampian and was the only driver across all classes to podium in all three championships.
At the Scottish Motor Racing Club 2019 awards night, Chloe was chosen to be an SMRC Rising Star and the youngest to be given this award. 2020 started with a nomination from the BWRDC for their Junior GoldStar Award, with her subsequent win announced at the Autosport International Show in January. Then Chloe become the youngest driver to gain a Motorsport UK Junior Racing Driver License in Scotland. Chloe commented: "I learned to drive a car at Knockhill one afternoon, and after a few practice sessions I successfully passed my ARDs test aged 13 – this felt incredible!"
With COVID restrictions and the subsequent late start to 2020 racing, Chloe's focus became the NKF and CKRC Championships in Rowrah, which she hadn't competed in before. Chloe finished the NKF Championship in 3rd place, and won the CKRC Championship – she is very proud of this moment. Later in the year Chloe was announced as the British Women's Racing Driver Club's Kart Sport Champion for 2020.
Early in the 2021 season Chloe won the sought-after Junior Saloon Car Championship scholarship winning a fully-funded season in the popular one-make category. So far this year Chloe has picked up two honours at the British Women Racing Drivers Club awards dinner in Warwickshire for her efforts in 2021: she came third in the BWRDC Racing Championship for the Goodwin Trophies and won the Anita Taylor Trophy for the Best Performance in a Saloon Car.
Martin Smith, Chairman of Laser Tools said: "We are delighted to sign up Chloe Grant and feel that paired with Logan Hannah's ability and experience we can continue with Laser's ethos of spotting young talent and then developing that talent on the race track. We're confident that we've assembled another winning team."
The GB4 Championship starts with three races at Snetterton on 2-3 April, before joining the British GT and GB3 package at all six of its UK rounds. This includes visits to Oulton Park (15-18 April), Silverstone GP circuit (7-8 May), and the first of two trips to Donington Park on 28-29 May. The second Snetterton outing comes on 25-26 June before a GB3 supporting round at Silverstone again (30-31 July). The final two events return to the British GT package, at Brands Hatch Grand Prix (10-11 September) and the season finale at Donington Park on 15-16 October.