SCOTS WIN GRAND NATIONAL!
John Wink and Neil Shanks were the happiest men in Llandudno last Saturday as they sprayed the champagne in front of their Hyundai i20 R5 as winners of the coveted WRGB National Rally (4-5 October), which runs alongside Wales Rally GB, the UK's round of the FIA World Rally Championship.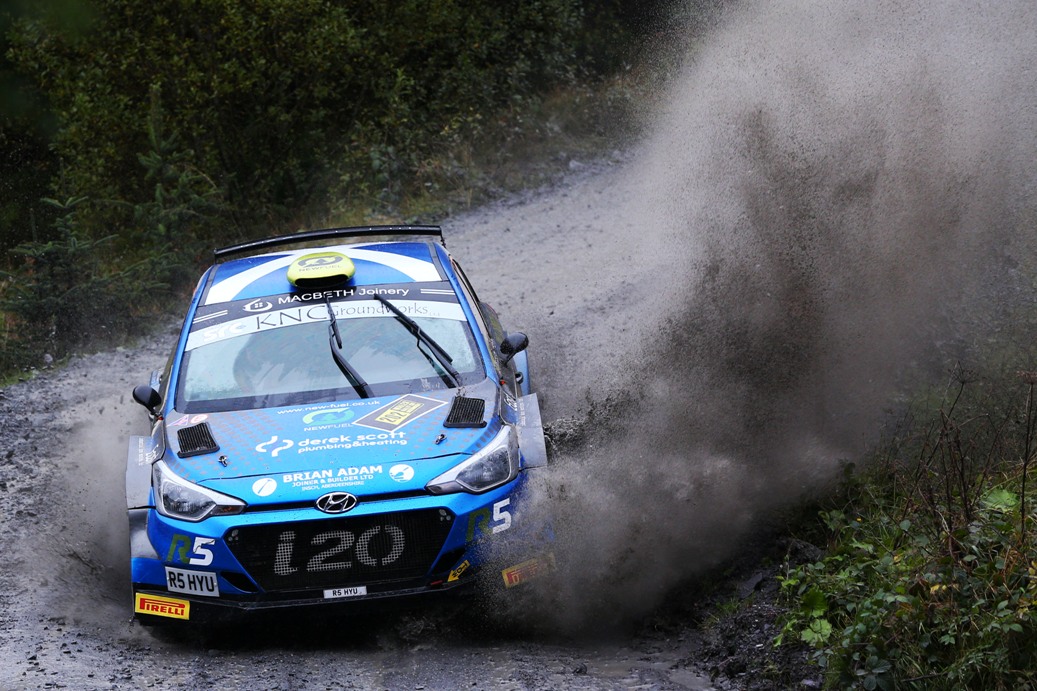 Having finished second last year, it was a superb result for Wink who scored his first ever career win and extended an unprecedented run of victories for Scottish drivers who have dominated the event in recent years.

Welsh champions Dylan Davies from Llanon and Caernarfon co-driver Llion Williams finished second in their Subaru Impreza while Alan Dickson and Martin Forrest completed the podium in their Mitsubishi Evo9 after two days and 85 miles of demanding stage miles in north and mid Wales.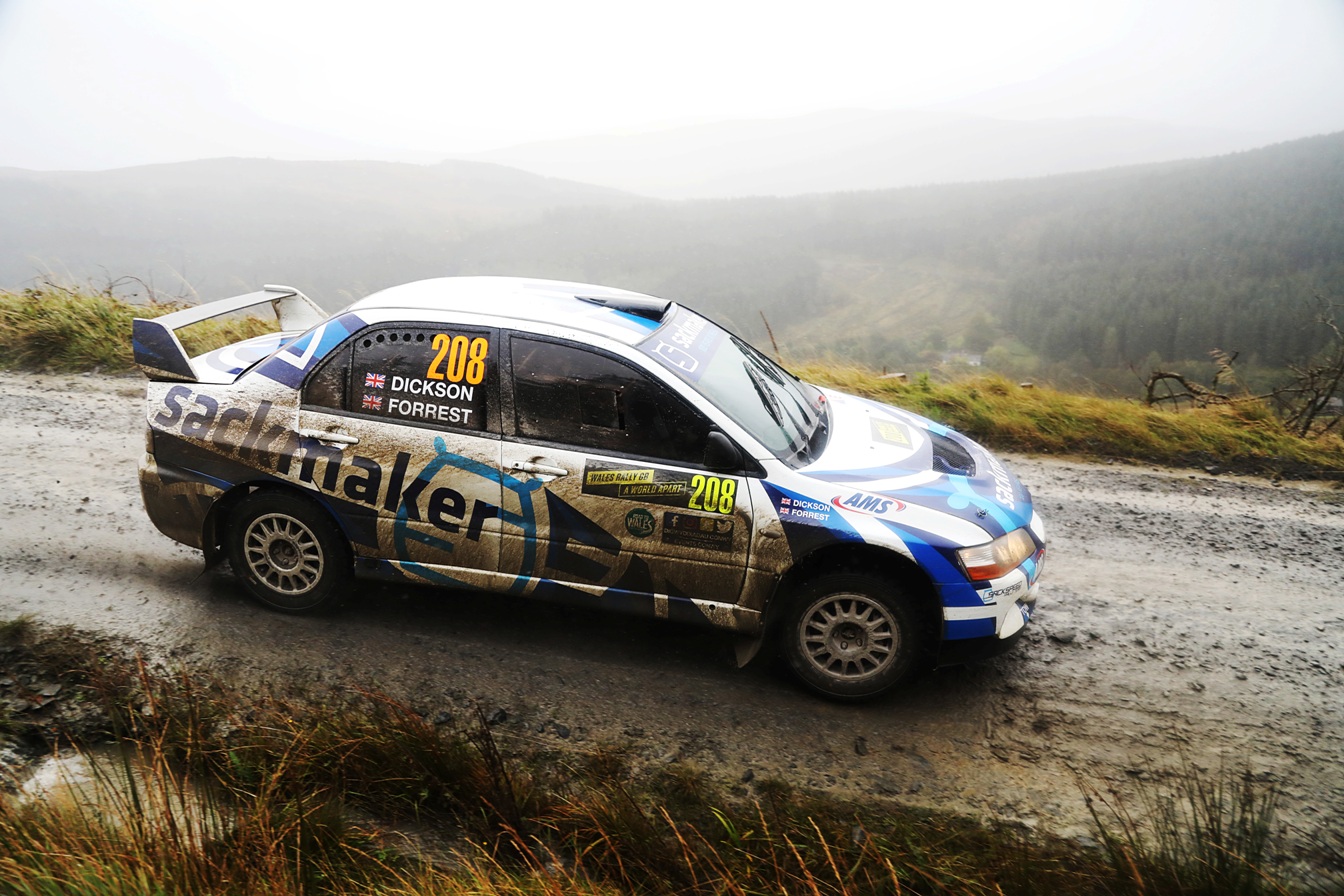 Running alongside the thrilling WRC encounter, 64 crews in a variety of machinery – including a number of Land Rovers entered by the UK Armed Forces Rally Team – took the start in Llandudno on Friday morning with 45 of those crews returning to the resort's seafront Promenade podium on Saturday afternoon having conquered the challenging event. All the finishers were greeted – and presented with their prizes – by Hugh Chambers, CEO of Motorsport UK.

Classic forest tests in Elsi, Penmachno, Slate Mountain, Dyfnant and Aberhirnant were all to be tackled on the opening day, and it was Thomas Preston (Ford Fiesta WRC) and Wink that approached them with the most vigour.

Across the five stages, Preston grabbed three stage wins to Wink's two, but the crucial blow came on the concluding Aberhirnant test where Wink dropped nearly ten seconds when losing confidence in the changeable conditions.

But both men had their moments. Preston suffered 'an off' on Dyfnant despite holding a sizeable lead, while Wink spun on Penmachno. Davies was holding a comfortable third ahead of Scottish visitors Alan Dickson and Martin Forrest in their Mitsubishi Evo9 as other potential front-runners Matthew Hirst (Evo9), Roger Duckworth (Impreza S6 WRC) and Bob Ceen (Impreza S9 WRC) all fell out of the lead battle with mistakes and mechanical woes.

Saturday took the rally further south for three demanding stages: Dyfi, Myherin and Sweet Lamb Hafren. Wink charged through the opener and blasted into the lead with a storming time. Preston had shipped over 20s to his rival, but it was about to get worse as the Fiesta WRC was absent from the Newtown regroup. Clutch issues had put paid to his hopes and a second WRGB National win would have to wait another year.

This presented Wink with an open goal, and the Hyundai driver wouldn't miss as he pressed on to record a resounding 1m 30.3s victory.

"I'm ecstatic," Wink said. "We went out on Saturday to have a big push and on the first stage we managed to get the lead again but then, unfortunately, Tom [Preston] had issues on the road section going to the next stage so we were in a comfortable position with over a minute of a lead. 

"One spin cost us eight seconds yesterday and that's the only foot wrong we've put all weekend, but if Tom was still here that probably would've been enough to lose it, it was as tight as that."

Also profiting was Welsh driver Davies who sprung up to second but was 'glad to finish' alongside co-driver Llion Williams. Dickson's third 'laid a ghost to rest' after rolling his car from sixth position on the penultimate stage 12 months ago.

"We came down here because despite last year's accident we just enjoy this rally so much," Dickson enthused. "You're driving through villages and folk are applauding you for driving along the road. We came here thinking if we can get a top 10 we'd be happy; laying the ghost to rest. Top five would be amazing and to finish third is brilliant. It's my first podium since I came back to rallying after my 12 year break so that's nice. The event's run like clockwork and I just love all the buzz. You're getting your car jet washed and Craig Breen comes and parks alongside you, it's terrific."

Chris Powell and Jim Lewis won the B1 class with a superb fourth overall, just 4.5s up the road from James Munden and John Leigh (Subaru Impreza).

Well-known Formula One pundit and Wales Rally GB regular Tony Jardine, this year with Dominic Tobin from 'Motor Sport' magazine on the notes, was an impressive sixth on his first WRGB National and Tobin's first rally ever (Mitsubishi Evo9), while Simon Hay and Calum Jaffray were seventh (Mitsubishi Evo6).

Jonnie Wigmore and Robbie Durant won the B3 class in eighth (Ford Escort Mk2); Mathew and Tim Tordoff the B2 class in 10th (Ford Fiesta R2) and Stephen Benton and Oliver Benton took the B4 class in 15th (Ford Escort Mk2).

The legendary Jimmy McRae and co-driver Pauline Gullick won the Historic class in their Porsche 911. Five-time British champion McRae enjoyed his return to the forests: "It was a very good weekend," he said. "The conditions over the last two days have been totally different to what we're used to. We had one or two problems with the car misting up but we can be proud to have won the class and finished 12th overall."