… Motorsport UK launches Trackside Membership programme dedicated to fans …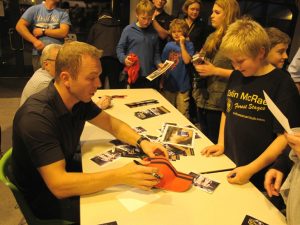 As part of its ongoing strategy to grow the sport and build a stronger, more vibrant community, Motorsport UK has today announced the launch of 'Trackside' – its first ever dedicated membership programme for motorsport fans and enthusiasts.
With promotion of the sport and customer service at the forefront of its mission, 'Trackside Membership' will capitalise on the governing body's unique access to the sport, to deliver exclusive, member-only experiences and behind-the-scenes access, getting fans closer to the sport than ever before.
Opportunities already on offer, to coincide with the launch of Trackside Membership and put fans at the heart of the action, include:
• The opportunity to get behind-the-scenes of motorsport with regular team and factory tours
• VIP Team Experience with Power Maxed Racing at a round of the Kwik Fit British Touring Car Championship, courtesy of Power Maxed
• Exclusive monthly member competitions for VIP experiences
• Invitations to member-only events
• 'Revolution' the monthly membership magazine of Motorsport UK
• Access to Motorsport UK's membership benefits programme with discounts across a range of automotive, travel and High Street partners
The vision is for its members – both competitors and fans – to feel part of a wider motorsport community, working alongside the governing body to help shape the future of the sport. Trackside Membership will present fans with an opportunity to get involved, have their say and help shape the future of Motorsport UK, through forums, 'Evening With' events and regular member surveys.
As part of the £24.99 annual membership, Trackside Members will also gain access to a substantial member benefits package, offering discounts and savings from major High Street retailers and automotive partners, including accommodation, travel, outdoor clothing, breakdown recovery, car tyres, tools, MOTs, parts and accessories.
Partners and discounts include 10% off in store at Halfords, 15% discount on Adrian Flux car insurance, 10% discount with Hilton hotels and Avis car rental, discounted car tyres and £25 MOTs with Protyre, plus a range of venue, event, trackday and experience day discounts.
The ambitious new initiative is the latest phase in Motorsport UK's ongoing transition from a traditional governance-led association to a modern membership-focused organisation with members at its heart.
Hugh Chambers, CEO of Motorsport UK, said: "Trackside membership is a significant new programme designed to get fans closer than ever to the sport. UK motorsport fans are among the most passionate in the world; now, with Trackside Membership, they have an opportunity to join a motorsport community not just attend their choice of individual events, and get closer than ever to the sport they love.
"As the governing body, we are committed to growing the sport and better meeting the needs of our customers and stakeholders. That includes fans, as well as competitors, officials and volunteer marshals.
What's more, with our package of partners offering significant discounts, Trackside membership rewards fans for their support of the motorsport community while giving them a voice and helping shape a sustainable future for UK motorsport."
Fans can join Trackside for just £24.99 a year, visit:
www.motorsportuk.org/join.