… DCC Junior Stages, Sun 31st March …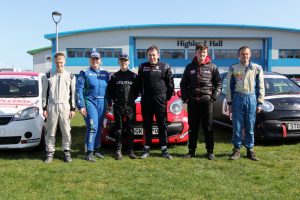 Many tall tales start with the phrase, "There was a Scotsman, an Englishman and a Welshman (or an Irishman) …..".
Well, on 31st March 2019 at the DCC Junior Stages Rally at Ingliston, Edinburgh this was very much the pattern in the winner's enclosure. The rally attracted 15 young drivers from all four UK nations to fight it out on the tight and twisty service roads within the Ingliston Showground in their 1000cc rally cars. The event was a counter in the Junior 1000 Ecosse Challenge (Scotland based) and the Junior 1000 Rally Championship (England/Wales based). A couple of competitors were entered in both Championships.
At close of play, the top three overall were: Wales 1st (Ioan Lloyd, Citroen C1), Scotland 2nd (Fraser Anderson, Citroen C1) and England 3rd (Archie Swinscoe, Skoda Citigo).
Ten drivers were entered in the Ecosse Challenge category and mounting the winner's podium were Scotsman (Fraser Anderson), Englishman (Lewis Hooper) and Irishman (Marcus Mcelwee).
Anderson/Steven Brown doggedly chased Lloyd/Jonathan Jackson over the 8 stages of just under 5 miles each. But Lloyd kept himself just a few seconds ahead on each stage and finished 16 seconds in front after the final stage. However maximum points in the Ecosse Challenge was the goal for Anderson and he drove to a pace to safely achieve that. Lloyd took maximum points in the Junior 1000 Rally Championship.
Archie Swinscoe and Billy Grew battled all day for 4th place, with Grew getting off to a quicker start before being hauled in by Swinscoe over the afternoon tests. Partnered by Jane Nicol who had finished 2nd overall on the Senior event the day before, Swinscoe said at the finish: "I just managed to grab 3rd on SS6 and hold on to the finish but Jane was egging me on to repeat her previous day's result when she finished 2nd on the Senior event!" Grew and Emma Morrison did manage to snatch one second back on the final stage but it wasn't enough and they finished the rally 4 seconds apart.
Finishing in 5th place overall, but 2nd on the Ecosse Challenge podium, were Lewis Hooper and Sam Bilham in their beautifully prepared Nissa Micra. Hooper drove at a very tidy and consistent pace all day but was not really able to match the pace of the newer cars in front.
And 3rd on the Ecosse Challenge podium was Irishman Marcus Mcelwee (Skoda Citigo) with John Henderson co-driving. They finished one place behind Hooper and were surprised and disappointed that they couldn't get the Citigo tuned in to the challenging stages at Ingliston.
Jack Hall and Robin Nicolson were 7th and Northern Ireland's ex Karter and Mini Cup racer Letisha Conn with Ian Crosbie were 8th on Letisha's rallying debut. The only problem here was communication, Letisha's Northern Irish accent mixed with 'Bing's Galloway-Irish twang adding to the confusion!
James Hancock and Ian McRae finished 9th with Ian looking as happy as a Basset Hound with no bone at the finish: "I marshalled at the Split all day yesterday, and still got it wrong today," he admitted," and sent James down the wrong way." Sadly, there wasn't enough strong drink at Ingliston for him to drown his sorrows. As it turned out, the wrong slot only cost them one place. Little consolation though, eh?
Rounding off the top ten were Erica Winning and Ellya Gold ahead of Thomas Johnstone, Harry Walshaw and Aaron Webster. Daniel Hurst did manage to finish but scored two Maximums on the first two stages when a wheel came off the Peugeot on the first stage and he had to wait till the second stage was finished before the car was rescued from the stage and repaired.
14 out of 15 cars finished with Oliver Hunter/Michael Cruickshank (Peugeot 107) being the only non finisher when a drive shaft broke on the first stage and then when they got that repaired and rejoined, the gearbox started making noises that a gearbox shouldn't make, so they pulled out.
The conclusion by everybody involved – a fantastic rally, well organised, very efficiently set up and marshalled. And the sun shone out of a clear blue sky all day.
There is now a short 2 week gap before the second round of the Junior 1000 Ecosse Challenge – the Memorial Garden Stages at RM Condor, Arbroath on 13th April. The Junior 1000 Rally Championship participants will also be out that weekend but down on Anglesey at the SMC Stages.
David Barlow
DCC Junior Stages Rally, Sunday 31st March
1, Ioan Lloyd/Jonathan Jackson (Citroen C1) 61m 32s
2, Fraser Anderson/Steven Brown (Citroen C1) +0:16
3, Archie Swinscoe/Jane Nicol (Skoda Citigo) +0:22
4, Billy Grew/Emma Morrison (Volkswagen UP!) +0:26
5, Lewis Hooper/Sam Bilham (Nissan Micra) +1:13
6, Marcus Mcelwee/John Henderson (Skoda Citigo) +2:09
7, Jack Hall/Robin Nicolson (Toyota Yaris) +4:54
8, Letisha Conn/Ian Crosbie (Peugeot 107) +5:32
9, James Hancock/Ian McRae (Citroen C1) +7:44
10, Erica Winning/Ellya Gold (Nissan Micra) +10:13