… Dayinsure Wales Rally GB – National Rally News …
BRITISH RALLY TEAMS GIVEN CHANCE TO SHINE IN WORLD CHAMPIONSHIP SPOTLIGHT …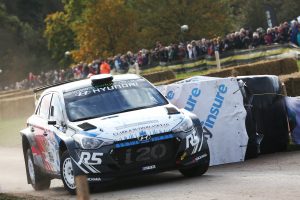 British rally competitors once again will be given the fantastic opportunity to share the spotlight with the FIA World Rally Championship elite.
As has proved so popular with both participants and spectators, this year's Dayinsure Wales Rally GB (4-7 October) will be twinned with the WRGB National Rally open to crews wishing to compete in front of huge crowds on the same legendary special stages as their illustrious WRC counterparts.
Giving enthusiastic entrants a real taste of the WRC action, the 2018 WRGB National Rally offers 85-miles of top class rally action on some of the world's most challenging and famous forest tracks. Guaranteeing further appeal, the event will run to a cost-saving two-day format and competitors will be based alongside the WRC teams in the fan-friendly, free-to-enter Deeside Rally Village.
Shadowing the star-studded WRC field, the WRGB National Rally action starts in north Wales on Friday. After three classic special stages in the forests of Clocaenog, Brenig and Penmachno, crews then face a new double-header at the Slate Mountain extreme sports venue in spectacular Snowdonia before returning to the Rally Village. Here cars can be serviced in readiness for an even more exciting second day.
Billed as 'Super Saturday', the battle-ground switches to mid Wales and five more legendary tests in the forests of Myherin, Sweet Lamb Hafren, Gartheiniog, Dyfi and Dyfnant. All five are renowned in rallying folklore and offer plenty of capacity for the large number of weekend spectators drawn by the latest generation of awesome WRC cars and, of course, the presence of local hero Elfyn Evans, last year's outright winner.
Having completed two-days of exhilarating competitive action, crews return for a well-deserved Ceremonial Finish and prize-giving in the Rally Village, the centrepiece of the Saturday evening party.
After recent Scottish domination, victory last year went to Tom Preston (photo above) from Lancashire, a regular in the UK's premier Prestone MSA British Rally Championship. His victorious Skoda Fabia R5 (photo top below top) was joined in the top ten by an impressive array of Subaru Imprezas, Mitsubishi EVOs and ever-sideways Ford Escort Mk2s.
"I can't speak highly enough of the event," enthused Preston for whom it was his maiden rally triumph. "It's a great opportunity to drive some iconic stages and being involved in a round of the World Championship. It provides a less costly option and also doesn't require quite as much time away from work and the family. To take my first ever win on last year's WRGB National Rally was amazing and, hopefully, it won't be my last!"
With so much to offer as well as lots of different classes for contemporary and historic categories, recent WRGB National Rallies have been complete sell-outs with the first wave of guaranteed places filling up on the first day. This year is expected to be similarly oversubscribed when entries – priced at £900 + VAT – open on Wednesday 15 August.
Entries to the National B status event can only be made online and must be accompanied by online payment in order to be processed.
For more ambitious local crews wishing to contest the full four-day International event, the organisers are seeking dispensation from the FIA to permit nationally-registered cars to be eligible for the main WRC rally as last year.
"The popularity of the WRGB National Rally is a really important success story for this event," said Ben Taylor, Managing Director of Wales Rally GB. "There are not many sports where amateurs can compete alongside their heroes and this is a brilliant opportunity for crews from all levels of the sport to tackle the stages of this amazing World Championship event.
"We have listened to the feedback from last year and moved the event to Friday/Saturday, as competitors didn't appreciate the overnight for little mileage on the Sunday. What we have delivered is some of the most iconic rally stages in Wales over two days of great fun and camaraderie, with its own high profile finish on Saturday evening in the Rally Village."
Tickets for the 2018 Dayinsure Wales Rally GB are now on sale with significant savings for those booking in advance. The schedule kicks off with Thursday curtain-raiser at the Tir Prince Raceway and concludes with the radical new Great Orme Llandudno street stage which will witness world championship motor sport on the closed public roads of Llandudno for the very first time.
Adult prices start at just £15 for Visit Conwy Tir Prince with Day Passes starting from £23 when purchased in advance. The premium four-day event pass remains at £99 for the ninth successive year. Accompanied children aged 15 and under are admitted free. A limited number of hospitality and grandstand seats in Llandudno are also available for those booking early.
Full information can be found on the official www.walesrallygb.com website and via the event's social media channels.
2018 WRGB NATIONAL RALLY DRAFT ROUTE
Friday 5 October:
Start: Deeside Rally Village
SS1: Clocaenog (4.77 miles)
SS2: Brenig (18.1 miles)
SS3: Penmachno (10.53 miles)
SS4: Slate Mountain 1 (1.05 miles)
SS5: Slate Mountain 2 (1.05 miles)
Overnight: Deeside Rally Village
Saturday 6 October:
SS6: Myherin (12.60 miles)
SS7: Sweet Lamb Hafren (12.39 miles)
SS8: Dyfi (12.10 miles)
SS9: Gartheiniog (7.00 miles)
SS10: Dyfnant (5.16 miles)
Ceremonial Finish: Deeside Rally Village