… 2018 Scottsh Tarmack Rally Championship …
Dunfermline Car Club and the Scottish Tarmack Rally Championship are very proud to announce their new main sponsor and co-sponsors for 2018-2019 championship season.
A big 'thank you' must go to the following for bringing down their cars for the photoshoot at the weekend, Derek Keir, Nigel Feeney, James Gibb, Taylor Gibb, Amy McCubbin, Andrew Gallacher, and last, but by no means least, Eddie Kelly for the photos.
Regulations for next year's championship will be published very soon on www.dunfermlinecarclub.co.uk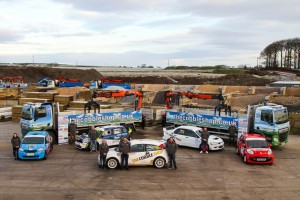 The 2018 Scottish Tarmack Rally Championship in association with the Cobble Shop.
Dunfermline Car Club and the Scottish Tarmack Rally Championship are proud to announce that their main sponsor for season 2018-2019 will be the Cobble Shop.
The Cobble Shop will also be main sponsors of both DCC run events namely the DCC Stages at Ingliston in March and Mach 1 Stages in July.
In addition to a new main sponsor DCC is also very proud to announce continued support from some of our 2017 Sponsors and welcome the new sponsors for season 2018.
David Hatrick added: "I'm sure you will welcome all of our supporters of the championship by utilising the services they provide, I'm also sure discounts are available for STRC registered crews."
The Cobble Shop
Phone 01560485413
Email sales@thecobbleshop.co.uk
Website www.thecobbleshop.co.uk
The Cobble Shop was started in 2007 by Tom Blackwood to provide his customers with high quality natural stone and decorative aggregates. The past few years have seen it grow rapidly to become Ayrshire and Glasgow's No1 Landscape Supplier, extending its product range into the likes of Fencing, Decking, Artificial Grass as well as a huge range of Paving and Mono-Block.
A very forward-thinking company built on a solid reputation of excellent customer service and supplying only the best quality products. The Cobble Shop were one of the first online retailers in this sector and continues to lead the way selling landscaping and outdoor living products via their website www.thecobbleshop.co.uk, Bringing its customers the latest products and innovations in the industry long before many of its rivals. They also have a large social media presence and will be posting updates on the championship throughout the season on their Facebook and Instagram pages.
Managing Director Tom Blackwood, his wife Joan, son Andrew and Manager Derek Keir all have strong links to the STRC and all compete regularly. Tom as a driver, Derek and Joan in the Navigators' seat, and young Andrew as a driver in the Juniors.
They will also be supporting Andrew Gallacher and Jane Nicol who will be competing in Tom's Focus WRC in the Scottish Gravel Championship, as well as their continued support of Junior rallying in Scotland in 2018.
Grant Construction
Phone 01383824861
Email sales@grantconstruction.co.uk
Website www.grantconstructionservices.co.uk
Operating since 1987, Grant Construction is a family run business that provides clients with a complete construction & haulage solution. From initial kick off and groundwork through to completion of your entire build, we are perfectly suited to meet the demands of your project.
Grant Construction specialise in carrying out large excavations and earthworks, foundations, concrete floors and drainage works as separate of combined packages.
They also pride themselves on their reputation for completing contracts, on time and to the highest standards. The company also has a fleet of road sweepers, rigid axle tippers and heavy haulage fleet available to hire. Give them a call to discuss your requirements.
John Young Signs
Phone 01383 514883
Email design@johnyoungsigns.co.uk
Website www.johnyoungsigns.co.uk
John Young Signs was established for one purpose, to provide the best quality signs and services at the best possible price. You can expect a professional, accurate yet informal service, which is tailored to your needs and designed to exceed your expectations.
It will not be a shock to know that the founder of John Young Signs is … John Young and he has over 25 years experience in the field of sign writing. Together with their friendly staff, you will receive a small business service with a big business impact.
Whether you are looking for a full vehicle wrap, external shop sign, internal exhibition displays, trophies, engraving, embroidery etc you can rely on John Young Signs to deliver the best quality.
Feel free to look around their site, or if you prefer, give them a call. They would be delighted to discuss your requirements, no matter the size of the job.
Andrew Wood Motorsport
Phone 01896 820263 / 07971 242401
Email info@woodsport.co.uk
Facebook Andrew Wood Motorsport
Providing customers with an on- event fitting service as well as a range of tyre brands including Pirelli, Hankook and Hoosier, Andrew Wood Motorsport supports tarmack and gravel rally competitors across Scotland and the Northern England. With a rally driving career spanning more than three decades at professional and club level and two Scottish Championships to his name, Andrew is no stranger to the sport. He brings with him huge experience and technical knowledge which he shares willingly to help newcomers and old hands alike choose the right tyre for their budget and the stage conditions. Based in the Scottish Borders, AWM has been operating for nearly fifteen years and the team is always at the end of the phone to supply tyres and advice between events too. Confirming his support of the STRC for 2018-19, Andrew said: "We're delighted to be able to continue to support this hugely competitive championship and wish all our customers the best of luck in the forthcoming season."
Bennie Contracts
Phone 01501 730369
Email grahambenniecontracts@gmail.com
Bennie Contracts is a small well established family run business based in Bridgecastle by Bathgate, West Lothian but operating throughout the Central Belt of Scotland
Although initially set up to specialise in agricultural work, the company diversified into all aspects of ground works in the early 1980's and has worked with local authorities and private developers on flooding and drainage projects, installing play equipment, designing and building paths and sensory gardens for schools and community groups, undertaken hard landscaping works for private customers and has recently ventured into designing and fabricating bespoke metal sculptures too.
JC Welding & Fabrication
Phone 01506 461925
Email info@jcwelding.co.uk
website www.jcwelding.co.uk
Established in West Calder, West Lothian in 1987 and now based in Deans Livingston, JC Welding & Fabrication is a family run business
With a combined experience of over 100 years in the fabrication industry, the company has been involved in all sorts of projects for local authorities, housing associations, large multi-national companies as well as a variety of small, medium and large scale projects for public, commercial and private clients.
Focused on producing high quality workmanship at realistic price has got the company to where it is in the market place today.
Auchencorvie Sawmill
Phone 07718 742544
Email Just.dj66@gmail.com
Auchencorvie sawmill is a small family run mill in south Kintyre. The mill cuts mainly softwoods and produces fencing for agricultural, forestry and domestic use. Timber can be supplied off saw or pressure treated. We also mill construction timbers up to 6.2 metres and any specified dimension
Larch cladding including lapside boards and shingles. The mill also produces woodchip for biomass boilers.

Jacqui Duncan Garden Services
Phone 07793 204149
Email gardeningservices@rocketmail.com
Based in Falkirk, Jacqui Duncan Garden Services has been operating for 10 years now and has a client base across Central Scotland.
Jacqui Duncan Garden Services works primarily with private customers in the design of new and the routine maintenance of existing garden spaces but works with resident associations, schools and small business' in the design, installation and maintenance of landscaped area and shared use spaces.
Graham Developments UK Ltd
Phone 01506 411177
Website www.grahamdevelopments.com
Graham Developments is a small hands-on development company based in West Lothian, who oversee all projects in-house, which allows them to maintain a close attention to detail. This has given the company a reputation for providing high quality accommodation and service.
Their properties are located next to Junction 4 of the M8 motorway where they provide accommodation ranging from light industrial units to secure yard space.
Their ability to offer space that can be altered to cater for each individual's needs and their flexible approach to leases has lead to the introduction of tenants such as Balfour Beatty, Speedy Hire and Blind Design.
In addition to commercial property they have also diversified into residential letting working closely with local authorities and charities offering affordable rents. Their properties range from 2 bedroom flats to 5 bedroom houses and are located throughout West Lothian.
The Convenience Company
Phone 07720 295950
Email fergus@fgits.co.uk
The Convenience Company (Scotland) provide luxury Loos for weddings and parties operating throughout Perthshire, Angus, Fife, Stirlingshire and Argyll, bringing a little bit of luxury for you and your guests.
Lothian Bodyshop
Phone 07445217061
Email Quote@lothianbodyshop.co.uk
Lothian Bodyshop is a popular Car Body Repair Shop based in Whitburn, West Lothian.
With a combined 40 years' experience in the Car Body Repair Business they consider themselves one of the best car body shops in the area, highly focused on producing high quality workmanship at a reasonable price. They specialize in the repair of Scuffs, Dents and Chips, as well as Insurance Approved Accident Repairs and full resprays.
Like-for-like courtesy cars can be supplied for all Non-Fault Accident Repairs, keeping their customers on the road during the repair process, examples of their work as well as testimonials are always available.
Wheels Around Tyres
Phone 01764 662897.
Email Ronnie@wheelsaround.com
Wheels Around, Scotland's premier motorsport tyre dealer, has established an outlet at Knockhill Racing Circuit, operating out of garages 4 and 5 in the main paddock. It will provide tyre sales and fittings at car and bike events, trackdays and track nights this season. Wheels Around provides track tyres and racing tyres, as well as road tyres for cars and vans. This is a first for Knockhill – previously Wheels Around only attended race days with a mobile van.
Auchterarder-based Wheels Around owner Ronnie Thom said: "We didn't have the tyres at Knockhill before so it didn't make sense for us to come to trackdays, it wasn't feasible. Now we have the tyres there we hope to be at almost every trackday."