… JOHN MacCRONE RETURNS TO TACKLE WALES RALLY GB …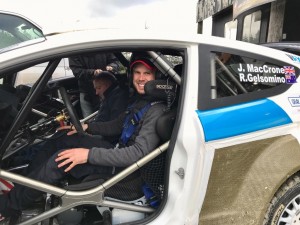 Scotland's John MacCrone will return to rallying for the first time since winning the 2016 Mull Rally when he contests this weekend's Wales Rally GB, the penultimate round of the World Rally Championship.
The 28-year-old from the Isle of Mull will fire-up his four-wheel drive Ford Fiesta R5, prepared by Kelso's Dom Buckley Motorsport, for the opening stage on Thursday evening.
Ahead of MacCrone — co-driven by Rhianon Gelsomino, the American-based Australian — lie three days of treacherous slippery and muddy tracks, covering 21 stages and 189 competitive miles, which weave their way through the Welsh forest stages.
And the Scot, contesting Wales Rally GB for the first time since he finished top Brit, and won the two-wheel drive class in a Fiesta R2 in 2011, admits he's champing at the bit to get back in a rally car.
"It's been really frustrating not rallying since I won the Mull Rally last October," admitted MacCrone. "We had a few things lined up for this year, but unfortunately they fell by the wayside for one reason or another.
"But we've managed to put together a really strong sponsorship package for this event — which we'd always planned to do this year — and I'm looking forward to getting back behind the wheel."
Backed by a group of Scottish-owned companies, including Clik Software, Watermans, ScotPhone, Asset Alliance, plus Gray & Adams, MacCrone acknowledges he will ease himself into the gruelling, high-speed event.
"Thursday night opens the event with a short spectator special stage," he explained, "then I'll treat Friday as a day to get myself back up to speed and see how my times compare with the other established crews who have been competing in WRC2 all year.
"Hopefully I can get back into the groove pretty quickly, build the speed up and be back on the pace over the weekend. My priority is to make sure I'm definitely still there when the rally finishes on Sunday."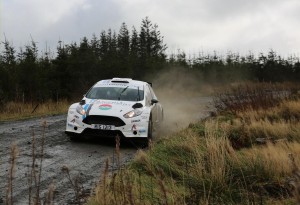 MacCrone has already whetted his appetite with a pre-event test four days ago in the Welsh forests.
"The test went well," he continued. "It rained, it poured, it was windy: typical Wales Rally GB weather, which made the forest stage slimey and slippery.
"But the DMACK tyres which we'll be using in the rally were fantastic, and gave me a huge amount of grip and boosted my confidence. I came away from the test feeling quite good; especially considering I haven't rallied on gravel for more than 14 months.
"Just getting back in the car for the test at the weekend made me realise how much I missed it. I'm excited, and just looking forward to enjoying getting stuck into Wales Rally GB.
"It's a privilege to be able to drive a car like the Fiesta R5, not just once — as I did on Mull last year — but again in the forests, on the biggest world stage of the year."
QUOTES:
Geoff Adams, Clik Software managing director:

"I've become very impressed by John as a character, as a man, over the five years I've known him since I moved to Mull. He has such terrific attitude to so many things, and I admire his talent. What he did last year on the Mull Rally mightily impressed me. 

"It's great to be in a position to be able to help someone like John, and help further his career, and we're really excited and pleased to be involved with him on Wales Rally GB.
"It's a sport I love and it's fantastic to be involved again by helping John. I hope he has a great event, and does himself proud."
Scott Whyte, Watermans managing director:
"As part of the longterm sponsorship we have with John, who became a Watermans' sports ambassador in 2015, supporting him in Wales Rally GB is really the logical step in the next chapter of his rallying career. Being the top event in the UK, this allows John as a driver, and us as a company, to present ourselves at the elite level of world rallying.
"We want to show our continued support for John and wish him, and co-driver Rhianon, all the very best for the event.
"It's a team which worked really well in the Scottish Rally Championship, winning the Grampian Stages Rally last season. Hopefully their working relationship will switch itself back on nice and quickly, and they'll have a good and safe run this week."
Mark Linton, Scotphone managing director:
"We have been involved in rallying as competitors and sponsors at Scotphone for many years, sponsoring a round of the Scottish Rally Championship back in the late Eighties and early Nineties.
"It's great to be involved with young Scottish talent and hopefully see John progress through the ranks in a very tough sport.
"Having had the opportunity to sit beside John on a couple of test days, it's incredible the ability he has to keep the car on the straight and narrow. We wish John and Rhianon all the best from the team at Scotphone this week at Wales Rally GB."