… MacCrone to tackle WRC …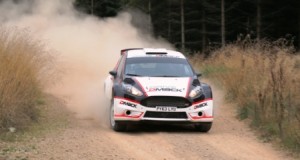 John MacCrone has confirmed he plans to tackle a number of World Rally Championship events next year in his four-wheel drive M-Sport Ford Fiesta R5.
The 24-year-old from Mull will debut his new Fiesta — which he will use in WRC2, the official FIA championship which runs in tandem with WRC events — when he tackles the penultimate round of the
Scottish Rally Championship, the Colin McRae Forest Stages Rally on October 4.
"We've committed to doing the McRae next month," MacCrone, who contested the World Rally Championship Academy in 2012, confirmed today, "but we're already looking forward to next year.
"In many ways we've taken a year out in 2014, but I'm definitely planning on contesting a number of WRC2 rounds in the Ford Fiesta next year.
"The exact number we'll do will depend on the budget and sponsorship we can raise, but already we've attracted some good, positive backing: but we could always do with some more.
"I got a real flavour for the WRC when I did the Academy two years ago, and I want to get back on to the world stage as soon as possible.
"I feel I've got some unfinished business to do. So moving up to WRC2 is the next natural step to take towards finally breaking through into the topflight WRC."
MacCrone is bidding to follow rival Elfyn Evans, who won the 2012 WRC Academy, into the WRC. The Welshman now pilots a Ford Fiesta WRC car in the world championship.
And MacCrone — who recently put his CA1-prepared, DMack-liveried Fiesta through its paces at a private test on a remote forest stage in North-west England — also confirmed he will contest this year's Tunnock's Mull Rally on October 10-12.
Twelve months ago the talented young Scot, co-driven by Glasgow's Stuart Loudon, won the three-day event — which is contested on closed-off Tarmac public roads on the island — in a 4WD turbocharged Fiesta S2400.
This year though he'll return, less than a week after the McRae, to tackle Mull in a less powerful, two-wheel drive Castrol-backed Fiesta R200.
"It's all about expanding my rally skills, in different conditions and in different styles of cars," MacCrone continued.
"Of course, we won't be able to mix it right at the front with the more powerful four-wheel drive cars, but it's my home event and I'll be doing everything I can to finish top 2WD car."