Subaru's New Group N Challenger …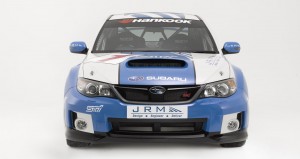 British motorsport preparation specialist JRM has unveiled a brand new Grp N specification Subaru WRX STI rally car that marks the beginning of an official partnership with Subaru Tecnica International (STI).
JRM's new Grp N challenger is unique and different to other WRX STIs of the same generation because it is the first in Europe to be built in a four door saloon bodyshell. JRM has chosen this specification because the saloon car offers improved aerodynamics, traction and balance over the alternative hatchback model.
Since STI ended its World Rally Car programme in 2008, it has continued to support Grp N activities across the world. JRM will help STI to continue these activities by building Subaru vehicles that are modified for the Grp N rally category and by providing an STI special parts sales service.
JRM also announced that former FIA Production Car World Rally Champion Niall McShea will be its Grp N test and development driver. JRM was established in 2008 and has a successful background in rallying. Its cars have won international events on gravel, asphalt and snow, as well as a British Rally Championship title.
The unveiling of JRM's new Grp N Subaru WRX STI at the Autosports Show in Birmingham today is the first milestone in the company's new association with STI – the motorsport division of Subaru. JRM has teamed up with STI to help the Japanese marque to re -establish a front line presence in the Grp N category.
"We're extremely proud to have reached an official agreement to produce GrpN rally cars in association with STI," said James Rumsey, JRM executive director, adding: "The WRX STI is a formidable performance car and we have found there is a real hunger in markets around the world for a latest – specification Grp N Subaru that is strong, reliable and cost effective."
The JRM Grp N Subaru programme will be run from the company's state-of-the-art headquarters in Daventry, Northamptonshire, England.
The engineering team that has been established and will spearhead the development of the WRX STI brings a wealth of experience with the Subaru marque. Many of the team have successfully engineered WRX STIs to previous FIA World Rally Championship titles.
Niall McShea, who won the 2004 FIA Production Car World Rally Championship title in a Grp N Subaru WRX STI, is delighted to link up with JRM and the STI brand again.
The 39-year-old said: "I've got many happy memories of Grp N rallying with Subaru and I'm thrilled to be asked to join this exciting programme. I think the Grp N category has lots to offer at international and domestic levels and both JRM and STI have developed a fantastic package."

JRM Gp N Subaru WRX STI technical specification
Engine
Subaru 2.0-litre, flat four, twin scroll turbo
Maximum power output: 280 BHP @ 4250 rpm
Maximum torque output: 560 Nm @ 3000 rpm
Variable inlet and exhaust camshafts
Anti-lag system
Homologated intercooler water spray
Homologated coolant radiator
Stainless steel exhaust system with optional catalytic converter
Transmission
PPG 5-speed dog gearbox
Front and rear limited slip differentials with optional ramp angles
Electronically controlled centre differential
Heavy-duty specification driveshafts
AP Racing paddle clutch
Chassis
Target homologated minimum weight: 1350 kg
FIA welded safety cage (Custom Cages)
80-litre ATL fuel tank
Quick disconnect refuel couplings
Suspension
Öhlins dampers with four-way adjustment
Brakes
STi / AP Racing homologated brake package for tarmac and gravel
Driver adjustable brake bias
Fly-off hand brake, with manual lock
Wheels
Speedline 8" x 18" aluminium (asphalt)
Speedline 7" x 15" aluminium (gravel)
Electrical
Motec M800 with drive-by-wire throttle engine controller
Motec SDC centre differential controller
Data display system
Motec display screen
Interior
Sparco steering wheel
Sparco HANS seat (customer option)
Sparco 6-point harness
FEV 3kg-mounted extinguisher system
Optional equipment
Heated front screen
Lamp & bumper light pod
Roof vent / software
Additional seat options
Asphalt or gravel dampers, brakes and wheels