2013 Blue STRC Season Review …
Compiled and written by Ashleigh Morris …
Round One: Grant Construction Knockhill Stages
The season got off to a great start for Stuart Baillie, who took the victory at the Knockhill Stages. It was an unbelievably close battle, with Baillie and Lee Hastings finishing the rally with identical times. However, due to setting a quicker time on the first stage, Baillie and co-driver Alan Cowan took the win in their Subaru Impreza.
Round Two: PJ Planthire and Groundworks Charterhall Stages
Dom Buckley and Barry Hogg secured the win at Charterhall. Stuart Baillie was the highest placed STRC competitor, finishing fourth. Other STRC competitors who finished in the top ten were Colin Gemmell and Cameron Fair; Ross Fernie and John Young; Stuart Walker and Julie McGuire; and Ian and Kathryn Forgan, who finished fifth, sixth, seventh and ninth respectively. With strong results in the opening two rounds, Stuart Baillie led the drivers' championship by six points from Ian Forgan.
Round Three: Dunfermline Car Club Ingliston Stages
Victory at the DCC Ingliston Stages was taken by Chris Anderson and Chris Thirling. Nick Runcie was the highest placed STRC competitor, finishing second with Gary Muir in the co-driver's seat. Last year's STRC champions Ross Fernie and John Young finished third, and fourth place went to Ian and Kathryn Forgan who also took the championship lead.
Round Four: Jim Clark Reivers Rally
David Bogie and Kevin Rae took the victory at the Jim Clark, with Alistair and Colin Inglis the highest placed STRC competitors, finishing fourth. Several class wins were taken by STRC competitors: Stephen and Darren Thompson secured victory in class 5 in their Ford Escort; Paul Ballantyne and Graham Bruce won class 7; and Gordon Halley and Jeff Horne won class 8. Finishing second in class ensured Ian and Kathryn Forgan held on to the championship lead.
Round Five: Glenrothes Motorsports Club Crail Summer Stages
STRC competitors Bruce Edwards and Jim Smith won at Crail, followed by Stuart Baillie and Lachlan Cowan in second, and Alan Gardiner and Robin Nicholson in third. Last year's winners Alastair and Colin Inglis crashed out on stage three and championship leaders Ian and Kathryn Forgan suffered a bad accident on the second stage but managed to maintain their championship lead. Steven Hay moved up to second in the drivers' standings, nine points behind Forgan.
Round Six: Turnbull Trophy Stages
Peter Taylor and Andrew Roughead triumphed at the Turnbull Trophy Stages, winning by three minutes and forty three seconds in their Ford Focus WRC. Alistair and Colin Inglis finished second, with Lee Hastings and Brian Findon sixth, and Kieran O'Kane and Jane Nicol tenth. Ian and Kathryn Forgan competed in a borrowed Ford Fiesta following their accident at Crail, and managed to finish second in class, maintaining the championship lead.
Round Seven: Solway Coast Rally
Mark McCulloch and Elliott Edmondson took the win at the Solway Coast, with Stuart Baillie the highest placed STRC competitor in fifth. Ian and Kathryn Forgan were back out in their Ford Ka and finished ninth overall, while Scott and Adam Russell took tenth. Ian Forgan maintained the championship lead, with Steven Hay in second, Scott Russell third, Stuart Baillie fourth and Craig Gibson fifth.
Round Eight: Stobart Rail Pendragon Stages
At the Pendragon Stages Peter Taylor and Andrew Roughead took another victory in their Ford Focus WRC. Stephen and Louise Hope were the highest placed Blue STRC competitors, finishing tenth in their Ford Escort Mk2. Lee Hastings and Mark McCulloch finished 11th, and Kenneth Moore and Richard Wardle were 13th. Ian Forgan and Steven Hay maintained first and second in the championship, with Stuart Baillie and Craig Gibson climbing to third equal, and Scott Russell dropping to fifth.
Round Nine: Tunnock's Mull Rally
Victory in Mull went to John MacCrone and Stuart Loudon. Lee Hastings and Brian Findon had a good result which moved Hastings up to third in the drivers' championship and Findon to fourth in the navigators' standings. Heading into the final round of the championship Ian Forgan led the STRC drivers' standings by nine points from Steven Hay, with Lee Hastings in third, and Stuart Baillie and Craig Gibson tied in fourth.
Round Ten: Glenrothes Motor Sport Club Kingdom Stages
Alistair and Colin Inglis took the victory at the Kingdom Stages, followed closely by Stuart Baillie and Lachlan Cowan in second. Ian and Kathryn Forgan finished tenth which was enough to see them crowned 2013 STRC Champions. Steven Hay finished second in the drivers' championship, six points behind Ian, while Brian Findon took second in the navigators' championship.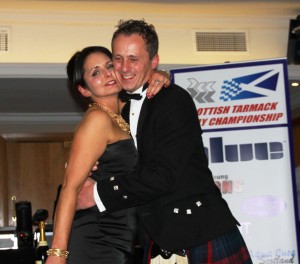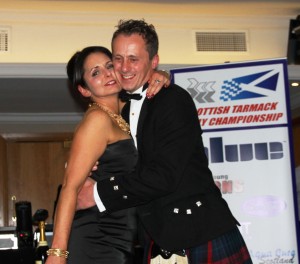 2013 Blue STRC Drivers Championship
1 – Ian Forgan (Ford Ka) 132 points
2 – Steven Hay (Vauxhall Corsa) 125 points
3 – Stuart Baillie (Subaru Impreza) 124 points
4 – Craig Gibson (Ford Escort Mk1) 113 points
5 – Lee Hastings (Subaru Impreza) 111 points
6 – Scott Russell (Vauxhall Corsa) 105 points
7 – Kieran O'Kane (Opel Ascona) 99 points
8 – Iain Miller (Peugeot 106) 97 points
9 – Gordon Halley (Ford Escort MkII) 96 points
10 – Linzi Henderson (Peugeot 107) 80 points
2013 Blue STRC Navigators Championship
1 – Kathryn Forgan (Ford Ka) 122 points
2 – Brian Findon (Subaru Impreza) 109 points
3 – Chris Lees (Ford Escort Mk1) 108 points
4 – Lewis MacDougall (Vauxhall Corsa) 106 points
5 – Adam Russell (Vauxhall Corsa) 98 points
6 – Gary McDonald (Peugeot 106) 93 points
7 – Jeff Horne (Ford Escort MkII) 91 points
8 – Jock Frew (Opel Ascona) 88 points
9 = Jane Nicol, 85 points
9 = Cameron Fair (Subaru Impreza) 85 points
2013 Blue STRC Class Winners – Drivers
Class 1: Steven Hay
As well as winning Class 1, Steven won the STRC Junior Championship and was second overall in the championship standings. "Since it was my first season I was aiming to finish in the top three in class so I'm really pleased to have won my class and finished second overall," said Steven.
Class 2: Craig Gibson
Craig Gibson had a consistent season, finishing every rally he entered which secured him fourth place in the championship. He said: "Fourth overall was great for our first full season competing. Next year we'll be competing in class 3 – Knockhill will be the first event for the new car. I'm looking forward to the new venue at Machrihanish.
Class 3: Ian Forgan
Ian took the championship lead after round three at Ingliston. Despite a bad accident at Crail in June he maintained the lead for the rest of the season and returned to the venue to wrap up the championship at the Kingdom Stages in November. Ian commented: "I'm over the moon. After the accident I thought that was the end of the championship. We worked hard to rebuild the car and this is a fantastic reward for all the hard work."
Class 4: Kieran O'Kane
After achieving consistently strong results throughout the season Kieran finished seventh in the championship and won class 4 by 42 points. He said: "I'm really chuffed with the class win. We're rebuilding the car for next year so I'm going to give the championship a good go and hopefully we'll get to do the rounds we missed this year."
Class 5: Stuart Baillie
Stuart won the first round at Knockhill and had consistently good results throughout the season, finishing with second place at Crail, adding: "I'm chuffed to bits with how the car has come on and how we performed all year. The team have done a great job and the car has been really reliable."
2013 Blue STRC Class Winners – Navigators
Class 1: Lewis MacDougall
Class 2: Chris Lees
Class 3: Kathryn Forgan
Class 4: Jock Frew
Class 5: Brian Findon
We are pleased to announce that the Scottish Tarmack Rally Championship has extended its partnership with Blue, who will remain title sponsor of the championship for the 2014 season. Blue is a provider of materials processing equipment for the quarrying and waste recycling industries.
We would like to take this opportunity to thank Blue for their continued support and we look forward to another successful year of the Blue Scottish Tarmack Rally Championship in 2014. We would also like to thank all the sponsors, marshals, organisers and competitors involved in the championship.
For more information on the Blue Scottish Tarmack Rally Championship or to enter the 2014 Championship visit: www.dunfermlinecarclub.co.uk
More information on Blue is available from: www.bluegroup.co.uk