… Ford Transit Custom Trail …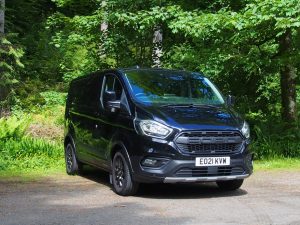 There are two major issues with Ford's latest variation on the Transit Custom theme, the first one is desirability and the second is price. Although the desirability factor is very high, so too is the price!
Over the past ten years the light commercial vehicle market has experienced a huge increase in prices. That's driven by a number of irreversible factors. In the not so distant past, a van was simply a box on wheels with an engine and gearbox. No luxuries, no frills and in many cases, just one seat and little in the way of crash protection.
Sixty years ago cars were little different too. At the bottom end of the price range they were also pretty basic but as improving affluence after the post war years set in so people's expectations and demands rose in keeping with better living standards. People didn't just want a nice house, they wanted a nice car. That attitude started to seep into commercial vehicles with the result that car owners who also drove vans wanted similar luxuries like a heater, a radio, more than one windscreen wiper and better seats.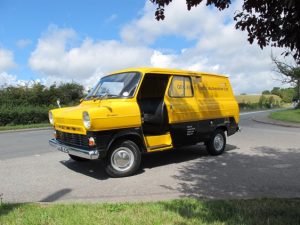 It could be argued that Ford started this trend with the introduction of the first Ford Transit in 1965. Suddenly everyone was playing catchup. Commercial vehicle manufacturers across Europe responded and started to introduce more and better equipment, but it was the requirement for additional and mandatory crash protection safety measures in the early 2000s that further increased the pace and scale of improvements.
The incorporation of deformable structures, crash protection, airbags and electronic driving aids also made the vans heavier so that started to impinge on payloads, and further regulations were introduced to try and cut out the practice of overloading vans. The humble van was no longer simply a box on wheels.
In fact, that example calls to mind one particular case when the Police pulled over a van which was down on its bump stops and accused the driver of driving an overloaded vehicle. Apparently he claimed that was impossible as he threw open the rear doors and exclaimed "Look it's only half full, I can get more stuff in there!" A true tale? You decide.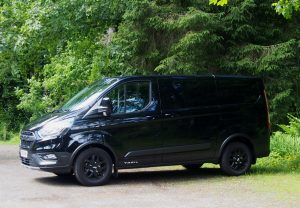 To meet these new NCAP safety requirements, the implementation of these new rules and regulations generated a marked price increase in the cost of light commercial vehicles. More design and longer testing meant more expense. And the pace of LCV price increases hasn't let up since.
Another factor dictating price is high demand. The introduction of shopping from home has further fuelled price lifts. Vans are now in huge and growing demand.
And let's not forget people's choice. Drivers are in short supply to the extent that some companies are offering better equipped vans just to keep the staff they have while trying to attract new drivers. And van drivers themselves are getting more choosey. If they spend more time in their van during the week than they do at home, they want a bit of comfort and coddling along the way. In some cases the make and model of the van can be a persuasive attraction at the job interview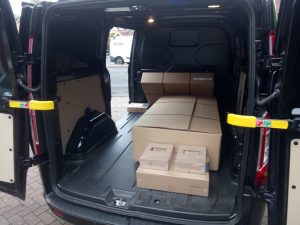 There are currently just over 4 million vans on the road in the UK and the demand is still rising for fridge vans, panel vans, box vans, camper vans, crew vans, mini-buses and bog standard 'empty space in the back' vans not to mention the many conversions such as tippers and flatbeds.
However there is another cloud on the horizon, the shortage of microchips which is currently affecting car production is also affecting LCV production. Shortage of supply means more price increases.
And don't think prices will reduce as electricity replaces diesel and petrol as the prime means of propulsion. Factory production methods and lines will have to change to accommodate these new requirements, and all that has to be paid for.
So don't expect a cheap van – ever again.
Even so, 40 grand for a one tonne van is outrageous even for something as desirable as the Custom Trail and yet on a personal basis this is one of the best one tonne vans in the marketplace. It looks good, goes well and is a hoot to drive. It also has one of the best two/three seat cabins in the business. offering excellent comfort.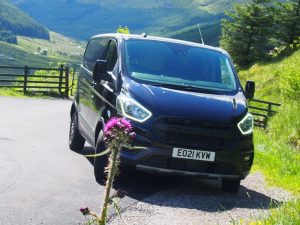 But what makes this van ten grand more expensive than the basic entry level 28 grand machine? For a start it sits on 16 inch alloy wheels with a set of sensibly sized Goodyear Efficient Grip Cargo 215/65 x 16 tyres with painted plastic bumpers and 'trail trim' round the wheel arches. A chunky looking grille and metallic black paint complete the look. The result is an ever so slightly more assertive stance.
However, the big attraction lies underneath that shiny exterior. It has a mechanical limited slip differential which transforms the humble road warrior into an entirely capable off-road contender. Of course, it won't quite rival a total traction machine off road, but for those who have not experienced the advantages of an LSD, it does make a huge difference.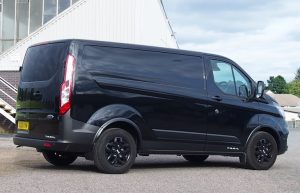 It also has a 128bhp 2 litre diesel engine, six speed box and a proper handbrake. None of this electronic nonsense and it's rated to tow up to 2500 kgs.
The 'Trail' also gets a well equipped and comfortable cabin with ICE Pack 25 which includes additional driving safety aids such as Lane Keeping and Sign Recognition plus 8″ colour TFT touchscreen, DAB/AM/FM radio with two USB ports and topped off with a leather rimmed steering wheel. There's also plenty of storage around the dash with multiple door pockets.
All that translates into a spirited and comfortable driver, suitable for those who want to pursue an active lifestyle at weekends while functioning as a tradesman's carry-all during the week. It's also smart enough inside to act as a family car, albeit for a very small family, i.e. no more than three, unless Ford brings out a DCIV (Double Cab In Van) version which can seat six and still offers a sizeable loadspace. Admittedly, the ride can be a bit choppy when running empty but get a load on board and you might not go back to a private car!
There's just one tiny wee thing holding me back, the price!
Ford Transit Custom Trail
Review Date: 31 July 2021
Price: £38,355 (as tested)
Engine: 1995cc, 4 cylinder diesel with 128 bhp
Payload: 972 kgs
Economy: 42 mpg (actual)
Emissions: 188 g/km
[Back to Top]