… Audi Q4 e-tron …
Regardless of what lies under the bonnet, the Audi Q4 e-tron is an eminently likeable and extremely comfortable form of personal transport which is a joy to drive. In this case, it's an electric car, but this one has a range of over 300 miles. That in itself is a surprise, this is a big, handsome car sitting on a set of 20 inch wheels!
That puts it into a different league for those who are still hesitant about switching from the familiarity and reassurance of petrol or diesel power, to this new fangled unseen and odourless type of 'fuel'.
There is no compromise on performance either. The 150kW motor generates 201bhp which in turn can serve up a sub 9 second 0-60 time with top speed of 99mph, but then again if you use that performance range will drop.
The same can be said of petrol and diesel engines, drive them fast and they will drink the juice. An electric car is no different, drive it gently and sensibly and your pocket will be rewarded and anxiety levels reduced.
That said I planned a 200 mile round trip to the Armstrong Galloway Hills Rally at Kirroughtrie and I must admit I did experience a few doubts despite the fact that Audi claim a 330 mile range for the Q4 e-tron.
Nothing ventured, nothing gained. Off I set in the dark, rain and cold. That meant lights, windscreen wipers and heater. The 90 mile cross country trip through the Dalveen Pass to Dalnotry used 30% of the charge so that was encouraging, I would easily make it back home. No fears.
There was no need for a top-up and purely for the experience (and to see if they worked!), I stopped at the village of Moniaive on the way home where there are two chargers in the public car park. These were slow chargers as opposed to the high capacity, fast charging jobs. There I spent 50 minutes all alone in the car park in the middle of nowhere in the fading light of a quiet evening and was rewarded with an 11% charge which boosted my 60% to 71% giving me a range of 212 miles according to the display.
Reassured by the trip down, there were no fears on the way home, the Audi polished off the miles quickly and confidently to assuage my 'range anxiety'. One more thing. Quite a few people buy this size of SUV to tow trailers or caravans and although I haven't towed with an electric car yet, Audi quote a trailer limit of 1 tonne for the electric Q4. How that will impact on range I have no idea, but that'll be the next job.
Otherwise my time with the Audi was completely uneventful, until I went to charge it up fully before handing it back to Audi.
There are three local public charging sites near where I live which I use to charge up electric cars and which offered free charging – until now. I went to the first one, and neither of the high speed charges were working so I went to the second closest and its high speed charger wasn't working either. However the funny thing was, the third one was working, but it had a new sticker on the display saying my account would be charged 30p per kW. Surely it was just a coincidence that the 'free' chargers were out of action?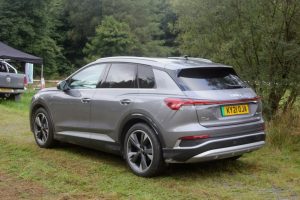 Anyway, within 50 minutes I had topped up the charge from 36% to 100%. Not too shabby.
However, this experience has reinforced my view that electric cars work best for commuters who have a charger at home and a charger at their place of business, although having said that, the 300 mile plus range of the Audi makes it one of the more usable electric cars currently on the market.
Besides Moniaive is a nice wee place to visit, preferably in daylight!
Audi Q4 e-tron
Review Date: 26 Sept 2021
Price: £51,165 (as tested)
Engine: 150kW electric motor with 201bhp
Performance: 0-62 mph in 8.5 secs, flat out at 99 mph
Range: 330 miles (claimed)
CO2 emissions: 0 k/gm
[Back to Top]