… Mustang Mach 1 …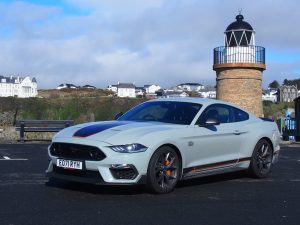 This is not a Road Test. It's not a vehicle appraisal either. It's a tribute to motoring that is fast disappearing. A homage to an 'icon'. A word that is over-used these days along with 'awesome' and 'hero', but in this case, rightly appropriate.
There are faster cars, better handling cars, even more handsome cars, but there is only one Mustang. This latest version of the breed looks nothing like the original and yet if you screw up your eyes on a dark night there is something uncannily familiar about it. The fastback silhouette, the power bulges and arches, the lights and of course the grille with that instantly recognisable motif. It stirs the soul like few other mechanical velocipedes.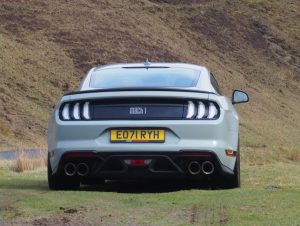 For one somewhat jaded motoring journalist this represents a reverential trip back in time to an era when the sun always shone, the mini skirts were indecently short, the velvet flares could sweep a byre floor and flower power was as important as horsepower.
And then there were the hero figures. Long before the internet and social media invaded society, cinemas and films, discos and pop stars were the big 'influencers' of their day. It was into this category that one of the coolest men to hit the big screen appeared. His name was Steve McQueen. His appearance in the film Bullitt sparked a trend for ever faster and more spectacular car chases in films. Looking back on that sequence now, that car chase may look quite tame compared to Fast & Furious, but in its day it was radical.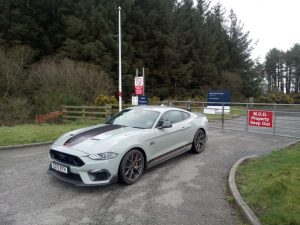 Back then, Britpop may have influenced millions but the Americans took it to new levels of adulation and fixation. Woodstock and baseball hats, surf boards and microbuses captivated British teenagers. It was the Americans who glamorised car culture with names like Thunderbird, Challenger, Barracuda, Hellcat, Corvette, GTO, the Dodge Charger and of course the Ford Mustang. It was all about power and inspired the term 'muscle car'.
Bullitt could have been just another cop film but for that car chase, and just as important was the soundtrack. Britons may have scoffed at the handling characteristics of the cars but there was no disguising the fury and the speed as the good guy chased the baddies through the streets of San Francisco in his 'four on the floor' brutal sounding 6.4 litre V8.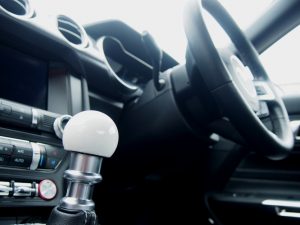 All that was called to mind with this latest Mustang Mach1 which pays tribute to the Bullitt Mustang of 50 odd years back. Right down to the white snooker ball gear knob. Just grabbing hold of that was quite visceral. How sad is that, eh?
Despite the description, I don't think the Fighter Jet Gray body colour with Satin Black highlights and orange trim did the car any favours but one turn of the key had the neighbours' heads turning as 5 litres of petrol and air mix responded in volcanic fashion. There were also another two gears to play with in this six speed manual tornado.
It was the width of a bus with the manners of a rodeo bull but it handled surprisingly well, although a bit skittish in the wet. Because this was the Mach 1 it was running on 10 inch wide front and 11 inch wide rear 19 inch tyres as opposed to 9 and 10 inch on the GT. It also had a wee bit more power and MagneRide Adaptive Suspension which made it a bit firmer although a bit more responsive. I wouldn't go as far as to suggest it was 'chuckable' but the revised front air bumper and splitter with rear diffuser and belly pan has improved downforce, by up to 25% according to Ford. It feels so solid and heavy that it's a surprise to find out it weighs less than 2 tonnes. One criticism was that the Traction Control system was just a bit too eager to temper a driver's enthusiasm at times and it certainly requires respect on twisty roads. Then again, with 454 bhp firing up the back wheels what would you expect?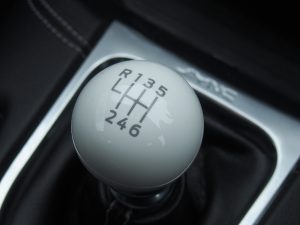 There's a sense of occasion climbing into the cockpit and there's plenty of room just to sit there and take in the surroundings before grasping the golf ball sized shifter and shoving the short stick into first. That requires quite a determined push and really doesn't get easier until the whole thing warms up, thereafter you can feed it gears just as fast as you press the loud pedal with the scenery disappearing backwards in an ever faster blur.
In Sports mode, the experience is enhanced by the beast's ability spin wheels in first, second and third gears but by that time, the national speed limit is long gone and liable to attract the wrong sort of interest. That was one thing in the car's favour, the rather plain colour scheme was unlikely to antagonise the ever vigilant Scottish Polis. Ford's published 0 to 60 time is 4.8 seconds but I reckon they are being quite modest given the uprated Mach 1 spec and the addition of a Launch Control system to the Track and Drag modes!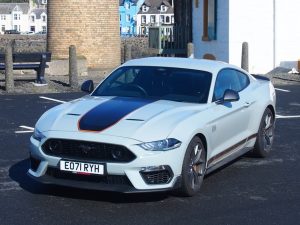 Oddly enough, there is no real need to go fast because there is infinite pleasure in just sitting back and enjoying the earth shaking rumble under the bonnet which is accompanied by a heart warming crackle on the over-run. To fully experience the sheer joy of the car would require a session at Knockhill, or preferably Silverstone, where the full volcanic cacophony could be exploited and savoured without fear of flashing blue lights in the mirror.
All this comes at a price of course. On a 'normal' cruise, fuel consumption could be as high as 29 mpg. I say 'could be' because there is always the temptation to forget the soothing, cruising lyrics to Wilson Pickett's song 'Mustang Sally' and do an impression of Meatloaf's 'Bat out of Hell'. At that point, fuel consumption can drop by more than half!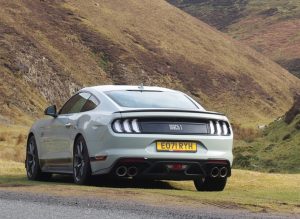 This is a car that is more American than John Wayne and more sensuous than Marilyn Monroe and conjures up images of the Marlboro cowboy and spurs, wild horses and gun fights. This is Mustang Sally with a kick like moonshine swaally.
This is a car that makes me happy. It also makes me sad. This could be the beginning of the end of the internal combustion engine in all its excessive, outrageous, joyous glory.
Mustang Mach 1
Review Date: 25 March 2022
Price: £59,255 (as tested)
Engine: 5038cc, V8 cylinder petrol with 454 bhp
Performance: 0-62 mph in 4.8 secs, flat out at 166 mph
Economy: 22.8 mpg (combined)
Emissions: 284 g/km
[Back to Top]