… Ford Puma MHEV …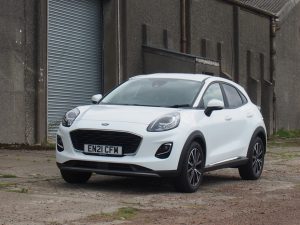 Folk who think Ford missed a trick by using the Puma as the basis for their next World Rally Car instead of the Fiesta or Focus don't get the point. Ford is a past master of using motor sport to promote the brand and the blue oval. And with the great British public switching to SUV styled cars as opposed to the more traditional saloon the Puma makes perfect sense to ensure that Ford gets its share, or hopefully more than its share, of the compact SUV market.
And the fact that WRC is going hybrid just adds a dash of extra pizazz to the Puma MHEV Hybrid. Folk might think it a practical family car but the ST version which was tested here some months back demonstrated quite dramatically that Ford can make a highly desirable and satisfyingly sporting machine out of a domestic runabout.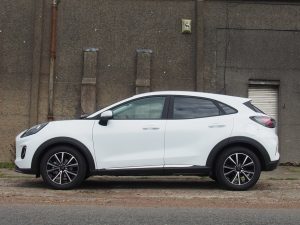 However, this roadgoing MHEV is not to be confused with M-Sport's latest WRC Hybrid weapon. The Ford Puma on test here is far from a homologation special, this is the family friendly version without the heartbeat raising ride that the ST provides but when folk find out that Hybrids can be competition cars then the Hybrid versions of standard cars might just attract more attention and acceptability from the great British public.
Then again, this a Ford and the Puma represents what Ford does best, building good handling cars which are a pleasure to drive even if they won't threaten the sound barrier. Even in standard 1 litre, 3 cylinder, 123 bhp form this a great handling wee car which ensures that cross country motoring can still be fairly fast and certainly fun.
For most folks, the 7 speed dual clutch gearbox will be ideal for their needs and uses, but when you get a car that handles this well with such a sweetly revving wee engine, some of us just long for a nice six speed manual. Of course, automatic gearboxes represent the way forward as those in power have determined that mere human beings can't be entrusted with such devices hence the rapid advances towards our autonomous motoring future.
What's the next step? Self building Lego kits so that the little darlings don't get frustrated when their plans don't work out? So much for nurturing education and ingenuity, eh?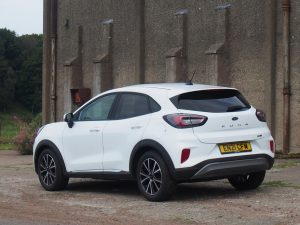 Back to reality and the present. This Puma is a mild Hybrid, that means it's not a plug-in and charge-up machine, more of a supplementary source of power once on the move, with its electrified starter-generator charging itself up on low-end torque fill and off-throttle coasting.
The transmission also comes with Normal, Eco, Sport, Trail and Slippery driving modes which alter the steering, throttle and traction control response. In Sport mode the steering is more positive, the throttle sharper and the dash gets a more angry look and that's when some drivers will really appreciate a manual gearbox! Even so, it's a treat to drive on wet and twisting roads, riding on its 17 inch 215/55 Goodyear EfficientGrip tyres.
Having said, the transmission does work really well across all modes although there was no snow during the test to try out the Slippery function. Mind you it was still cold enough to really appreciate the 300 quid Comfort Pack which adds heated seats and a heated steering wheel to the Spec!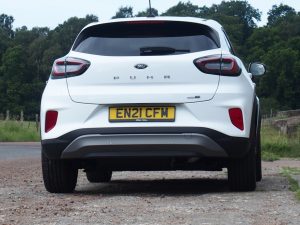 Prices start from around £22,000 for the base models and can exceed £32,000 depending on final spec.
At around 48 mpg, the fuel economy was slightly better than the standard non MHEV 1 litre engine while the Crossover styling ensures plenty of head and shoulder room inside what is a compact car. The load carrying capacity is further enhanced by Ford's 'MegaBox' extended bootspace. This is primarily a deep depression in the floor of the boot which allows two golf bags with clubs to be carried upright – and still close the tailgate. Gimmicky perhaps, but it works. It's also great for carrying all the rally kit to and from rallies, from wellies and umbrellas to coolboxes and sun hats.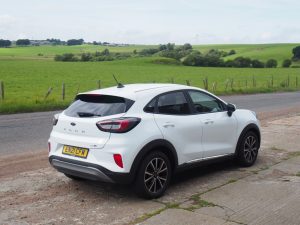 So forget any pre-supposed M-Sport delusions and just enjoy the Puma MHEV for what it is, a sensible and practical, delightful driver's machine.
It may be modestly powered but I thoroughly enjoyed my time with the standard Puma – although I still much prefer the ST version!
Ford Puma 1.0 Ecoboost MHEV
Review Date: 23 December 2021
Price: £24,670 (as tested)
Engine: 999cc, 3 cylinder petrol with 123 bhp
Performance: 0-62 mph in 9.6 secs, flat out at 118 mph
Economy, High/Low: 59.9/38.2 mpg (claimed)
Emissions: 130 g/km
[Back to Top]