… Skoda Enyaq iV 80 …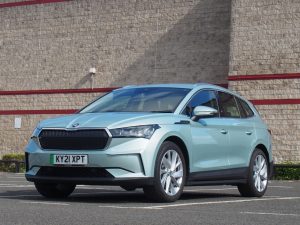 Over the past few months I have been driving a variety of electric and hybrid cars. No longer is it an odd feeling, it's just something that regular drivers will take in their stride. After all, it's only the bit under the bonnet which has changed. This new generation of vehicle still has a steering wheel and a 'gearbox' although that has been simplified by a simple push button type operation. Switch on and go, stop and switch off. Simples, as the rodent says.
Whether we like it or not, governments around the world have decreed that electric cars and vans are the future, with hydrogen primarily being touted for trucks and buses although there are quite a few electric and hybrid options on the HGV and PSV side of things, so manufacturers are still having to second guess government intentions.
The take up of electric cars is still slow but getting better. The big drawbacks are price and infrastructure. To get the best out of such a machine requires a home charger to be installed at your home and ideally at your regular workplace because the public network is still patchy although improvements are being made. As more of these cars are appearing on the roads it does seem at times that the public infrastructure is lagging behind. Quite a few times I have arrived at charging stations to find them all occupied.
So what to do? Wait for a few minutes/hours and hope someone is just about to finish and depart, or go and seek another station? That all depends on how much range you have left in your vehicle. Fortunately there are a few apps out there which can help to locate the nearest 'charger upperer' and some identify whether they are free or costly, available or already in use, or whether an issue has been reported or a machine is out of commission for whatever reason.
Once those issues have been addressed the public will become more accepting. And as technological progress improves so chargers and battery packs will become more powerful and efficient and take less time to charge up while offering longer range between 'fills'.
There are still many doubters over this headlong rush to electrify. If the same energy and brains were devoted to making fossil fuels cleaner and engines more efficient might we see similar improvements with ever cleaner 'burns' in combustion engines?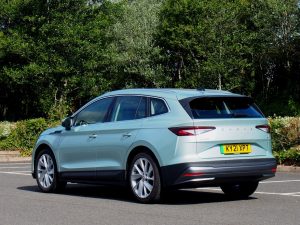 The environmentalists keep telling us that fossil fuels are not green, but where does the raw materials for batteries come from, and at what cost? Not only that, what happens to dead batteries at the end of their lives? How much energy will be required to make these toxic chemicals safe? We still seem to be storing up problems for the future.
I reckon the jury is still out on this, depending on which experts you wish to believe. For sure the planet needs help, but modern society is dependent on personal freedom and movement and the need to transport food and general goods as well as people.
What sparked off this personal debate was a growing and almost inevitable acceptance of electrics and hybrids – until Skoda sent an Octavia vRS up to Scotland a few weeks back for the Scottish Car of The Year judges to appraise.
In one fell swoop, all my good intentions were turned on their heads. What a car. Responsive, enjoyable, comfortable, rewarding and quick. All favourable electrified thoughts and opinions flew out the window. With a car this good who would want to go electric.
Then Skoda sent up the new Enyaq. It is a full electric machine. It too is responsive, enjoyable, comfortable, rewarding and quick.
The only difference between it and the vRS is the noise, or lack of it. I'm not a fan of silent motoring, there's little I like better than the reassuring sound of a four pot turbo diesel (insert any type of combustion engine here whether 1, 2,3,4,6, 8, 10 or 12 cylinders) working away under the bonnet, especially when it has a decent gearbox like the 7 speed DSG unit. This 'switch on and off' business doesn't do it for me although the drive itself cannot be criticised.
The other advantage of the diesel powered machine is that it will travel twice as far as its electric sibling on a full tank. The drawback here is that a full tank will cost around 8 times as much as two full electric charges to reach the same distance. And then of course there is the price differential. Electric cars are still awfy dear!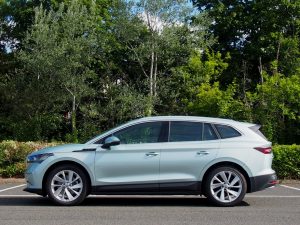 And yet.
I really liked the Enyaq. It's an SUV disguised as an estate car. It's not bulky or threatening. From the minute I clapped eyes on it I thought it looked terrific. That was partly due to the glorious Arctic Silver Metallic paint job. It just looked the business. And it has the performance and comfort to match.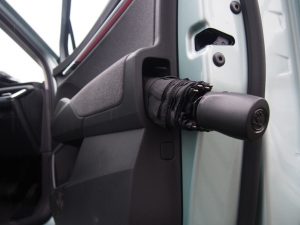 This being an SUV it may not have the sporty appeal of the Octavia vRS but it has oodles of room inside, is extremely comfortable and thoroughly enjoyable to drive. In fact it's just about as much fun cross country as the Octavia as you sit there in almost regal splendour. And it still has an umbrella tucked inside the driver's door!
If the Enyaq represents the future of electric motoring then we need not fear the future – all we need to fear is the failure of the public infrastructure to keep such cars going and on the road.
But with a 300 mile plus range per full charge, the Enyaq has removed one of the main concerns for private motorists.
Personally, if I had to pick between the two – I'd have both!
Skoda Enyaq iV 80
Review Date: 21 August 2021
Price: £42,540 (as tested)
Engine: 150kW electric motor with 201bhp
Performance: 0-62 mph in 8.2 secs, flat out at 99 mph
Range: 330 miles (claimed)
CO2 emissions: 0 k/gm
[Back to Top]