… Suzuki Vitara …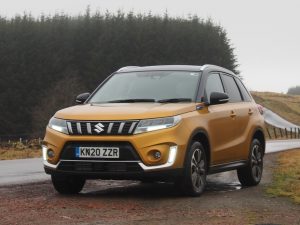 To call the Suzuki Vitara the big brother of the Suzuki Ignis is more of a reflection on the diminutive scale of the Ignis than the physical bulk of the Vitara, because, truth to tell, the Vitara is more of a compact SUV than a large SUV. Whereas four adults may be a bit tight for space in the Ignis, there is rather more space to spread out in the Vitara. Not a lot, but enough to be noticeable.
At 1.3 tonnes, neither is it a heavyweight and the 127 bhp four cylinder engine is man enough (person enough?) to propel it across country quite quickly and effortlessly. Suzuki call their 1.4 litre power plant 'Boosterjet' which might conjure up all sorts of weird 'supercharged' visions. Not so, it's more 'boost' than 'jet' and that's down to the turbocharger which provides the added oomph to give it that surprisingly agile performance.
The car also has a Hybrid badge on the tailgate, but don't go expecting an electrifying performance. This is more mild hybrid than electrical shock treatment. Less of a kick up the bum – more of a tickle!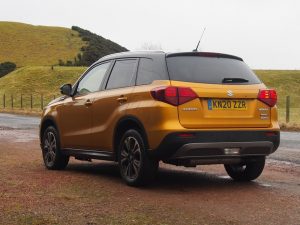 Or to put it another, and more acceptable way, this is a well balanced driver's motor car. However, the real added extra in this model's case is the four wheel drive 'Allgrip' system. This comes complete with 'Snow', 'Sport' and 'Lock' settings which offers a simple choice for the less hardy and adventurous off-roading types.
Although it has the capability to go where other more reputable 'off-roaders' might go, either on shepherding duty or exploring up the Amazon, that's not the market at which it is aimed. This is more for reassurance on Scotland's varying road surfaces and weather conditions than tackling alpine passes and boggy morasses.
There is however a decent market for those who will like it just for the extra confidence that all wheel drive brings when things turn soft and boggy or frozen and icy.
For those who need to tow, options are limited. With a maximum towing capacity of 1200kgs, that means little more than a light boat trailer or compact caravan. If you want to tow a car trailer or a twin axle 'mobile home' then you will need something bigger than the Vitara.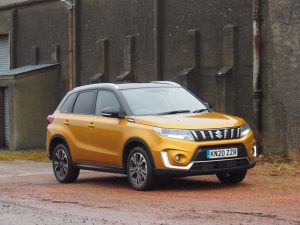 The compact dimensions also have the added advantage of making it appeal to those who are a bit nervous of the bigger SUVs, especially when trying to park in a busy retail centre car park. Which prompts a thought, if retail centre car parks are getting bigger why are their individual parking spaces getting smaller? With that in mind, the driver of the Vitara will appreciate that he/she can see both front corners of the bonnet from the driving seat. A very small point admittedly but just another part of the well considered practical design.
There are those too who are a bit nervous driving the bulkier types of SUV on narrow country roads and single track roads with passing places. Progress is fine till you meet something of a similar size coming towards you! On that basis, the Vitara is better suited to touring on Mull than cruising on Route 66.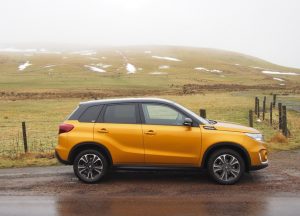 The car comes pretty well equipped as standard and the only option on the test vehicle was the £800 two tone Solar Yellow with Black roof paint job. Outwardly the smart looks are completed by a full length glazed roof, rear privacy glass and a set of 17 inch alloys.
Inside the cabin, the suede covered seats are matched by a leather rimmed steering wheel while the 7 inch touchscreen infotainment system is lot less complicated than some of its rivals. Additional storage space is limited given its size but there are still plenty of cubby holes to store phones, wallets, keys and drinks.
In other words, it's ideal for those downsizing from bigger SUVs and who appreciate the extra confidence that all wheel drive inspires when weather conditions turn foul and dimensions which are easier to place in tight spots or parking.
Suzuki Vitara
Review Date: 18 February 2021
Price: £27,599
Engine: 1373cc, 4 cylinder petrol with 127 bhp
Performance: 0-62 mph in 10.2 secs, flat out at 118 mph
Economy: 45.4 mpg (combined)
Emissions: Euro 6d
[Back to Top]