… Cupra Formentor 1.5 TSI …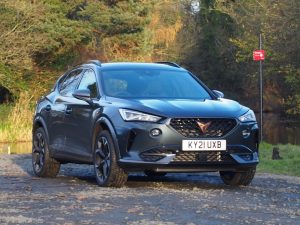 If SEAT's Cupra Ateca is outrageous, then the Formentor is just a wee bit more sensible. It has a rather more modest 148 bhp compared to its bigger sibling's 296 bhp! On the other hand, if that doesn't do it for you, the Formentor comes with a choice of engines starting with this basic spec 1.5 litre 148 bhp version, but if that's not quick enough there is a 306 bhp top of the range monster for those who may be addicted to speed. However that will add another ten grand or more to the price depending on final spec!
Which begs the question. If Cupra is SEAT's performance brand why start with a car that has a 'mere' 150 bhp?
There could be numerous reasons, starting with the looks. There's no doubt the Cupra badge itself features a rather striking looking design with an unusual finish. Instead of the more traditional chrome effect for such badges this one looks like a Superhero's chest badge. That might sound a rather weak excuse but for those folk who prize designer labels and upmarket fashionable trends then this will be different enough to pique the interest of neighbours.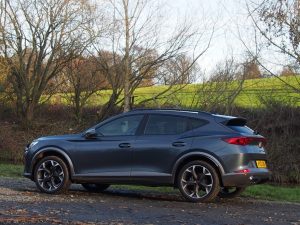 A small thing perhaps but that badge adorns a rather voluptuous exterior with razor sharp lines and bulges all around the beast, although an argument could be made that such impressive looks should be backed up by more muscle. If that is the case, then there is indeed a range of engines including hybrids which will assuage those seeking more punch but at considerably more cost and fuel consumption.
Which is where the base model comes in. All the looks and status for a fraction of the price. But don't get the idea the car is slow, an output of 150 bhp is more than enough for the majority of compact SUV owners and users. Their prime reasons might be accommodation and boot space and if that's the case, the Formentor will fulfil their needs whilst offering a fair degree of comfort.
And whilst the power output is nothing to shout about, any real racing driver will tell you a good handling car is better than one that is too powerful, that is unless all you're interested in is drag racing. This being a Cupra, then the emphasis is on performance and the entry level Formentor does deliver. Yes, the suspension is on the firm side but at no times did it really feel uncomfortable and with 150 bhp on tap it really isn't a slouch either.
The nought to 60 dash comes up in well under ten seconds and it will easily top the ton if you live in more enlightened climes. The seven speed auto also helps with the power delivery as it includes a Sport mode and there are paddles if the driver wants to take full control. And if you are on a cross country run, there is no need to fear the tractors, log lorries and tour buses. All that is needed is a short straight on an empty road and you can be out and past in a jiffy.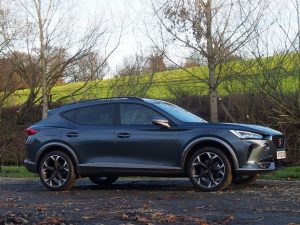 The interior is darkly and yet pleasantly plush with its heated leather rimmed steering wheel and black nappa leather sports seats lifted by the copper stitching. The digital cockpit comprises a 10.25 inch driver display binnacle and a centrally mounted touchscreen which gives access to all sorts of functions, both necessary and flippant! Fortunately, the heater controls are in a switch panel underneath the screen so you don't need to go hunting through the options and trying to stab the correct icons with a finger. I much prefer the tactile feel of a switch rather than the hit or miss approach to illuminated screens which can be quite distracting at times.
For instance, I couldn't find the on-screen radio and music volume controls, which was OK as there are switches on the steering wheel, but they don't work when the ignition is off!
Another annoyance was the provision of two USB Type C ports – but I still have a USB Type B phone! It's a sad day when motor manufacturers are suggesting that you need to change your car when you change your phone!
This being the baby of the family it comes with 2WD whereas the more powerful versions all have 4WD, but even so the 2WD version has an electronic locking differential and dynamic traction support, so ideal for the not overly ambitious! Towing limit is 1500 kgs and pricing starts from £31,750.
Minor niggles aside I could easily live with this car. It looks good, goes well and can deliver more than 40 miles per gallon, although that figure will drop if you play around with the performance. Trouble is, that is quite easy to do given that it feels really good to drive.
Cupra Formentor 1.5 TSI
Review Date: 16 February 2022
Price: £32,440 (as tested)
Engine: 1498cc, 4 cylinder petrol with 150 bhp
Performance: 0-62 mph in 8.9 secs, flat out at 126 mph
Economy: 44.1 mpg (combined)
Emissions: 155 g/km