… Dacia Sandero Stepway TCe90 Auto …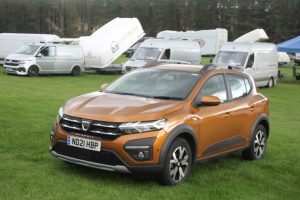 The biggest attraction that the new Dacia Sandero Stepway has over its rivals is the price. But to simply pick a car based on price does the Dacia an injustice. Compared to its rivals it offers similar levels of kit, ride comfort, good fuel economy and is pleasant to drive and yet is anything up to half the price of some of the more expensive 'upmarket' models.
That's an extreme case though, most folks looking for a small SUV styled roomy runabout will expect to pay around the 20 grand mark and yet the Sandero Stepway starts from £11,895. That's one heckuva difference.
It also begs the question, how do they do it for the money?
It's not as if Dacia has skimped on anything, although the NCAP safety rating is a bit lower than its rivals so that may play a part in customer choice. Otherwise this is all the car that a small family on a budget needs.
The bonus is that it's also a good looking machine. It sits higher than the regular Sandero and features plastic wheel arch extensions and plastic bumpers with integrated skidplates to give it a more confident stance.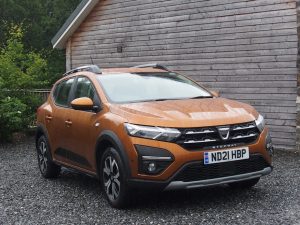 Neither have the designers stinted on practicality. The quite ingenious longitudinal roof rails can be swung around to create a pair of parallel lateral rails giving owners options to mount luggage racks, roof boxes and/or cycle carriers without having to buy a separate pair of cross-roof rails.
Inside the car there's bags of room for five and a capacious boot that would shame bigger cars. And this being the top of the range Prestige version it has all the kit you would expect in a modern car including smartphone integration, Navigation and DAB radio with an 8 inch screen display, two USB and 12v ports, plus air-con, power windows and Isofix seats for child seats on both rear side seats. Also the rear doors are a decent width when trying to cope with a wriggling toddler to put him/her in the rear child seat!
It's not the fastest thing on four wheels even with a turbocharged 1 litre petrol engine, and produces some 90 hp, but it goes well. The 6 speed CVT gearbox is not the quickest either with a nought to 60 mph time over 14 seconds, but that's not what this car is about. on the move it goes well, and is quick enough to hold its own with modern traffic.
It's a bit soft, so it's designed for comfort rather than spirited driving, although having said that, it does turn in and hang on to corners rather well even if it rolls a wee bit more than you might expect.
Another plus is the fuel economy. Dacia reckon 45 mpg and after 450 miles, the display was telling me I still had 70 miles of range left, so they are just about bang on with their estimate, and that included a spirited run up to the Grampian Forest Stages Rally over the Cairn o'Mount!
The test car actually cost just over £16,000 with the metallic paint costing an extra £595 and a spare wheel instead of the 'skoosh and blow' alternative at £250 so the total was just over 17 grand. Not bad for what you get, not bad at all.
Think of it as a brand new car with 3 year Warranty for less than the price of a second hand more exclusive rival.
I really liked it.
Dacia Sandero Stepway
Review Date: 16 August 2021
Price: £16,340 (as tested)
Engine: 999cc, 3 cylinder petrol with 90 bhp
Performance: 0-62 mph in 14.2 secs, flat out at 101 mph
Economy: 45.6 mpg (combined)
Emissions: 140 g/km
[Back to Top]