… Suzuki S-Cross …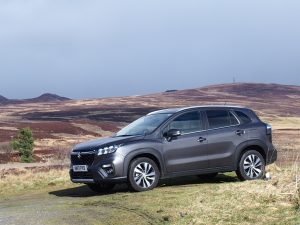 Rightly or wrongly, I've always thought of Suzuki as being engineering led rather than styling led. That's not to say the new S-Cross is unappealing but it doesn't stand out from all the other SUV boxes which abound the urban landscape. On the other hand, maybe that's a reflection on SUV styling as a whole. It must be difficult for car designers to come up with something radical when you start off with the basics – engine up front, boot in the back and room enough for 4/5 people. Perhaps it's no wonder that it is difficult to tell one make and marque from another these days.
So if it's not styling that will make you look at the Suzuki, then it has to be engineering. Trouble is, I'm a fan. Years of Suzuki trials and enduro bikes have rather tainted my view. Mind you it has to be said, the DR350 was a right old pig to start when cold, and probably even worse when hot. Many's the time I have been knee deep in a muddy ditch trying to get the stubborn bluidy thing to fire up. And yes, I know I shouldn't have been in the ditch in the first place but occasionally competitive ambition would overtake personal flair and ability!
There was a downside to that too. It could kick back if it didn't fire. You know those old siege engines that were used to storm castles in medieval days? Those great big catapults that could fire one tonne rocks at impenetrable castle walls – that was the DR's kickback and could have you off the bike and over the hedge in an instant. Despite that I loved it. Once on song it had twice the power you though it should have. It was fiercely quick. And it handled well. On that basis, the pig-starting escapades could be tolerated!
Fortunately there is no kick-start on the S-Cross. This is an entirely much more sophisticated device all round but like its motor cycling counterparts, it's the engineering that does it for me.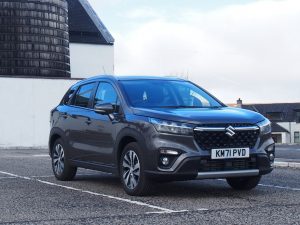 There is an entry level two wheel version but for the annual trip to the AM Phillip Trucktech Snowman Rally the vehicle on press appraisal duty was a 6 spd automatic (with paddles), four wheel drive job. The four mode transmission system comprises a 'Normal' front wheel drive operation but it also has a 'Sport' mode and a 'Snow' mode for when things get really tricky. And finally f you really get stuck it has a 'Lock' mode which utilises its Limited Slip Differential. Clever, eh?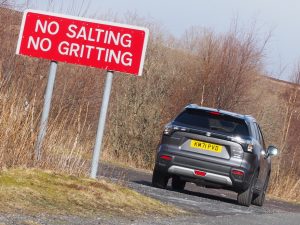 Only trouble was, there was no snow this time. For sure, there was plenty dusting the tops of the bigger hills and mountains all the way up through the higher Highlands but at ground level, nothing but dust and road grit.
The only things there were proliferate, were cameras – the average speed jobs, the yellow vultures! Naturally the S-Cross has Cruise Control so that takes the sting out of long speed-aware trips. That also gives you time to take stock of the surroundings. It could be argued that many of its rivals sport a better quality interior finish than Suzuki but it does have all the kit a modern driver would expect and possibly a wee bit more.
The adaptive cruise control comes with traffic sign recognition, blind spot monitor, lane departure warning, rear cross traffic alert and even a vehicle sway warning if the vehicle detects driver drowsiness! There is a 9 inch screen for the infotainment system, or 7 inch on the cheaper models, and both with Apple CarPlay and Android Auto. It also has a 360-degree parking camera and a sliding panoramic sunroof.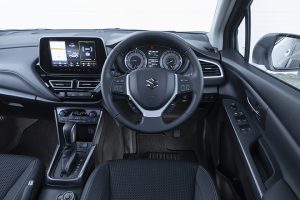 The leather interior includes heated front seats and dual-zone climate control while externally the car features 17 inch alloy wheels, automatic LED headlights, aluminium roof rails and electrically folding door mirrors.
Weighing around 1300 kgs, the S-Cross doesn't really need anything bigger than Suzuki's 1.4 litre Boosterjet engine which is a wee cracker. The 127 bhp is sufficient for a ten second nought to sixty sprint and although a top speed of 121 mph may not impress the hot-rodders it's speed through the gears on country roads is what's more useful in everyday motoring. At 1500 kgs, the towing limit is about average for its class, so OK for smaller caravans and lightweight car (or motorcycle!) trailers.
Adding to the appeal is the fuel economy. Suzuki reckon around 46 mpg for the 4WD model whereas I was getting 43.2 during a 500 mile appraisal, but then again, only part of that was covered by average speed cameras!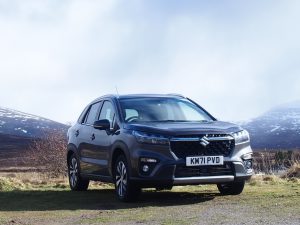 It's also a mild hybrid which means that the 48V Suzuki system incorporates an Integrated Starter Generator and a 48V-12V (DC/DC) converter to power components requiring lower voltage including lights, audio and air conditioning. The ISG acts as both a generator and starter motor, is belt driven and can assist the petrol engine during acceleration.
Which brings us to price. You can have all this for less than thirty grand! Prices start from £24,999 for the entry level 2WD model, but the full-spec, top of the range 4WD 'Ultra' model comes in at £29,799, which is less than the entry level prices for some its SUV rivals!
Yup, I really like it, and not just because it's easier to start than a wilful DR350.
Suzuki S-Cross Ultra 1.4 Boosterjet Mild Hybrid AllGrip
Review Date: 15 March 2022
Price: £29,799
Engine: 1373cc, 4 cylinder petrol with 127 bhp
Performance: 0-62 mph in 10.2 secs, flat out at 121 mph
Economy: 43.2 mpg (actual)
Emissions: 139 g/km
[Back to Top]