… Ford Transit Custom Tourneo Titanium 1.0T Ecoboost PHEV …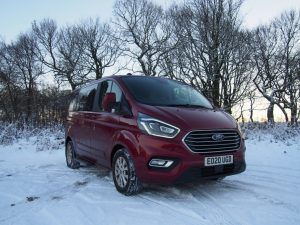 If you think installing a 1 litre engine, even one with 124 bhp, in a one tonne van is nuts, I'd be awfy tempted to agree. But this is no normal engine and this is no normal van. This is Ford's one litre turbo Ecoboost job and it's in a Transit Custom PHEV.
And yes of course I was doubtful at first, but you know what? I have finally worked out how to get the best out of a mild hybrid powertrain. This is not a miserly fuel saving option for the regular motorist, this is aimed at specific users who will gain actual financial benefit while reducing emissions in town and city centres.
Using such a vehicle requires a rather different approach to motoring. First of all, its most effective use will be made by those who spend most of their time on short journeys. Electrical power alone is good for up to about 35 miles after which the engine will switch in. Thrashing up and down the M6 is not what this was designed for, but for commuting between Glasgow and Edinburgh it can make economic sense.
On that basis, the idea is to keep the batteries charged up every time you stop at home or at work or as frequently as possible on the road between jobs. Local delivery firms, airport taxi businesses, florists and the like may provide the best options. However, each potential user will need to identify what their prime needs are and then decide between full-electric, hybrid or combustion engine.
Don't buy this and use it to commute between Inverness and Dumfries and then complain about the fuel economy. Of course it will do the job quite effectively and comfortably but that sort of use is not really what it is aimed at.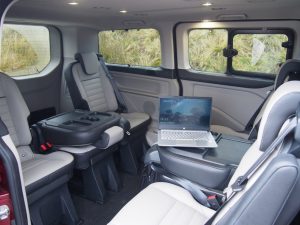 There is another group of people for whom this vehicle is ideal, local reporters and journalists. With the executive six seater configuration in the rear, it is the ideal mobile office with plenty of room for sitting writing reports or interviewing guests. Not so good for rally reporters where big mileages are often needed, which makes diesel still the best option for that, but for local newshounds, just the job. And if you just happen to be interviewing a politician, pop idol or sporting star, the tinted rear windows can be made even more opaque with the little pull-up mesh blinds for additional privacy.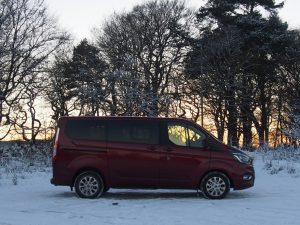 In fact, this review was mostly written in the back of the actual press appraisal vehicle whilst it was connected to a public charge point! And with two 12v power points and six USB sockets inside there was virtually no need to go home. It's also worth saying that such a van based vehicle is much more suited to family domestic use than a normal saloon or estate car or even those large SUVs so beloved of the school-run parents who need four wheel drive to climb kerbs and park on pavements.
There's enough room in the back to socialise, do the homework, have a picnic and carry all the gear in the boot. And with the tailgate up, it provides the ideal rain shelter when changing sports gear at those school sporting fields which have no facilities.
As far as I'm concerned the Custom Tourneo is a far more practical proposition for domestic and business use than any other type of vehicle.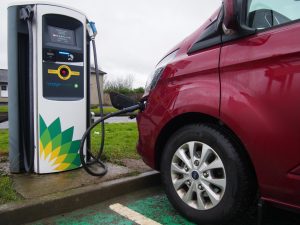 In this specific case those uses are limited when considering the PHEV side of things but for short trip users, the concept is hard to beat. The test vehicle also had the six speed automatic transmission, again a boon for inner city driving, especially in electric mode. It is effortless and silent.
It's only the 1 litre petrol engine that holds it back. Yes it does drive well, but the engine knows it is hauling a large box and fuel consumption will suffer on longer trips. On the other hand, the engine can actually be used in 'charge mode' to top up the battery. Not the most efficient use of such expensive fuel but if you happen to be driving into a 'congestion zone' and need full electric mode, it's just the job.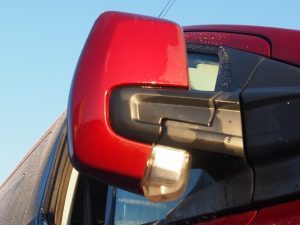 Mind you there are folk who think it's awfy big, although it's no wider and not much longer than a large SUV and yet the Custom has another trick up its sleeve. Commercial vehicles are renowned for whacking door mirrors in our congested city streets because of their width, and this can be costly. Very costly indeed if the sidelights/indicator repeaters are built into the mirror housing.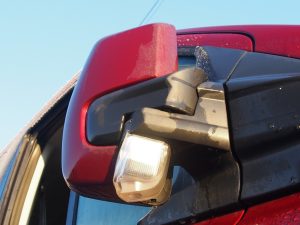 In the Custom's case, these sidelights are built into the lower mounting arm. This means they are still easily seen when the mirrors are folded and if the mirror housing does get a passing whack it's only a mirror that has to be replaced not a whole mirror/lighting unit. A nice, neat, design feature – and cost saver.
If you've read this far you'll realise that I'm sold. It's not perhaps the ideal configuration for a motor rally journalist, but even if I would prefer the running costs of a diesel, I could put up with the 1 litre PHEV drivetrain just because of the all the other benefits.
There is one other thing that might just put me off. The cost. This top of the range 8 seater is priced at £61,000 – and it had three grandsworth of extras!
Ford Transit Custom Tourneo Titanium 1.0T Ecoboost PHEV
Review Date: 14 January 2021
Price: £64,330 (as tested)
Engine: 998cc, 3 cylinder turbo petrol with 126 bhp
Performance: 0-62 mph N/A (weather) top speed limited to 75 mph
Economy: N/A
CO2 emissions: 70 g/km
[Back to Top]