… SsangYong Rexton Ultimate …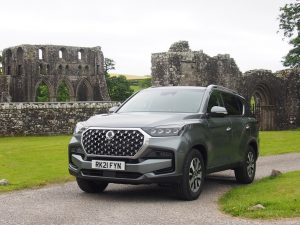 Although SsangYong has been building vehicles for nearly 70 years, it wasn't until 27 years ago that the Korean brand was first introduced to the UK. Admittedly they looked a bit 'different' but then so did the products of other eastern manufacturers when they first arrived. And that's not just an eastern 'thing', once upon a time, most of the European countries had their own vehicle manufacturers with their own production facilities and separate identities, and also their own, often quirky, design ideas.
Hard to believe now but you could tell which country you were driving through just by looking at the traffic on the roads. It wasn't just the cars that were different, the lorries, vans and buses were different too. We've lost all that through company amalgamations, mergers and buy-outs over the years and also the desire to centralise production to manage costs. That also meant the introduction of a 'European' design language and individuality was lost forever.
Mind you, the Brits were no different. The same industry which designed and produced the Jaguar E-Type also produced the Austin Allegro, sort of smoked salmon meets weetabix.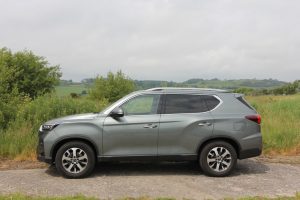 In the same way, those early Rextons looked different but like anyone in the car manufacturing game, you either learn quick or disappear quick, and the latest Rexton is a smart piece of kit, inside and out.
If you are in the market for a large, 7 seat, four wheel drive SUV then add this to your list, it's half the price of some of those others with the fancy grille and badge.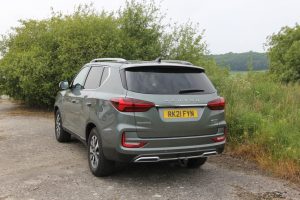 Despite the price difference, it's not lacking in equipment. It has all the electronic aids that we have come to expect from luxury cars these days and which includes a 9 inch HD audio screen with SatNav, interior mood lighting, stainless steel door finishes, rear view camera with 3D 360 monitoring system, Lane Change Collision, Blind Spot Detection and Rear Cross Traffic warning, premium Nappa leather upholstery, heated and ventilated power seats, and 'smart' electronic tailgate.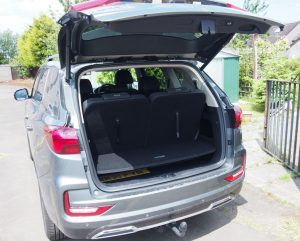 However, a word of warning for anyone over 5ft 10 inches tall with regard to the 'smart' tailgate – remember to duck when you approach the open tailgate. I did it once and then again a second time when I forgot, but didn't do it again!
The two rear rows of seats fold flat and the rearmost portion of the boot floor has two positions, the top one lining up with the folded seats to create a flat platform all the way from the tailgate to the front seats. A thoughtful touch.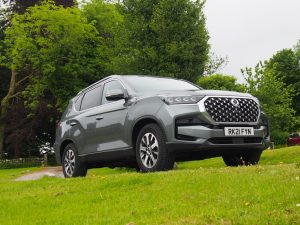 The new design 18" alloy diamond cut alloys come with 255/60 x18 Kumho Crugen silicon enhanced tyres, which were new to me, but proved ideal for a big SUV. LED headlights and fog lights flanking the large grille complete the look and give it that premium appearance.
The 199 bhp, 2.2 litre turbo diesel is mated to Hyundai's 8 speed automatic transmission which performs perfectly adequately. It might not appeal to performance drivers, but for those who just need a big car with loads of room and the ability to tow up to 3500 kgs it can feel a bit slow and leisurely, although for the majority of folks who don't care for a prestige badge it provides a smooth and comfortable ride.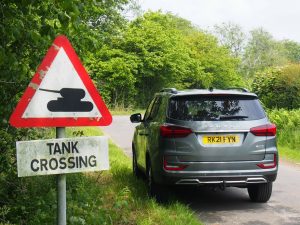 In normal roadgoing mode it's a two wheel drive machine but it has Hi and Lo range four wheel drive options. I didn't get the chance to try it out on anything difficult, but it felt pretty competent in modest off road conditions.
The dash display wouldn't look out of place in a car that costs twice as much and sets off the interior while adding to the driver appeal. Fuel consumption during the appraisal was around 35 mpg, not bad for a 2.2 tonne car.
There was yet one more reason to like the car, it comes with a 7-year/150,000-mile warranty. And if you don't fancy spending more than 40 grand, the Ventura spec model is nearly 3 grand cheaper!
I really liked it.
SsangYong Rexton Ultimate
Review Date: 25 June 2021
Price: £40,665
Engine: 2157c, 4 cylinder turbo diesel with 199 bhp
Performance: 0-62 mph in 11 secs, flat out at 114 mph
Economy: 35 mpg (actual)
CO2 emissions: 191 g/km
[Back to Top]