… Mazda CX-30 GT Sport …
The motoring market is seemingly awash with SUVs these days. From small, compact, medium to large motors, and even some more which fit in between, and the public appetite for these practical machines is growing every bit as quickly. So it's hard to make a decision what to go for.
Or maybe not. If you want a compact family holdall that mixes spirit with comfort then it's hard to look past the Mazda offering, in this case the CX-30. For a start that 'Soul Red Crystal' metallic paint finish is just drop dead gorgeous. And it has been applied to one of the best looking SUVs out there. No slab sided anonymous box here, the CX-30 will stand out in any crowd.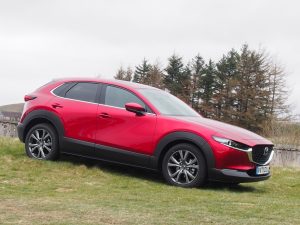 OK, so that's the neighbours impressed, but potential owners will be too once they look inside. Mazda pays as much attention to interior design as it does to the physical appeal with the result that the CX-30 cabin is a nice place to spend some quality time.
The black leather trim with brown accents doesn't sound very attractive or enticing, but it works, being less garish than the red 'sporty' stitching often seen on some other models. In other words, a more sophisticated interior for the less ostentatious driver! The leather rimmed steering wheel is also less fussy although the various built-in controls can accomplish many functions without looking cluttered.
It's the same with the driver's colour driving display and central 8.8 inch dash-top centre display screen which aren't overburdened with functions and options. Instead, there are driver-friendly buttons which operate the regular functions like audio and heater controls plus a central control dial behind the gearstick for the more finicky options. Much more preferable to the hunt and stab (and often miss) touchscreen menus!
The seats themselves are firm and yet comfy although legroom in the rear isn't great. The test car also had the opening sunroof which impinges a little on headroom while the steeply raked A pillars are not conducive to taller folks getting in and out easily. Having said that, remember this is a compact SUV, 'bigger' families might be better off having a look at the CX5.
Boot space is a touch on the mean side, even for a compact SUV. The boot floor is level with the rear bumper, but can be made 4 inches deeper by lifting out three panels. Only then could a folding pram bed fitted in!
Potential buyers can make up their own minds dependent on their own personal needs but there are no complaints about performance. The 2 litre e-Skyactive mild hybrid petrol engine produces some 184 bhp which drives the front wheels although 4WD variants are available. That will be power aplenty for most folks and yet provide sufficient enjoyment for the more sporty motorist.
The 18 inch Bridgstone mounted alloys provide plenty of grip as a spirited early morning Douglas to Muirkirk run demonstrated with the car attracting admiring looks and questions from the Kames regulars once it got there. There is little noticeable roll on the corners and it felt pretty sure-footed at all times on the mixture of bends, dips and cambers that the A70 features as it follows the course of the Douglas Water. And the brakes are pretty good too as a couple of itinerant sheep will testify!
Yup, I liked the CX-30 although I would personally prefer something a little bigger with a little more room. It's reasonably priced compared to its rivals and offers decent levels of kit. Mazda claim around 49 mpg but I was returning 45, although that may have had more to do with the driving enjoyment factor than my more usual cost conscious penny pinching approach.
It feels solid and well put together, so there's a lot to like – well worth a look.
Mazda CX-30 GT Sport
Review Date: 12 April 2022
Price: £31,215 (as tested)
Engine: 1998cc, 4 cylinder mild hybrid petrol with 184 bhp
Performance: 0-62 mph in 8.3 secs, flat out at 127 mph
Economy: 49.6 mpg (combined)
Emissions: 128 g/km
[Back to Top]