… Audi A3 Sportback 35 TDI …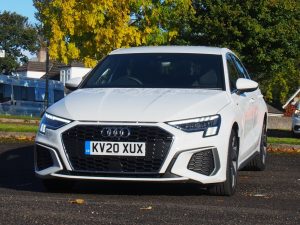 "That's the new 35 isn't it?" The question came from a die-hard fan of a rival German make. So on that basis, the new Audi A3 Sportback with its noticeably deeper front grille must have made an impression. Then the questions followed thick and fast. What's it like? How quick is it? How does it handle? Do you like it? What's the price? Would you recommend it? Would you buy one yourself?
The answers were pretty much favourable all round as Audi continues to build solid, good handling comfortable cars. The new Sportback 35 is no exception. The ride is on the perfectly acceptable firm side of comfortable which means that it can be hustled along winding roads in a thoroughly entertaining, enjoyable and rewarding fashion.
Further enhancing the drive was the 240 quid Progressive Steering option as opposed to the standard electromechanical system with speed-sensitive assistance. This uses a variable ratio rack which makes the steering more direct the more you turn the wheel. Ideal for parking but also great for twisty roads. It's not as direct as a kart, nor is it overly sensitive, but it still feels pretty good.
The steering also has extra adjustable modes but actually the default setting felt best and I just left it there.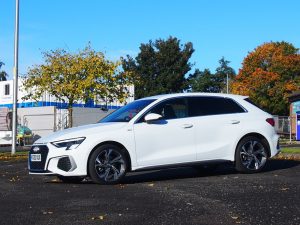 The quiet 2 litre, 148bhp four pot diesel turbo simply adds to the pleasure with good response and sufficient power to be engaging without embarrassing. The adaptive suspension offers a Comfort and Sport setting and the difference is enough to be noticeable and felt. Even so, the ride was still more than acceptably comfortable. Perhaps too comfortable. At one point I looked at the speedo thinking I was doing around 70 – I was doing rather a bit more!
The S-tronic, 7-speed automatic gearbox completes the driver package. This might be considered a frugal, family five door saloon with long-stint touring potential, but it also has sufficient spirit to offer a little extra fun at weekends.
Inside the car, Audi continues to refine the cabin and its accessories. Compared to the previous A3, the dashboard has a rather more stylish look to it with a mixture of materials and finishes lifting the previous black austerity.
The 10.25in digital instrument display is bolstered by a 10.1in central touchscreen through which the front seat folk can access the infotainment options and smartphone functionality. Noticeable by its inclusion is a USB-C charging port alongside the more regular USB-A offering and there is a wireless device charging pad.
For those of us diehards who prefer a more tactile experience a range of buttons underneath the central display control the more usual everyday functions including heating and AC.
There is a lot more head and elbow room in the new car too. It's wider than the model it replaces and that further enhances cabin comfort and style. The occupants can also feel a bit smug when sitting in their seats which feature facings manufactured from recycled plastic bottles!
The rear seat features three fold-down sections which trebles the boot space when all folded flat, but even with the seats up, the boot is a decent size for shoppers or baby carriages, or even a five drawer Snap-On box!
Prices for the new Sportback 35 TDI start from £30,725.00 but the test car had quite a few options including the Driver Assistance Pack (£1405) and a Bang & Olufsen premium sound system (£760) as well as 18 inch alloys and heated front seats and the previously mentioned progressive steering. So be careful what you tick when going down the options list!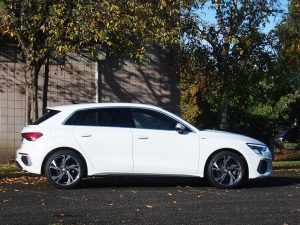 The only trouble with this car is, it's so good it will give potential electric car buyers a real problem. I've said this of other recent petrol/diesel machines too, and although electric cars are great to drive, until they can match the 'fuel range' of their main rivals, the electric car market will remain very much a niche affair. With a full tank (and maybe a wee bit of freewheeling!) I reckon the Audi could accomplish LeJog without stopping – an impossible feat (for now) with an electric car.
Of course things are improving with reduced charging times and more efficient battery technology, but at the moment car buyers and users face difficult decisions in these transitory times. This latest diesel Audi has just added to their dilemma.
Audi A3 Sportback 35 TDI 150PS S-Line S-tronic
Review Date: 11 December 2020
Price: £37,480 (as tested)
Engine: 1968cc, 4 cylinder diesel with 148 bhp
Performance: 0-62 mph in 8.4 secs, flat out at 139 mph
Economy: 75.0 mpg (claimed)
CO2 emissions: 128 k/gm
[Back to Top]