… Skoda Octavia iV SE L Hatch Hybrid …
Many folk today especially amongst the younger generation see Skoda simply as a brand within the giant Volkswagen Group but there's more to it than that. Much More. Skoda is one of the oldest automotive manufacturers in the world able to trace its roots back to 1895.
Admittedly the two guys who founded the company, Václav Klement and Václav Laurin, started making bicycles before moving on to motor cycles and trucks, but it's the cars for which the company is best known these days.
Early Skodas were stylish and substantial but as motoring became more popular mass production was introduced to try and satisfy the growing post war demand in what was Czechoslovakia, and now the Czech Republic.
Designed for the domestic market, those early cars were more functional than stylish but they were cheap and mostly reliable compared to what else was around in eastern Europe at that time. Because of that they became rather more popular across Europe and even became a regular sight on British roads.
Many folk looked down their noses at these small, rear wheel drive, rear engined water cooled machines but that was more to do with British snobbery. When you think about it we had little to be sniffy about with the likes of the Allegro, Marina, Herald and Reliant keeping garages busy.
Of course we had the Mini and the Imp to boast about, but when a chap called John Haugland turned up at rallies in the early 1970s with a Skoda and started to blow the doors off anything in the 1300cc class (and a few 1600s too!) throughout the 70s and 80s a new respect was earned amongst those who knew better.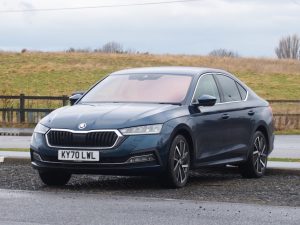 Even so it wasn't till VW came along in the early 1990s and entered into a joint venture arrangement with Skoda that another unique marque was lost, or saved, depending on your point of view.
Fast forward to today and the Skoda brand is one that is respected and sought after. And no wonder, this current Octavia iV is quite a machine and with a 1395cc, 4 cylinder engine under the bonnet, it's not that much bigger than those legendary rally cars.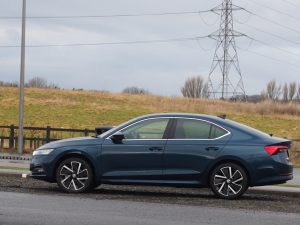 Otherwise the differences are striking, the car itself is a lot bigger and engine much more powerful. When Haugland started rallying he had barely more than 60hp to play with although by the time of the 130 saloon, that power output had doubled. Whereas this current VW derived hybrid unit develops just over 200 bhp.
Of course, Skoda has progressed and improved massively since those early days and the company is still heavily involved in the sport of rallying. Thank goodness, as manufacturer involvement in the sport is rapidly declining. However, the current range of Fabia R5 four wheel rockets are far removed from those early girnat-killers.
The petrol engine itself makes the Octavia a pretty quick motor car and you can feel the electric motor kicking in when you stomp on the throttle looking for a bit more grunt. Otherwise the electric motor is there to reduce emissions and improve overall fuel economy. Skoda claim an electric-only range of 41 miles and if you have a short-ish commute in the mornings and evenings that might be all you need. Even so, a full charge at home or work takes less than 4 hours.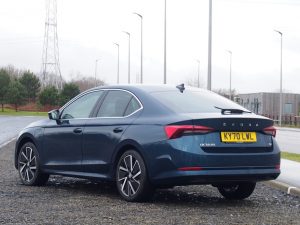 A sub 8 second, nought to 60 mph time confirms it's a fairly quick car so it will have to handle well, and it does. It's soft enough to roll a bit but this is a family car, so that's acceptable although the ride quality over poor surfaces can be a bit harsh at times. I was surprised at that because the wheels weren't too big at 18 inches and shod with 225/45 Goodyear Eagle F1 tyres which I usually like, but as I said, this is a family car.
There's plenty of room for five in the car and the boot is huge although it's not deep. The floor is a bit higher than standard to accommodate the batteries and electrical gubbins as this is a hybrid.
Outwardly, it just looks very European. It's nice but not different, although that does seem to be the way of the world these days. It just make you wonder if manufacturers are saving all their radical design flair for new fully electric cars. They have to win over a reluctant public somehow, eh?
Having said that, I like the Octavia hybrid although fuel consumption figures are pretty meaningless because it all depends on how you drive it. Short-run urban commuters will fare a lot better than inter-city travellers and motorway sloggers so as has been said before, think carefully about what you want before buying. At one point the fuel consumption display informed me that I was achieving over 300 mpg!
Prices for the Octavia Hatch start at around £20,000 but this hybrid model with SE L trim was considerably more. Expensive? Perhaps, but still at the lower end of the price scale for similarly equipped rival alternatives, so it's well worth a look.
Anyway, I liked it, and would be happy enough with one in my driveway. Practical, roomy and nice to drive.
Skoda Octavia iV 1.4 TSI SE L Hatch Plug-In Hybrid
Review Date: 09 April 2021
Price: £34,535
Engine: 1395cc, 4 cylinder petrol/electric with 201 bhp
Performance: 0-62 mph in 7.7 secs, flat out at 136 mph
Economy: Up to 282 mpg (at best)
CO2 emissions: 22-33 g/km
[Back to Top]