… Suzuki Swace 1.8 Hybrid SZ5 CVT …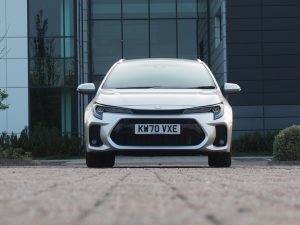 I'm a sucker for Suzuki motoring, but that's partly down to a long time love affair with Suzuki motor cycles. It's the same with their cars, they always seem to produce likeable, even loveable (the Jimny), good handling, sensible and reasonably priced family conveyances. And the Suzuki Swace is no exception.
However, in this case, the Swace is the result of a collaboration with Toyota so the similarity to the Corolla is no accident. As for the name? I'm not so sure. Depending on who you talk to Swace stands for 'swagger and grace' or can mean 'compassion, creativity, reliability, generosity, loyalty and a love for domestic life'. Whatever, that'll do for me.
There's just the one drivetrain and it's hybrid. The 1.8 litre 4 cylinder hybrid set up has a 101 bhp petrol engine and a 71 bhp small electric motor which combined generates an output of some 120 bhp and drives the front wheels through a CVT gearbox.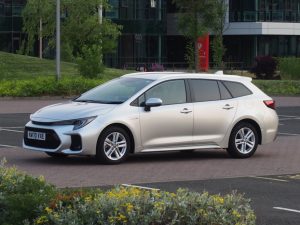 Despite the fact they usually work well, I'm no fan of CVTs, and the Swace unit is as good as any other but it does generate a less than mechanically sympathetic whine when you try to accelerate quickly. The engine revs rise although the scenery doesn't appear to go backwards any quicker, but that's common to all such units. Having said that, it does what it has to do and most (non-auto enthusiast) folk will be perfectly happy with its performance.
The nought to 62 sprint is reached in a modest 11.2 seconds and the car will run on to a top speed of 111 mph, but the Swace is not about sporty performance, it's more about the urban commute and family runabout, both areas in which it excels. Oddly, there is a 'Sport' mode which improves acceleration and steering response and also changes the speed from blue to red.
It is possible to drive the car on electric power alone having selected the EV mode but the range is only a few miles before the petrol engine kicks in. Best to use the 'B' setting recharge function when running around on local business keeping the battery topped up and using electric power to supplement the petrol engine and that works pretty well to eke out a few more electric miles.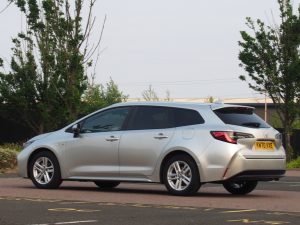 As seems to be the case with most hybrids, you can't plug the car into a high speed charger. Using the 'standard' public charger or domestic supply means the recharge can take 4 hours or more and that only gives a range of some 30 miles or so. Still that should be enough for two local school runs each day and a visit to the shops, then plug it into the home charger when you get home.
Suzuki claims a fuel consumption figure of around 65 mpg and during the test period most of the driving was undertaken on local routes and urban driving with the dashboard display showing an actual 65 mpg average. It would take a longer test period and a few more fuel tank fill-ups to gauge that more accurately but on that basis the Suzuki figures look pretty accurate.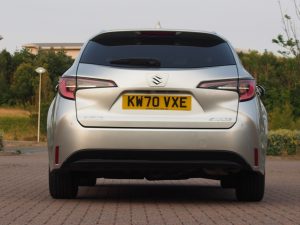 Motorway driving will of course have a bigger impact on the electrical side of the transmission where there is little chance to deploy it, but the whole point of such petrol, or diesel, hybrids is that they are designed more for the commuter than the long distance traveller. However, the low CO2 emissions of just 103g/km and excellent overall economy should appeal to both families and some business drivers who will appreciate the 24 per cent BiK rating.
The touring style rear end is deceptive with its almost estate car capacity revealing a huge boot. Under the floor, Suzuki has lined what was the spare wheel well thereby increasing capacity for the more adventurous family.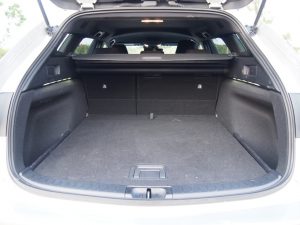 Until such times as the public infrastructure can truly support electric car sales, the hybrid is the best option but only for those who can fully utilise it. That is those who don't do big daily mileages and are mostly locally based. But business drivers shouldn't dismiss it either, not all their trips are on motorways and deploying the electric motor around towns can make a significant contribution to air quality.
The Suzuki Swace makes hybrid motoring easy to live with.
Suzuki Swace 1.8 Hybrid SZ5 CVT
Review Date: 07 August 2021
Price: £29,299
Engine: 1798cc, 4 cylinder petrol/electric with 120 bhp
Performance: 0-62 mph in 11.1 secs, flat out at 112 mph
Economy: Up to 65 mpg
CO2 emissions: 103 g/km