… Kia Stonic 1.0 T-GDi …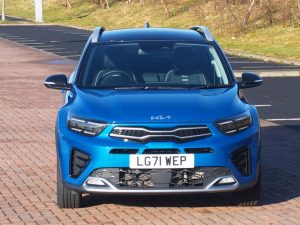 Motoring used to be carefree and fun. Shell Petrol stations offered vouchers which could be exchanged for party glasses while Esso's 'Put a Tiger in your Tank' campaign dished out a free fluffy tiger tail to tie around the filler neck or aerial and it would flutter in the breeze as you drove along. There were Greenshield or Pink stamps to collect and exchange for gifts, or collect the free coupons which had to be matched with others to claim a tenner or more. Route plotting was by maps and sign posts and the kids could join in instead of burying their noses in tablets or phones while kicking the backs of the front seats as they played electronic games.
It's all got a bit more serious these days, with average speed limits and cameras, advisory and variable speed limits, congestion charges and pedestrian zones, bus and cycle lanes, one-way traffic and ever more roadworks clogging up the nation's arteries and those infernal 'Parking Restricted' signs with the very small print. These require the unsuspecting motorist to stop, and get out of the car to read the bluidy things while the local Parkie lies in wait ready to slap a ticket on the stationery vehicle and the clamping contractor is hiding just around the next corner!
Maybe a self driving car is a good thing. Just key in the post code, sit back and let the car take the strain. It will determine the best route, pay any charges, fees and fines automatically through your registered credit card and avoid any traffic jams and collisions on the way. Perfect. Or maybe not.
Just suppose you forget your Password. I'm currently struggling with access to one of my accounts which is denying me entry. The screen keeps telling me I have keyed in the wrong Password. The trouble is, I haven't. I am keying in the correct Password and yet this bluidy stupid infernal machine is telling me I'm wrong. I have been using the same Password for months and keyed it in umpteen times and all of a sudden because of some little electronic glitch somewhere inside a machine's 'brain' it's me that's wrong, not it. And the people and politicians behind this think autonomous cars will be safer!
What's the betting that someone, somewhere will have a big red button. It will take just one tiny little press, to shut up Alexi, Siri and 'hey Google' and shut down everything else that has a microchip for a brain. Cars and trains will stop, escalators and lifts will halt, cash machines and card readers will ignore us and life as we know it will come to a dead end. Even the hot pie vending machine won't respond to verbal threats and physical violence. We're all doomed.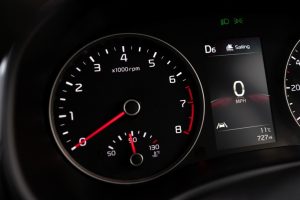 And yet in the midst of all this electronic frustration, the Kia Stonic made me smile. It was a simple thing, but simple things amuse simple minds. When the driver lifts off the accelerator pedal to coast down a hill a wee image of a sailing dinghy lights up on the dash display. As I said, simple, but it fair amused me.
Full credit to the design team at Kia. It would have been so easy just to have used some sort of 'standardised' electronic symbol or icon to show when the car is being re-charged, but someone thought just a little bit more creatively and his/her boss backed the idea. If they pay so much attention to the small things, then there can't be much wrong with the rest.
Faith in humanity, but not machines, has been restored and no-one has invented that big red button – yet!
So let's just enjoy the Kia Stonic for what it is, a compact SUV styled mild hybrid family car, or crossover if you prefer, but it won't suit everyone. For burly six footers, the Sportage or the Sorento might be a better choice. Having said, there's plenty of room inside the Stonic it's just the art of gaining entry and exit to and from the vehicle that requires a physical dexterity that might deter certain sections of the population. So try before you buy.
And yet my week with the Stonic was indeed a most pleasurable experience. Part of that was down to the one litre, three cylinder engine as opposed to the 1.2 and 1.4 litre petrol and 1.6 litre diesel options, because the smallest engine is a wee sweetie. The 7 speed DCT auto 'box is not the most sporty, but it does take the sting out of the everyday commute and for most folks that will probably be ideal. For a car like this you don't need a 'Nurburging' graphic on the bootlid, you just need to know it has plenty of room for four and a decent sized boot.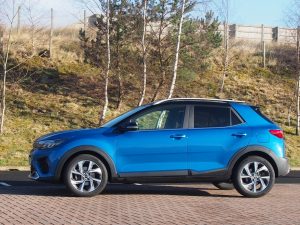 It looks good sitting on its 17 inch rims with the silver roof rails glinting in the winter sunshine and the rear roof spoiler just finishing it off, while the plastic wheel arch and sill mouldings add that utilitarian look.
It's quick enough for all domestic and everyday needs and it comes with all the internal kit that drivers have come to expect these days including a six speaker audio system with Apple, Android, Bluetooth and 'Kia Connected with TomTom Live' connectivity which are all accessed through apps and icons on the centrally mounted touchscreen. Fortunately the most frequently required functions, like heating and audio, are accessed via sensible buttons and dials, plus steering wheel mounted controls. Which makes this indeed a most sensible small car.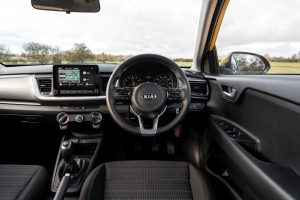 Even so, it still has all those seemingly unnecessary electronic 'aids' that comes with every new car these days, designed to stop us bumping into other vehicles in traffic or wandering over the white lines or falling asleep at the wheel. Then again, that's why the governments of the world want autonomous cars – because humans are not infallible either! And in a car that is just 4.1 metres in length it still has front and rear parking sensors and a reversing camera.
Prices start from just under £20,000 although the test car came with all the 'GT-Line S' extras which made life a little more comfortable like heated front seats and steering wheel, black cloth and faux leather upholstery and aluminium pedals.
If I was in the market for a small car, then the Stonic would be up there with the best, on looks, personality, practicality and price – and it made me smile!
Kia Stonic 'GT-Line S' 1.0 T-GDi
Review Date: 06 April 2022
Price: £23,750 (as tested)
Engine: 998cc, 3 cylinder petrol with 118 bhp
Performance: 0-62 mph in 10.4 secs, flat out at 115 mph
Economy: 49.6 mpg (combined)
Emissions: 129 g/km
[Back to Top]