… Kia Proceed 1.5 T-GDi …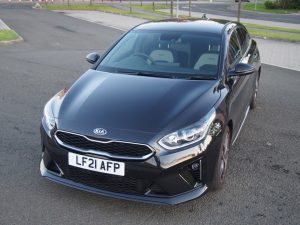 The Kia Proceed is a seriously good looking motor although it does look much better in the metal than in photographs. Impressive enough to leave parked in the drive out front rather than hidden round the back of the house.
It's an estate car with a fastback tail and that's the only downside to the shape. Reversing it can be a bit tricky if using the tailgate window, like peering through an open letterbox, but then that's what door mirrors and parking sensors are for, isn't it? The current idea of fitted headrests on all cars has long since done away with the previous method of reversing – half turn in the seat, throw the left arm over the passenger seatback and twist and peer out the back window shouting at the weans to keep their heads down! Progress, eh?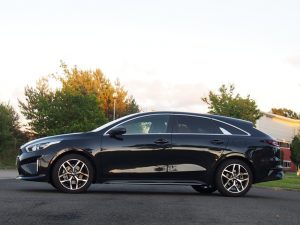 However, under that imposing and delectable shape lies a secret. There's no straight six or big four, just a rather small four with a measly 1482cc capacity. Don't be put off, all car manufacturers are downsizing these days but modern technology, refinement and improvements means no loss of power. This turbo 1.5 litre job produces some 158 bhp, will reach 130 mph and converts the standing start to 60 mph in under 9 seconds. Not too shabby at all for a car weighing just shy of 1400 kgs. The performance is there and the engine is willing.
Power is one thing, but the Proceed has the handling to match. Comfortable, stable and enjoyable and there's something else – a 'Sport' button. It doesn't turn the car into a GT but it does sharpen the throttle response, adds a little more weight to the steering and tweaks the exhaust note to make it sound more 'sporty'!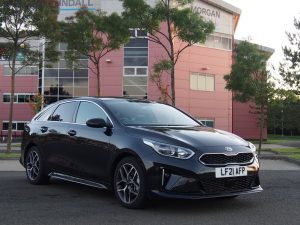 The interior matches the exterior inasmuch as it is smart, comfortable and reasonably spacious with the dark upholstery lifted by some lighter coloured panels on the side bolsters. Up front, form follows fashion with a centrally mounted touchscreen display for most functions underneath which is a decent set of knobs and switches for everyday use.
Which makes you wonder why some manufacturers still insist on hiding frequently used functions like A/C and heating to be hidden under various menus and sub menus in the electronic display with its innate ability to frustrate as drivers try to drive and stab at the correct function each time.
Having said that, the driver is well served by two analogue style round dials dead ahead with an information panel between them which results in a pleasing and functional command centre.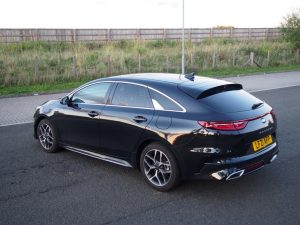 The boot is surprisingly capacious for its shape, long and wide and high enough for most users despite the stylish sloping rear end, although that does impinge slightly on rear seat passenger headroom – tall teenagers beware. The boot floor also hides some lidded compartments to keep smaller items from rolling around.
There is one other niggle. An incessant and annoying 'bong' when a front door is open. This prevents the driver from sitting in a lay by on a hot day with the door open when enjoying the fresh air and sunshine, maybe writing up notes or talking on the phone. What may have seemed like a sensible and safe idea on the drawing board can be pretty annoying in everyday life.
That didn't really mar the enjoyment of using and driving the car and given the spec it is reasonably priced compared to more expensive and similarly equipped rivals. There is one other reason to like the car, Kia reckons an mpg average of 48 mpg. During the test period the car was returning around 47, so pretty close.
If I had one of these sitting in my driveway I'd be a pretty happy bunny. On the other hand, I might be a little more happy with the 2 litre/200 bhp version. There's no pleasing some folk, eh?
Kia Proceed 1.5 T-GDi 'GT Line'
Review Date: 05 October 2021
Price: £25,080
Engine: 1482cc, 4 cylinder petrol with 158 bhp
Performance: 0-62 mph in 8.3 secs, flat out at 130 mph
Economy: 48.7 mpg (combined)
Emissions: 131 g/km
[Back to Top]