… Hyundai Tucson 1.6 T-GDi Hybrid …
Education is a wonderful thing. I took real delight recently in explaining to an electrified tut tutter that the Hyundai Tucson was not the gigantic fossil fuel guzzling highway hogger that she thought. I pointed out that it was petrol fuelled, not diesel and two wheel drive not earth trampling four wheel drive. The 'piece de resistance' was that it was Hybrid, which meant that when I had no electricity left, the petrol engine would get me home, whereas if it runs out of battery power it is snookered. The driver can't just walk a mile to the nearest filling station, buy a small can and fill it with electricity to get going again.
Similarly if at the end of a hard day's work the driver goes home and plugs the 'empty' battery car into the mains, what happens if the household suddenly gets an emergency call to go back out again, be it family or business matters? If the car ain't charged, it won't go.
Nope hybrid is currently the best option for many folk until the range/battery/charging issues are resolved.
Having convinced myself the Tucson is a grand car it's worth taking a closer look. I had a wee bit of a disagreement with a journalist colleague who thought it was ugly, but then he has no taste. I think it looks quite handsome with its sculpted flanks and flowing angular lines. I suppose that makes it look a bit more stand-outish but it also shows that Hyundai has a bit more confidence and chutzpah these days.
In fact the Tucson is just the latest example of the Korean manufacturer raising its game even further. Their vehicle design is constantly improving and that is matched by the technology which I reckon makes this current Tucson a premium motor.
For a start I love the new dark chrome 'parametric' grille. And yes I had to look that up. Apparently the LED running-light signature utilises a half-mirror lighting technology which illuminates the outer geometric sections of the grille. Despite that I still don't know what it means, but it works. That alone gives the new Tucson an upmarket presence and it is complemented by a new full width lighting system at the rear. Smart, really smart.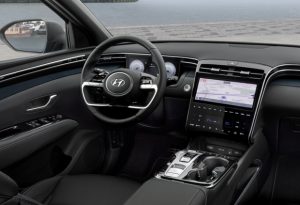 The premium presence continues inside the car too. It doesn't have leather seats but I'm not convinced that leather is the best choice for everyday motoring. Cloth seats can do the job perfectly comfortably and they are just as easy to clean, plus the front seats are heated. The car has another neat trick. There is no gearshift or autoshift lever, just buttons. Another sign of things to come in a future autonomous world!
Under the bonnet lies a 1.6 litre turbo petrol engine with a 44.2 kW electric motor and 1.49 kWh lithium-ion polymer battery which combines to produce some 227 bhp. Weighing just over 1.5 tonnes that also means its quick but I was managing 45 mpg on a cross country trip down the Tweed Valley. The test car was the 2WD version so the towing limit is a rather more modest 1650 kgs, but that will still suit most caravan owners and leisure trailer luggers.
It's not just quick it's pleasant to drive in ECO mode with the suspension providing a good compromise between supple ride and controlled cornering. That means it doesn't roll about on corners. The Sports mode does affect engine response but it also affects fuel economy so best leave it in ECO mode unless you fancy blowing the cobwebs out at weekends. Hyundai claim a sub 9 second 0 to 60 time and it will run on to 125 mph in countries which have a more enlightened attitude to journey times. Mind you it will be interesting to see what the new N-Line sporty version will produce! That should be tasty.
As it stands, the new Hyundai Tucson Hybrid is a thoroughly desirable car which will stand comparison with some of the more established European manufacturers and probably give them good cause to worry!
I'd have one.
Hyundai Tucson 1.6 T-GDi Hybrid
Review Date: 02 July 2021
Price: £37,195
Engine: 1598c, 4 cylinder petrol/electric with 227 bhp
Performance: 0-62 mph in 8.9 secs, flat out at 125 mph
Economy: 45 mpg (actual)
CO2 emissions: 130 g/km
[Back to Top]