Tom Coffield, 1926 – 2021
Even if you didn't know him or ever met him, rally fans will have seen his work. Tom Coffield was an integral part of the Scottish rallying scene for over 40 years, firstly as a competitor and latterly as a motor sports photographer. Sadly, he passed away last Friday (19th Nov.).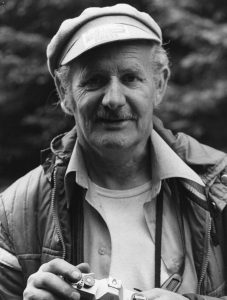 In actual fact, Tom's day job was plumbing and he operated a successful plumbing and heating business based in Crianlarich and the surrounding area till he retired, but that gave him more time to pursue his other great joy in life, photography.
He learned his trade in the Coatbridge Gas Works before switching career and moving to Crianlarich where he took up the post of Warden for the Youth Hostel. He built the family home in Crianlarich and established his own plumbing and heating business.
He got involved in motor sport some time in the early 1960s through friends in the Perth based 55 Car Club. Initially, he competed on navigational events, trials, autocross, sprints and hillclimbs first in a Sunbeam Rapier and then purchased a Mini Cooper from a chap called Arnold Clark who was at that time operating his embryonic car sales business from single premises.
It was another 55 CC member, Arthur Jasper who suggested that he might like to try stage rallying with the Mini. He actually competed on the first ever Mullard Tour of Mull Rally in 1969 with Martin Cruickshank in the Mini and they finished 31st overall but already realisation was dawning. To be competitive, required something with a bit more poke.
He bought his first Escort TC in 1970, later replaced with an RS1600, and went rallying with regular navigator Ron Adam, or sometimes Neil Fraser who was later to become his son in law. He still participated in the many and various motor sporting disciplines that were a staple part of club motor sport in those early days and also served time on the committee of 55 Car Club putting something back.
It's fair to say he was never a front runner, but that was down to budget and time, running his own business came first, motor sport was his escape.
We'll never know how good he could have been, but in the 1972 Shell Scottish Rally Championship he finished 29th equal in the points standings at the end of the season. Two other drivers shared that equal 29th place, one was a chap called Murray Grierson and the other was Harry Easton.
He contested the championship again in 1973 and this time he scored a top twenty finish by the end of the season. He finished 19th equal, this time with one Allan Arneil Esq.
In 1974, the rules of the Challengers section of the national series were changed. Anyone who had not scored a top ten finish overall in previous events would qualify as Challengers and Tom qualified. He finished that season in 4th place overall in the points, and that was the year that a certain Jim McRae won the Challengers' title. In other words, Tom kept some fast company in those days and who knows what might have been?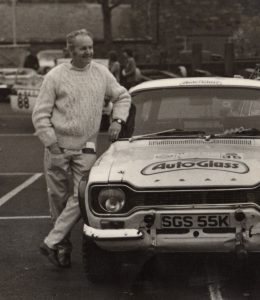 In 1975 he called it a day, but he wasn't finished with rallying. He had time for another hobby which was easier to manage alongside his 'day job', photography and thereafter he specialised in capturing the action primarily on stage and classic rallies as well as many other forms of motor sport. He also turned his hand to picture frames, framing many of his own photographs for sale to clients and any other paintings and items when asked.
In the days before digital photography, motor sports photographers were a much smaller and more exclusive band of hardy folks who followed the sport and Tom fell in with a 'bad crowd' comprising variously of Jim Barclay, Alistair Farquhar and Iain Wallace amongst others.
Jim of course was more of a videographer and therefore required different locations to film the action compared to the needs of stills photographers and there followed interminably vociferous 'Jack & Victor' type discussions about where to go, how to get there and which was the best spot.
Often, the choice of remote location required an evening start, sleep in the car and then be ready in the morning for the cars coming through. Alistair recalls one incident on Mull when he, Iain and Tom did their usual trick. No accommodation was booked so they picked their mid stage location and parked up for the night. However, sleeping in a car was not for Tom , he usually chose the 'great outdoors' and wrapped himself up in a sleeping bag under a plastic shelter and slept outside.
On one such occasion the 'boys' were woken in the early hours by a loud thump, yell, scratching and thumping noises. Fearful of what might be lurking out there in the dark, foreboding remoteness they eventually open a door to find Tom wedged under the car and stuck fast. He had rolled down the banking in his sleep!
But that was Tom. In his element with his camera, a flask and a box of corned beef sandwiches, and he was ready for anything.
The sport has lost another great pal and our thoughts must be with his family at this very sad time, daughter Jane and the two boys, Neil and Tom Jnr and all his wide circle of friends.
The funeral service will be held in Killin Church (Main St, Killin FK21 8TN) on Thursday 2nd December at 11.00 am.